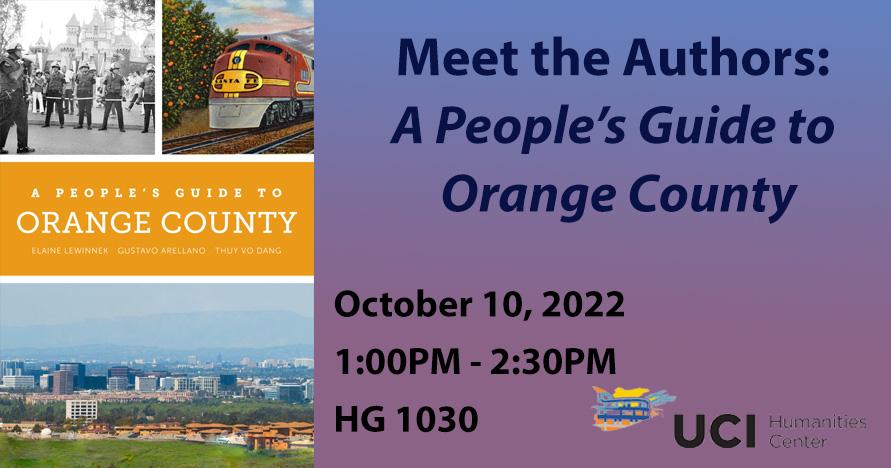 Join the co-authors of A People's Guide to Orange County (PGOC; UC Press, 2022) in a conversation about their book, working collaboratively, and longform, public-facing writing. Featuring Gustavo Arellano, Elaine Lenniwek, and Thuy Vo Dang. Megan Cole (English), who worked with PGOC as a summer Humanities Out There Public Fellow, will join during the Q and A. Five attendees will be selected to receive a copy of the book. Register here for the event.
Elaine Lewinnek is professor of American Studies at California State University, Fullerton, and author of The Working Man's Reward: Chicago's Early Suburbs and the Roots of American Sprawl.

Gustavo Arellano is a columnist for the Los Angeles Times, former editor of OC Weekly, and author of the books Orange County: A Personal History, Taco USA: How Mexican Food Conquered America, and ¡Ask A Mexican!
Thuy Vo Dang is Assistant Professor of Information Studies at UCLA. She holds a Ph.D. in Ethnic Studies from University of California, San Diego and a B.A. in English and Asian American Studies from Scripps College. Her previous role was Curator for the UCI Libraries Southeast Asian Archive and Research Librarian for Asian American Studies. Thuy is co-author of the books  A People's Guide to Orange County (2022) and Vietnamese in Orange County (2015) and serves on the board of directors for Arts Orange County and the Vietnamese American Arts and Letters Association.