A Message from Dean Tyrus Miller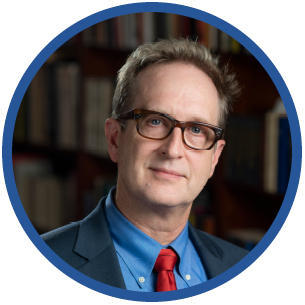 Class of 2022, you are all here because you persevered. With a pandemic as the backdrop of your final year as students, you adapted to a new reality while still working hard to complete your degrees. While you should be so proud of the degrees you've earned, you should be equally proud of your resilience and dedication. You've learned a lesson that many don't learn until long after they've graduated and that is this: Success in life is equal parts planning for what you can control and adapting to what you can't.

I have witnessed how so many of you have adapted during this time. I've seen your creativity and resoluteness in action. As humanities majors, you've harnessed the power of storytelling to amplify your voices and ​others' in creative ways; you've completed innovative research projects that broaden our understanding of the human condition; and you've marched and advocated for change because social inequality, racial injustice and the pandemic are closely intertwined.

I am truly humbled by not just what you all have accomplished, but also by who you are, who you have become during your time at UCI.

Many of you are the first generation in your families to graduate college and that is something I want to acknowledge. You have charted a path where your path might not have been clear to you. And I know this meant you often had to do so while being your own compass. It couldn't have been easy. I want you to know that I see you and I celebrate you. You have created a meaningful legacy for your family, and I know that this first is one of many more powerful firsts to come.

Congratulations, class of 2022!
Events
When and where: Friday, June 10 at 11 a.m. to 2 p.m. in Humanities Gateway
Please join the Humanities Office of Undergraduate Study as we celebrate the graduating undergraduate class of 2022!
Refreshments and games will be available from 11 a.m. to 2 p.m. in the Humanities Gateway Plaza on Friday June 10. Latin Honors recipients will also have an opportunity to pick up their honors cords at this event (eligible students will be notified via email in mid to late May). Faculty are not required to RSVP, however, students will be given the option to send a personalized invite through their RSVP form. Please contact Whitney Young at youngw@uci.edu with any questions.
When and where: Saturday, June 11 at 12:45 p.m. in Bren Events Center (100 Mesa Rd, Irvine, CA 92697)
Featured speaker: Feyzi Fatehi, chairman and the chief executive officer at Corent Tech
When and where: Wednesday, June 15 at 3:30 p.m. in Angel Stadium of Anaheim (2000 E Gene Autry Way, Anaheim, CA 92806)
Featured Speaker: Kal Penn, actor, writer and former White House aide