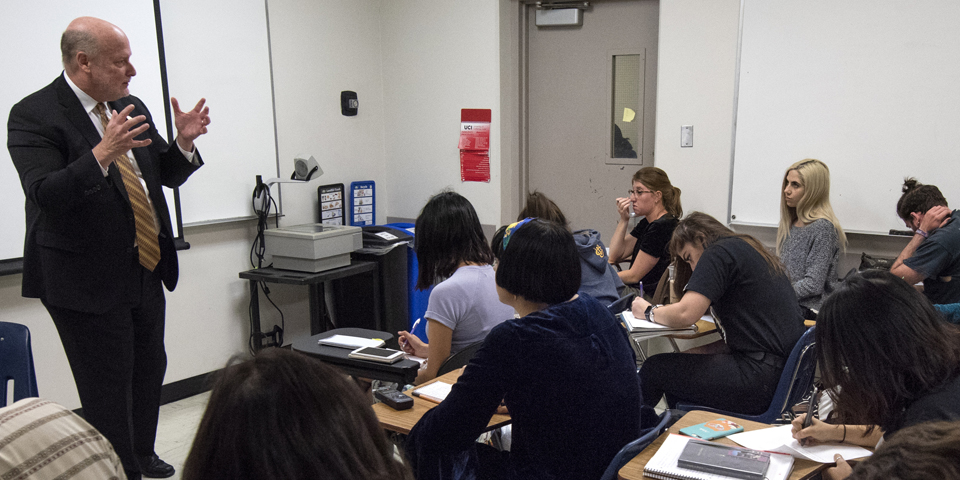 Students
UCI School of Humanities exemplifies our public university mission of offering opportunity to students of all backgrounds and opening new worlds of experience and creating accessibility to meaningful careers. Almost half of our students are first generation to attend college, and more than one-third are underrepresented minorities.  Two-thirds of our students are transfer students- considerably higher than the campus average - which means that we are providing a rigorous UC education to outstanding students who, for reasons of economic, family, or other circumstances have begun their higher education journey in our community colleges.

The humanities are where many future leaders, scholars, storytellers, teachers and entrepreneurs. come to get their start. We provide our students with a common set of skills on which employers of today, and especially those of the future, will rely. In our classrooms, students grow as thinkers and scholars in their chosen fields. Learning experiences beyond the classroom take students to the next level.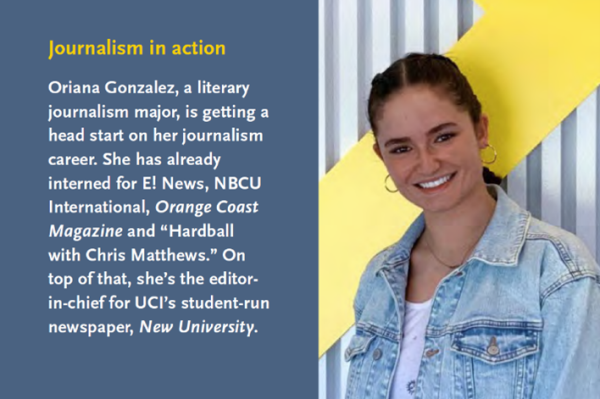 Humanities graduate students are the next generation of researchers and teachers in fields fundamental to addressing humanity's grand challenges. Donor-provided funds, especially in the form of endowments, make it possible for us to recruit and retain the best graduate students from all over the world. Philanthropy gives them the opportunity to learn languages and conduct research in many countries, and to pursue original lines of research. Your gift will support the next generation of humanities scholars and help UCI Humanities recruit outstanding students from throughout the world. You can make a transformative impact on their lives – and our world!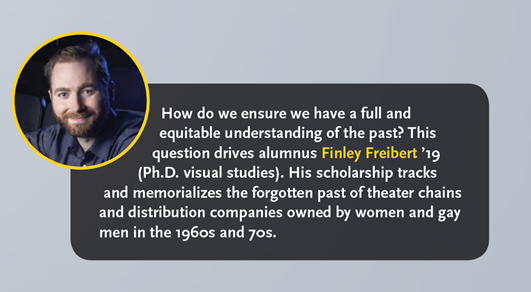 How Does Funding Scholarships and Fellowships Make a Meaningful Impact?

People who make gifts to the School of Humanities are making the ultimate investment in the future.  We are the largest and most diverse school at UC Irvine and our graduates are among the top in their fields, nationally and internationally.  For more information on giving opportunities to support students, please contact Sean Fischer, Director of Development, at 949-824-0438 or seandf@uci.edu.
Donor Spotlight

Steckler Family Student Endowment in Art History

Alumnus Vincent Steckler, who earned both a B.S. in information & computer science and a B.S. in mathematics at UCI in 1980, has allocated nearly $5.4 million to endowed funds that support graduate and undergraduate students pursuing coursework in art history by providing experiential learning, research-related travel, mentoring, career-building opportunities, and fellowships. Mentoring that art history students receive during their college years is crucial for them to be successful in the often-challenging years immediately after graduation, he added, noting that internships better prepare students for careers.

"I believe it's our responsibility to give back to the society and institutions that have helped us over the years. I am proud to recognize the importance of art and computer education to society…Art is a crucial part of the human experience. The art history courses I took at UCI made such an impression on me. What I learned ignited a lifelong passion for and appreciation of art that I've been able to share with my wife, Amanda, and our five children."

– Vince Steckler