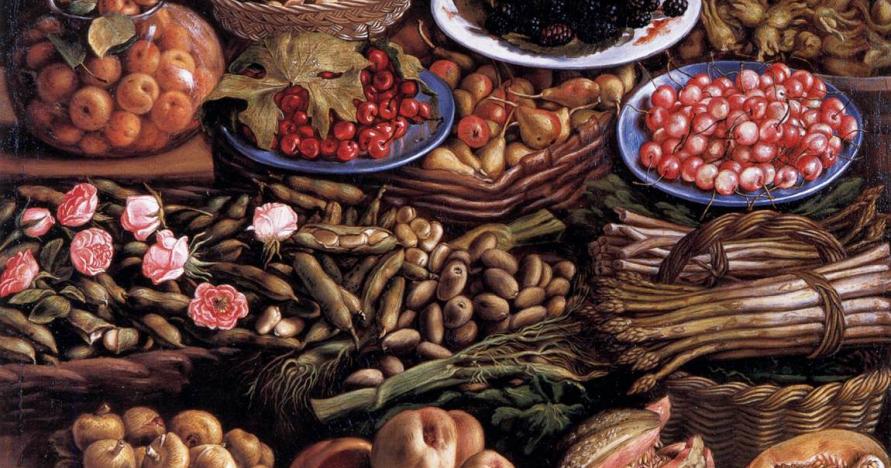 The characters in Shakespeare's The Comedy of Errors and Pericles, Prince of Tyre travel all over the Mediterranean. Both plays spend much of the action in Ephesus (in present-day Turkey); the family at the center of Errors also has roots in Siracusa, Sicily, while Pericles of Tyre (in Lebanon) travels from the Levant to the coasts of Asia Minor and North Africa. During the age of  Shakespeare, trade routes, migration, and political conflicts between European states and the Ottoman Empire created sites of cultural exchange. At the same time, printed travelogues and cookery books exposed readers to distant cultures and created a vogue for Ottoman- and Mediterranean-inspired goods — including at the dinner table. English cookbooks of Shakespeare's day, largely aimed at home cooks rather than professional chefs, offered to teach the reader to prepare dishes from Spain, Portugal, Italy, France, and Germany. Meanwhile, their Continental counterparts, which tended to reflect the food of courtly and aristocratic households, featured dishes from even further afield, including those of Turkish, North African, or Levantine origin. In this session with guest scholar Dr. Ariane Helou (Caltech) and Chef Jessica Van Roo (UCI Culinary Arts),  we'll prepare a few of these recipes and learn more about the broader context of global culinary exchange in the Elizabethan Age.

Dr. Ariane Helou is Scientific Writing Specialist at Caltech's Beckman Institute. When not writing grant proposals for life sciences research, she conducts her own scholarship on early modern drama, music, and poetry. (And food!) Dr. Helou was a faculty member at UCLA in the department of French & Francophone Studies, and at UC Santa Cruz (where she also earned her PhD in Literature) in Theater Arts, Classical Studies, and French. She has held fellowships from the Mellon Foundation and the American Council of Learned Societies; the Huntington Library; and UCLA's William Andrews Clark Memorial Library & Center for 17th– and 18th-Century Studies, among others. Dr. Helou has published research on Shakespeare and early modern Italian drama; with co-editor Julia Lupton, Romeo and Juliet, Adaptation and the Arts: Cut Him Out in Little Stars is forthcoming from The Arden Shakespeare in September 2022. Ariane is a translator, dramaturg, and performing artist whose background spans early music, theater, and opera. She is Associate Artistic Producer of the choral ensemble Artes Vocales; an Affiliated Scholar of LA Opera; and Dramaturg/Producer of the Los Angeles-based theater company Collaborative Artists Bloc.
Register in advance for this meeting:
https://uci.zoom.us/meeting/register/tJUqduGpqj4rGdPYzQoe9TcJGCGzxbHi_BQg
After registering, you will receive a confirmation email containing information about joining the meeting.