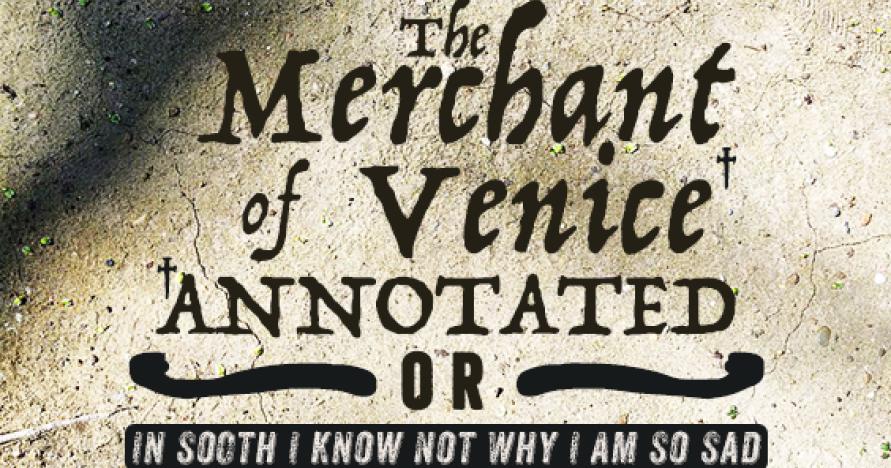 The Merchant of Venice (Annotated), or In Sooth I Know Not Why I Am So Sad
a theatre dybbuk production written and directed by Aaron Henne and developed with the ensemble
What can a play from sixteenth century England tell us about how antisemitism and other prejudicial beliefs operate in our world today? What perceived truths does a play reveal about the society in which it was created, and what ideas within that society does it reinforce?
William Shakespeare likely wrote The Merchant of Venice between 1596 and 1598, only a few years after plague had temporarily closed London's theaters. This was a period of great uncertainty in English society, with ongoing conflicts taking their toll, concerns about the government's stability under an aging leader, and significant economic stresses. The anxieties associated with these societal pressures can perhaps be seen in Merchant in its portrayal of Shylock, the Jewish moneylender.
Bringing together elements of Merchant with Elizabethan history and news from the 21st century, The Merchant of Venice (Annotated), or In Sooth I Know Not Why I Am So Sad takes a kaleidoscopic view of the ways in which members of a society displace their fears on the "other" during times of upheaval.
theatre dybbuk will share selections from their production and lead a discussion.
Free and open to the public; seating is limited. Please sign up here to reserve your seat and receive updates about this special engagement.
theatre dybbuk creates provocative new works that blend physical theatre with poetry and music for exciting, utterly singular live events. The company explores the rich world of Jewish history, building lyrical performances that illuminate universal human experience for contemporary audiences. With an in-depth development process that can range from a few months to three years, Artistic Director Aaron Henne builds each piece with a cast of dedicated professional actors, designers, musicians, and scholars.

This event is co-sponsored by the New Swan Shakespeare Center, UCI's Center for Jewish Studies, and the Albert & Rhoda Yvette Weissman Art Endowment of the Jewish Community Foundation of Orange County.