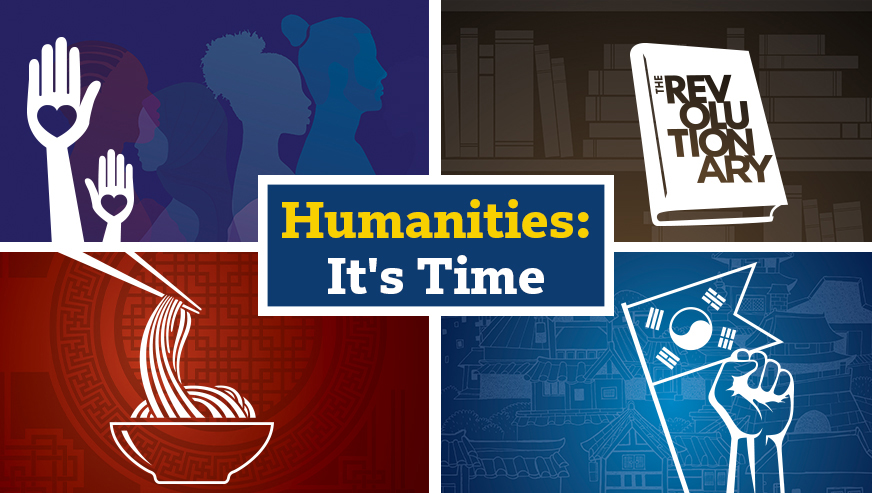 From a great mosque constructed in a booming 14th-century Indian city to the first Chinese restaurant opened in the U.S., these are just a couple of the defining art, literary, film, television and social history moments depicted as part of the UCI School of Humanities' "Humanities: It's Time" exhibit. Displayed in an outdoor museum during the 2021-2022 school year, the beautifully illustrated historic moments have found a new digital home on this site.
"'Humanities: It's Time' reflects how humans across cultures, geography and time have responded to social conflict and change with innovative literature, film, architecture, social movements, and industries that influence the course of history," said Tyrus Miller, dean of the School of Humanities. "Our historical 'hot takes' are not just celebratory, though—each moment is complex and layered, and some even proved devastating in their ultimate outcome. But that too is a key point of the 'Humanities: It's Time' display. In the humanities, we bravely face what it is to be human across time; only by confronting and critically interpreting our legacies can we guide ourselves to brighter futures."
c. 1387: Chaucer is writing the Canterbury Tales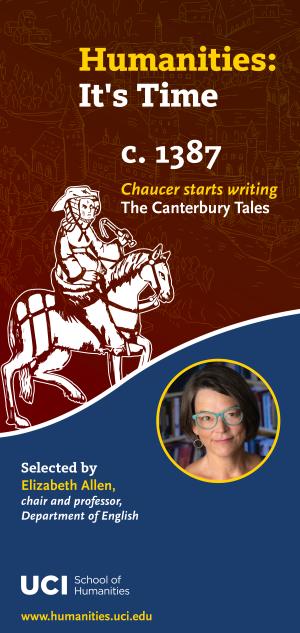 The Canterbury Tales is a virtual community in the making. Geoffrey Chaucer's magnum opus is an unfinished collection of 24 stories told by pilgrims traveling to the shrine of Thomas Becket at Canterbury. From the simpering Nun to the bold Wife of Bath, the studious Clerk to the sleazy Friar, every pilgrim has a story to tell – and some have bones to pick. 
Chaucer lived in times as tumultuous as our own: a time of plague, war, uprising, political faction, and religious unrest. In 1348-1352, the Black Death wiped out half the population of London, closed shops, and left many to die alone. Resulting labor shortages and taxation brought the Rising of 1381, when peasants and artisans burned legal records, opened jails, and killed many government officials. Two popes vied for supremacy; the English sect known as the Lollards increasingly rejected religious orthodoxy. King Richard II clashed with established nobles, who executed his political friends and, ultimately, deposed him. Chaucer lived and wrote from the midst of conflict.
Yet The Canterbury Tales does not simply recount medieval events. It is an act of world-making. Chaucer's pilgrims form an imagined community through tales of Greek gods and fairies, courtly love and marriage, trickery, oath-making, efforts to kill Death, and much more. The sheer variety of these tales and their tellers invites us into an alternate world that can help us reflect on our own.
Selected by Elizabeth Allen, chair and professor, Department of English
Author of False Fables and Exemplary Truth in Later Middle English Literature (Palgrave, 2005). Her upcoming book, Uncertain Refuge: Ideas of Sanctuary in Medieval English Literature, will be published on Oct. 22, 2021 by University of Pennsylvania Press.
Want to learn more? The UCI School of Humanities offers majors and minors in English and history, as well as a minor in creative writing. Want to try a course first? We offer undergraduate courses on medieval literature and European history.
---
1605: Miguel de Cervantes' Don Quixote is published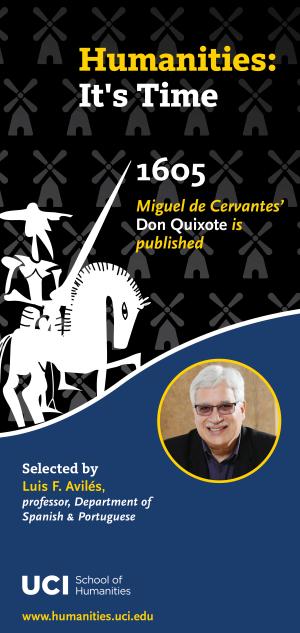 Don Quixote, written by Miguel de Cervantes, is considered by many to be the first modern novel and is one of the most widely read classics in the Western literary canon. It was originally published as El ingenioso hidalgo don Quixote de la Mancha (The Ingenious Gentleman Don Quixote of La Mancha) on Jan. 16, 1605, in Spain, and has since become one of the most translated books in the world. Today it can be read in 145 different languages. 
The book follows the story of protagonist Alonso Quixano, a middle-aged noble who is obsessed with romance to the point of madness. After adopting the name Don Quixote, he roams around La Mancha, a central region of Spain, with his more pragmatic squire Sancho Panza. Together, they encounter many challenges, largely self-imposed, as Quixote lives out what he imagines to be a knightly story. Filled with intentionally comedic scenarios – including Quixote's battles with windmills, which he believes to be monsters – the two-part journey is a parody of popular chivalric romances, which had become old-fashioned by the time Don Quixote was written. 
The novel was an immediate success, although Cervantes made only a modest profit from its publication. It was published again across Spain and Portugal within the year, and over the next decade, it was translated and re-published across Europe and widely read in Latin American colonies, eventually reaching worldwide renown. Over the subsequent centuries, critics have continued to analyze and re-interpret Don Quixote, with its central themes evolving from comedy to tragedy. The novel gave rise to several now-common idioms in Spanish and other languages, including the English word "quixotic." Don Quixote heavily influenced Mark Twain's The Adventures of Huckleberry Finn, which explicitly references Cervantes' work. It has set the standard for common character tropes found across a wide range of media. Clever, funny and groundbreaking, Don Quixote's literary success endures today as a foundation of modern storytelling.
Selected by Luis F. Avilés, professor, Department of Spanish and Portuguese
Author of Avatares de lo invisible: espacio y subjetividad en los Siglos de Oro (Iberoamericana Vervuert, 2017) and Lenguaje y crisis: las alegorías de El Criticón (Editorial Fundamentos, 1998). 
Want to learn more? The UCI School of Humanities offers majors and minors in Spanish, English, history, and European studies, as well as a minor in creative writing. Want to try a course first? We offer undergraduate courses on world literature, Iberian culture, and literary theory.
---
1849: First Chinese restaurants opened in San Francisco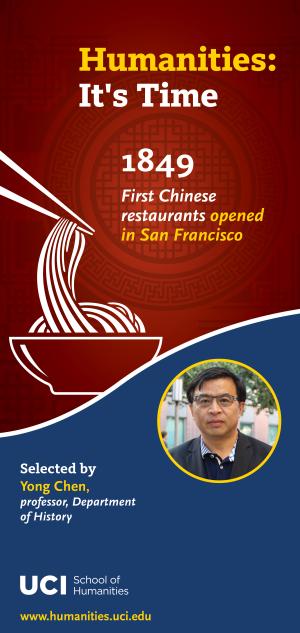 1849, a historic time usually associated with the Gold Rush in popular culture and textbooks, was also an important food moment. It witnessed the appearance of four Chinese restaurants in San Francisco, marking the arrival of Chinese food and the first large wave of Chinese immigrants in the New World. Like stories of immigrant food in subsequent years, Chinese food was an integral and essential element in the formation and transformation of Chinese American communities. In the early decades, Chinese restaurants existed as community centers and social spaces for immigrant workers. They were central to Chinese American life, providing an indispensable common tie among Chinese Americans of diverse backgrounds. 
Around the turn of the 20th century, when anti-Chinese forces had shut the door to Chinese immigration and driven Chinese Americans out of many occupations, restaurant work was one of the two main sources of employment available to them. Resilient Chinese restaurateurs and food workers carried their food beyond the boundaries of Chinatown, opening Chinese restaurants in cities and towns across the nation. Rebranding and reinventing the cooking of China as "Chinese American cuisine," they turned their once-despised food into the most popular cuisine of the country. It was embraced and savored by American diners, especially marginalized groups like African Americans. And in the eyes of new immigrants, such as Jews from Eastern Europe, it embodied America and an important way to become Americanized. Tracing the development of Chinese food in America, you will better understand the history of Chinese Americans and the social, cultural and culinary transformation of America.
Selected by Yong Chen, professor, Department of History

Author of Chop Suey, USA: The Rise of Chinese Food in America (Columbia University Press, 2014), Chinese San Francisco 1850-1943: A Transpacific Community (Stanford, 2000); and The Chinese in San Francisco (Peking University Press, 2009).
Want to learn more? The UCI School of Humanities offers majors in Asian American studies, Chinese studies, East Asian cultures, and global cultures, among others. Want to try a course first? We offer undergraduate courses in a variety of related topics, including food history and Chinese history.
---
1969: Pak Kyong-ni begins publishing the epic The Land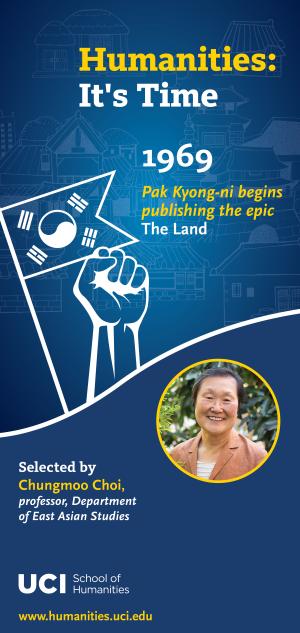 During the 25-year period between 1969-1994, the Korean novelist Pak Kyong-ni wrote the longest historical novel, The Land, which Korean critics rate as the best novel written. The novel covers the story of female protagonist Ch'oe Sŏ-hŭi as she lives through the turbulence of Korea's modernization from the late 19th century to Japanese colonization (1910-1945), defending and restoring her family estate while emigrating to Manchuria then returning to Korea. Symbolically, Pak Kyong-ni completed the novel on August 15, the day of Korean independence.
While the novel was being serialized, South Korea underwent the dramatic transformation from one of the poorest, war-torn former colonies to an industrialized country boasting the world's 10-13th largest economy, all while fighting for and achieving democracy, overthrowing a military dictatorship, and establishing a civilian government. 
The Land has been made into a TV series, a movie, and an opera; translated into several languages including English, French, German, and Japanese; and it is included in UNESCO's Collection of Representative Works. Celebrating Pak Kyong-ni's literary career, in 2011, an international literary prize was established in her name: the Pak Kyong-ni International Literary Prize. Its internationally renowned recipients include UCI Distinguished Professor Ngũgĩ wa Thiong'o (2016). 
Selected by Chungmoo Choi, professor, Department of East Asian Studies 
Author of Healing Historical Trauma in South Korean Film and Literature (Routledge, 2020) and editor of Voices of the Korean Comfort Women: History Rewritten from Memories (Routledge, forthcoming in 2022). 
Want to learn more? The UCI School of Humanities offers majors in East Asian studies and Korean literature and culture, as well as a minor in Asian studies. Want to try a course first? We offer undergraduate courses on East Asian history, cultures, and languages.
---
2007: The field of epistemic injustice is established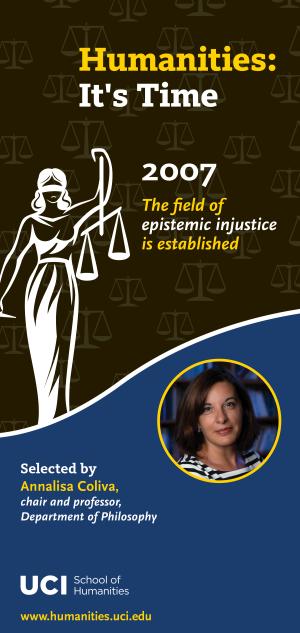 In 2007, contemporary English philosopher Miranda Fricker's book Epistemic Injustice: Power and the Ethics of Knowing effectively launched a new field of study: epistemic injustice. Epistemic injustice points out that we can harm people due to our implicit biases regarding their identity and therefore their credibility and trustworthiness as informants.
If you pair "epistemic," which means having to do with epistemology or the theory of what we know, and "injustice," which means a lack of fairness or justice, you get "epistemic injustice." Put simply, it's an injustice related to knowledge.
Fricker catalogues two such injustices: testimonial and hermeneutical.
Testimonial injustice arises when a speaker is assigned no or very low credibility due to identity bias in the hearer(s). Hence, the speaker is prevented from playing a role in the "knowledge economy." Moreover, the hearer does not avail themselves of a piece of knowledge they would have if they took the speaker at their word. 
Hermeneutical injustice, in contrast, arises when bias against a community leads to a lack of conceptual resources to name and make claims heard. For instance, prior to the introduction of the concept of sexual harassment that crime was not seen or perceived as a crime.
Nowadays, both testimonial and hermeneutical injustice are used in a number of contexts, spanning from general communication, to medical and legal contexts.
Creating and sharing knowledge are two of the very things that makes us human. Epistemic injustice excludes people from these activities. To prevent epistemic injustice, Fricker suggests that we cultivate the virtue of challenging our biases. 
Selected by Annalisa Coliva, chair and professor, Department of Philosophy
Author of Moore and Wittgenstein: Scepticism, Certainty and Common Sense (Palgrave, 2010), The Varieties of Self-Knowledge (Palgrave, 2016), Extended Rationality: A Hinge Epistemology (Palgrave, 2015), and co-author of Relativism (Routledge, 2020).
Want to learn more? The UCI School of Humanities offers a major in philosophy and minors in humanities and law, and medical humanities. Want to try a course first? We offer undergraduate courses on logic, reasoning, law and society, ethics, technology and society, and medical humanities.
---
1915: Franz Kafka's The Metamorphosis is published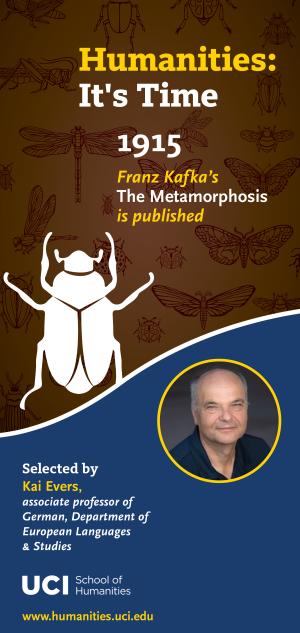 "When Gregor Samsa woke one morning from restless dreams, he found himself transformed in his bed into a monstrous vermin." So reads the first sentence of The Metamorphosis by Franz Kafka. What happens when you wake up one morning and not only you yourself – but also your parents, sister, friends, colleagues, and acquaintances – see you as nothing but "a monstrous vermin"? In Kafka's story, first published in 1915, this nightmare scenario unfolds with an often strangely funny precision until Gregor starves to death and his family celebrates the next day as a new beginning.
In 1915, European states believed they stood at a new beginning as well. In the second year of what later was called the First World War, empires and states on all sides of the war had their hopes set on a victorious future. Three years later, three empires had fallen. Kafka still lived in Prague, but instead of being a citizen of the Austrian-Hungarian Empire, he was now a citizen of the newly founded Czechoslovak Republic. A decade after his death, Nazi Germany invaded the Czechoslovak Republic. Kafka's sisters, like millions of other European Jews, were murdered in concentration camps as if they were monstrous vermin.
Kafka's The Metamorphosis achieved global fame only after World War II and became one of the century's seminal stories. Each generation of readers since has turned to Kafka's writings because his stories and novels address their own realities, from the experience of marginalization and racism to the dangers of all-seeing states and corporations – a rare achievement in world literature.
Selected by Kai Evers, associate professor of German, Department of European Languages and Studies

Author of Violent Modernists: The Aesthetics of Aggression in Twentieth-Century German Literature (Northwestern University Press, 2013) and co-editor of Europe and The World: World War I as Crisis of Universalism (Telos Publishing, 2018).
Want to learn more? The UCI School of Humanities offers majors in German studies, European studies, and comparative literature. Want to try a course first? We offer undergraduate courses on literature, the history of Europe, German language and more.
---
1975: The dawn of the blockbuster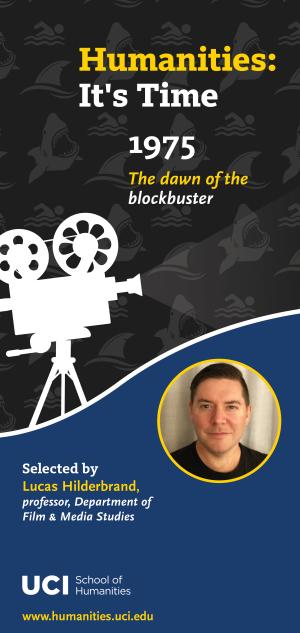 The year 1975 saw many significant changes to the film and media industries.
On June 20, 1975, a new movie set records, put Steven Spielberg on the map, and made countless viewers afraid to go into the water. That movie is "Jaws." It was a number-one box office hit for 14 consecutive weeks and was the first film to gross more than $100 million. "Jaws" marked the beginning of summer blockbusters, with saturation marketing and a wide release introducing a new business model that paid off spectacularly.
That same year, we saw the introduction of the first successful home video technology, Betamax; HBO debuted as an early network in the emergent cable industry; and the first Atari home video game system came to market. Each of these developments would soon radically change both the economics and the cultures of media, with legacies that continue to shape what gets made and how audiences experience film, television, and games today.
Selected by Lucas Hilderbrand, professor, Department of Film and Media Studies
Author of Paris Is Burning (Arsenal Pulp Press, 2013), Inherent Vice: Bootleg Histories of Videotape and Copyright (Duke University Press, 2009), and The Bars Are Ours: Histories and Cultures of Gay Bars in America after 1960 (in progress).
Want to learn more? The UCI School of Humanities offers a major and minor in film and media studies. Want to try a course first? We offer undergraduate courses on 1970s American cinema, the history of cinema, the history of broadcasting, writing about film and media, documentary, and more.
---
1997: The birth of Korea's "IMF cinema"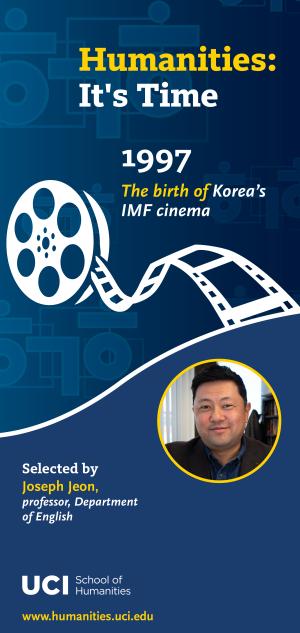 Korea's "IMF Cinema" marks the decade of cinema following South Korea's economic collapse in 1997. The International Monetary Fund announced the largest bailout package in its history, aimed at stabilizing the South Korean economy. From internationally renowned films like Park Chan-wook's "Oldboy" to more obscure art films, the proliferation of movies produced during this timeframe share a focus – no matter whether they are explicitly about detectives, rock groups, or monsters – on economic concerns.
Because of the sudden and massive layoffs during the crisis, the figure of the troubled salaryman, hanging around the park all day in their business suits too afraid to tell their spouses that they had been fired or, even more tragically, dying by suicide, became a common feature of Korean public discourse. This figure became the focal point of countless films produced at this time.
By the early 1990s, explicit governmental globalization strategies aimed at compensating for slowing economic growth very much included the cultural industries. These are the years during which the Hallyu (or the Korean Wave) begins to gather momentum, and which very much leads into the global popularity of K-pop today. There is a famous story about President Kim Young Sam in 1994 learning that the export revenues of "Jurassic Park" had matched the foreign sales of Hyundai cars that year. In response, the film industry during the 90s was reclassified as a "semi-manufacturing" business. This reclassification suggests its transitional logic, standing between older and newer economic systems in South Korea. As a result, filmmaking of the period becomes a particularly useful way for thinking through economic questions.
Selected by Joseph Jeon, professor, Department of English
Author of Vicious Circuits: Korea's IMF Cinema and the End of the American Century (Stanford University Press, 2019).
Want to learn more? The UCI School of Humanities offers majors and minors in English, film and media studies, and Korean literature and culture. Want to try a course first? We offer undergraduate courses on Korean culture, film, language, and literature. Be sure to check out the UCI Center for Critical Korean Studies for relevant events and programming.
---
1979: ESPN Launches with SportsCenter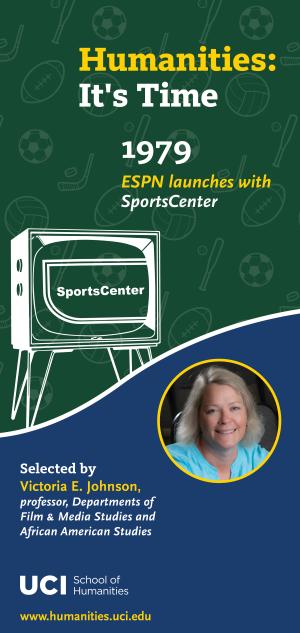 Historically, U.S. television has been defined by three eras that overlap and continue to coexist: the classic broadcast network era (1950s-1980s), the multichannel/cable network era (1980s-2000s), and the streaming/internet-provided TV era (2010s-present). Though the classic-broadcast era featured a handful of networks that cast "broadly" to a mass audience, the multichannel cable era was characterized by channels that addressed more interest-specific audiences, while the streaming era allows for on-demand consumption of media. On Sept. 7, 1979, ESPN launched from Bristol, Connecticut with SportsCenter, merging the wide appeal of broadcast TV's most popular genre with the singular focus of a true fan. In the present, ESPN+ extends the network's reach to the palm of the hand, where individual devotees can filter the sports universe to their favorite teams, locations, and players.  
Beyond technology, since ESPN's inception, sports has arguably become the central, shared venue for working through questions of community ideals, struggles over national and regional mythologies, and questions of representative citizenship. Everyday life (television, social media, gaming, fashion, leisure activities, etc.) is now infused so thoroughly with sports media that even when one is not a sports fan, it has become imperative to understand its ecosystem. 
Selected by Victoria E. Johnson, professor, Departments of Film & Media Studies and African American Studies 
Author of Heartland TV: Prime Time Television and the Struggle for U.S. Identity (NYU Press, 2008) and Sports TV (Routledge, 2021). 
Want to learn more? The UCI School of Humanities offers a major and minor in film and media studies. Want to try a course first? We offer undergraduate courses on U.S. sports media; the history of broadcasting; sports films; critical history of TV; race, sports and media; and film theory.
---
1975: The World Conference of the International Women's Year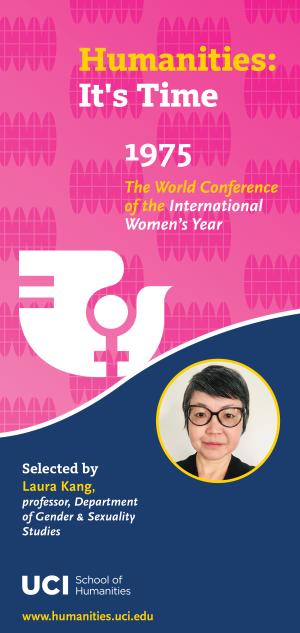 In 1972, the United Nations declared that 1975 would be International Women's Year (IWY). In addition to taking stock of what had been achieved in 25 years since the establishment of its Commission on the Status of Women in 1947, this designation would promote efforts to envision "a society in which women participate in a real and full sense in economic, social and political life and to devise strategies whereby such societies could develop."
The World Conference of the International Women's Year convened from June 19 to July 2, 1975 in Mexico City. The two weeks in Mexico City demonstrated the passion and power of ordinary women and non-governmental organizations to shape the international conversation on pressing problems facing women and formulating solutions. Parallel to the intergovernmental conference of official representatives, there was a non-governmental Tribune, which was held 5 km south at the Céntro Medico. Open to any interested persons and groups, the Tribune became a lively site of conversation, solidarity, and dissent on topics ranging from women's paid and unpaid labor, education, lesbianism, sex workers' rights, food and nutrition, migration, and reproductive health. Other sessions focused on women's experiences of and contributions to struggles against racism, imperialism, neo-colonialism, capitalism, militarism and authoritarian regimes from South Africa and Vietnam to Palestine and Chile. 
The disproportionate burden of domestic labor and care work on women was another prominent area of concern among participants at the Tribune. The COVID pandemic has brought renewed attention to how women and, especially, working mothers are grappling with the multiple exacerbated burdens of paid work, housework, and caring for family members due to the suspension of in-person learning in schools and lack of affordable childcare and healthcare. Despite the much-touted gains of women in education and the workplace since 1975, some of the same conditions of gender inequality persist in the present. What would it take in 2021 to build "a society in which women participate in a real and full sense in economic, social and political life and to devise strategies whereby such societies could develop"?
Selected by Laura Hyun Yi Kang, professor, Department of Gender & Sexuality Studies
Author of Traffic in Asian Women (Duke University Press, 2020), Compositional Subjects: Enfiguring Asian/American Women (Duke University Press, 2002), and writing away here: a korean/american anthology (Oakland, CA: Korean American Arts Festival Committee, 1994). She also co-edited Echoes upon Echoes: New Korean American Writings (Temple University Press, 2003).
Want to learn more? The UCI School of Humanities offers a major and minor in gender and sexuality studies, as well as a minor in queer studies. Want to try a course first? We offer undergraduate courses on Women's history, labor rights, and the politics of gender and sexuality.
---
3rd century BCE: Museion school and library at Alexandria is founded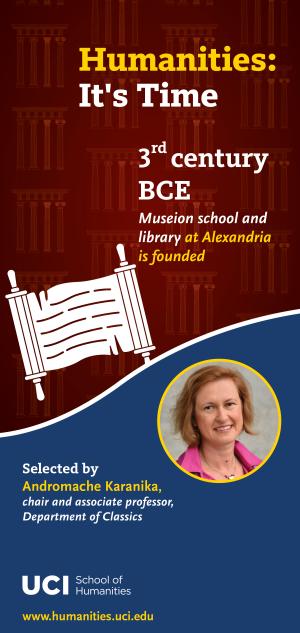 The museum and university settings we know today owe a lot to the intellectual developments of the 3rd century BCE. In 336 B.C., at just 20 years old, Alexander the Great became the leader of the Greek kingdom of Macedonia. 13 years later, his untimely death helped usher in a new era in ancient history we call the Hellenistic period (the Ancient Greek word Hellas was the widely recognized name of Greece). This period is the result of Greek-Macedonian culture blending with the societies of North Africa, the Middle East, Central Asia, and India. The Hellenistic period was characterized by vibrant developments in art, literature, philosophy, and science. No other institution illustrates this spirit more than the Museion. 
Commonly known as the Library of Alexandria, the Mouseion was not just a storehouse for books, but also one of the greatest research centers of the ancient world. Founded by Ptolemy I and II, the institution shaped literary, scholarly, and scientific practices and became the center for cutting-edge research in many fields such as astronomy, mathematics, medicine, philology, and physics. A home to writers, poets, and scientists – sometimes a thousand at a time – it was an intellectual center with academic freedom. The Alexandrian Mouseion guarded ancient knowledge while advancing humanistic inquiry, science, and technology in innovative ways.
The library is believed to have housed between 200,000 and 700,000 books, divided between two library branches.
Selected by Andromache Karanika, chair and associate professor, Department of Classics
Author of Voices at Work: Women, Performance and Labor in Ancient Greece (Johns Hopkins University Press, 2014) and co-editor of Emotional Trauma in Greece and Rome: Representations and Reactions (Routledge, 2019).
Want to learn more? The UCI School of Humanities offers majors in classics, history, and religious studies, and minors in Greek, Latin and classical civilization.
---
1826: Spanish-language novel Jicoténcal published in Philadelphia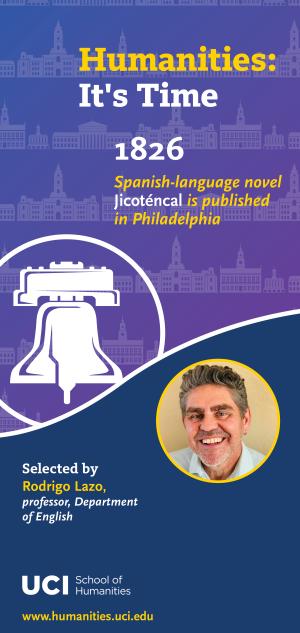 In the 1810s and 1820s, Philadelphia became a publishing center for Spanish-language materials. Although historically associated with the founding of the United States and the writing of its constitution, Philadelphia was also a cosmopolitan city that drew travelers and immigrants from many parts of the world. It was the major printing center in the United States in the early nineteenth century, and its presses regularly published books and periodicals in various languages. When the Latin American wars of independence began, intellectuals fighting against Spanish colonialism made their way to Philadelphia and settled there to publish political books, histories, translations of revolutionary writing, and novels and poems. As a destination for immigrants and exiles, the city became an important part of Latino/a/x history and provided many examples of the Spanish language circulating in cities after the United States was established as a nation.
Jicoténcal (1826) appeared anonymously in Philadelphia and is one of the first novels published in the Spanish language in the Americas. It is a historical romance set in the context of Hernan Cortés's attack on indigenous populations in areas that became Mexico. The hero is an indigenous warrior named Jicoténcal, and the novel presents a forceful critique against the brutality of the Spanish colonization and Cortés's violence. For decades, scholars have debated who wrote the anonymous book, which was published in part for a Spanish-language readership in the United States. As an anonymous book, it reflects the anticolonial concerns of Latinx communities in the Northeast United States. Jicoténcal is an example of the long history of Spanish-language writing in the United States and the importance of book culture to Latinx populations in the 19th century.
Selected by Rodrigo Lazo, professor, Department of English
Author of Letters from Filadelfia: Early Latino Literature and the Trans-American Elite (University of Virginia Press, 2020) andco-editor of The Latino Nineteenth Century (NYU Press, 2016).
Want to learn more? The UCI School of Humanities offers majors in comparative literature, history, global cultures and Spanish, and a minor in Latin American studies. Want to try a course first? We offer undergraduate courses in a variety of related topics, including Latin American film and literature, U.S. Latinx literature, Spanish language and more. Be sure to check out the UCI Latin American Studies Center for relevant events and programming.
---
1492: Expulsion of the Jews from Spain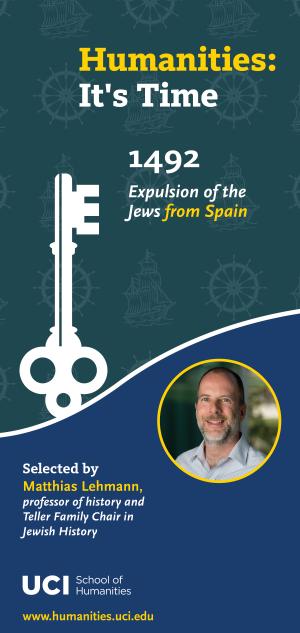 In Aug. 1492, Christopher Columbus set sail from Spain on a voyage that would carry him across the Atlantic and that would mark the beginnings of European colonization of the Americas. Not surprisingly, 1492 is seen as an important watershed in world history.
What is less well-known is that only a few months earlier, on March 31, 1492, the king and queen of Spain, Ferdinand and Isabella, had signed a decree to expel all the Jews from their kingdom. The expulsion of what had been the largest Jewish community of medieval Europe would change the course of Jewish history forever. Spanish Jews – "Sephardim," as they were called in Hebrew – soon found themselves dispersed around the Mediterranean, the Middle East, and the Atlantic seaboard. Their expulsion was a major turning point: In the view of Jewish historians, it marked the end of the Middle Ages, and the dawn of the modern era in Jewish history. There's a myth that Spanish Jews in 1492 took the keys to their homes, in the hope of one day returning to Spain. Thus, the "key," which you see depicted on the banner, is often used as an image associated with the expulsion.
The Jews were not the last group to be driven out of Spain. After 1492, Spain's Muslim population was first forced to convert to Christianity, but in 1609, the descendants of those converts were expelled from Spain as well. Gone were the centuries of coexistence and inter-cultural contact between the three cultures that had shaped medieval Spain: Christianity, Islam, and Judaism.
Remarkably, the Spanish Jewish exiles retained a cultural affiliation with their old homeland, most importantly by preserving their own Jewish dialect of Spanish. Judeo-Spanish remained the language of Sephardi Jews in North Africa, in the Ottoman Empire, even in Jerusalem, until modern times. It was only in the 20th century, during the Holocaust, that much of the Judeo-Spanish culture, which had flourished in the eastern Mediterranean since 1492, was destroyed.
Selected by Matthias Lehmann, Teller Family Chair in the Department of History
Author Baron Hirsch: Jewish Philanthropy in the Age of Empire (under contract),  Emissaries from the Holy Land: The Sephardic Diaspora and the Practice of Pan-Judaism in the Eighteenth Century (Stanford University Press, 2014), and Ladino Rabbinic Literature and Ottoman Sephardic Culture (Indiana University Press, 2005).
Want to learn more? The UCI School of Humanities offers a major in history and minors in Jewish studies, global Middle East studies, and global cultures. Want to try a course first? We offer undergraduate courses on history, Jewish studies, and religion. Be sure to check out the UCI Center for Jewish Studies for relevant events and programming.
---
1325: The Jami Mosque of Khambhat, Gujarat is constructed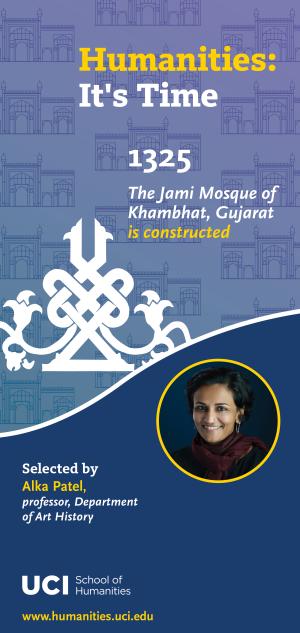 This mosque's construction at Khambhat – the famed Cambay in European sources – reflected the port city's worldwide renown as an economic, political, and cultural powerhouse by the 14th century. Northern India's overland and riverine routes converged at Khambhat, serving as the gateway for the subcontinent's riches to enter into global flows of commerce across the vast Indian Ocean world, spanning from west Africa's "gold coast" to the archipelagos of Southeast Asia. 
India's abundant natural resources (woods, minerals, metals, gems) and agricultural (rice, pepper, tea, coffee) and industrial (textiles, metalwork, stone carving) products were in demand from the Mediterranean to the South Pacific. The pivotal location of India's western seaboard made Khambhat and its hinterlands home to enterprising locals and immigrants, many of whom amassed staggering mercantile fortunes. Thus, it is little wonder that Khambhat's magnificent congregational mosque and adjoining tomb were financed not by a king, but by "merchant princes."
Just as nature could raise the fortunes of a city, she could reduce them as well: With the gradual silting of Khambhat's harbor and the recession of its seashore, the port was a shadow of its former self by the 16th century. Thereafter, the more southerly port of Surat usurped pride of place as India's western maritime emporium, eventually attracting the presence of the Dutch, British, and French East India companies.
Selected by Alka Patel, professor, Department of Art History
Author of Building Communities in Gujarat: Architecture and Society during the Twelfth through Fourteenth Centuries (Brill, 2004), Iran to India: The Shansabānīs of Afghanistan, c. 1145-1190 CE (Edinburgh University Press, 2021) and Building the Indo-Persian World (forthcoming 2024).
Want to learn more? The UCI School of Humanities offers majors in art history and global cultures, as well as minors in archaeology and Asian studies. Want to try a course first? We offer undergraduate courses on South Asian art, history, photography and culture, religion, and medieval societies.
---
1869: Workers complete the first U.S. transcontinental railroad tracks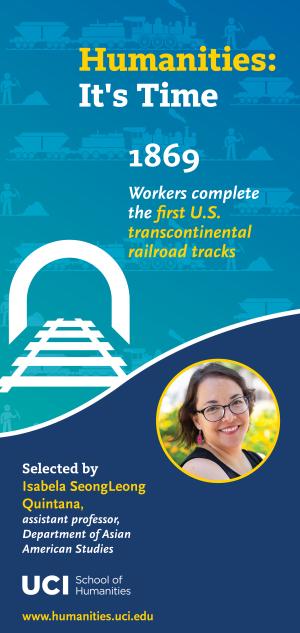 In 1869, at Promontory Point, Utah, a Chinese worker hammered the final spike into the tracks of the great U.S. Central Pacific Railroad. And yet, in the well-known photograph of the following celebration, not one Chinese face is visible. Two additional transcontinental railroads were built during the decades after. The success of the transcontinental railroad/s is a physical and symbolic manifestation of U.S. empire, as are the unsung people and communities whose labor enabled its tremendous infrastructure. With its reach across the Pacific and into Mexico, the railroad's web-like connectivity not only worked to cohere U.S. power with respect to foreign commerce; it also cohered understandings of the United States as a unified and modern nation.
Laying tracks and maintaining them across miles and miles of indigenous lands required a massive and low-paid workforce. The Southern Pacific Railroad recruited Chinese men and later Mexican men to labor and live under grueling conditions. Along the tracks, these workers, their companions, and families seeded many of the multiracial and multiethnic neighborhoods that continue to thrive in cities and towns across California, Texas, and Arizona – places like Los Angeles, Santa Ana, Tucson, and El Paso. Examining the presence of industry in neighborhoods can help us understand the long history of racial segregation and how everyday people "make do" in the face of imperial and economic forces that shape their lives.
Selected by Isabela SeongLeong Quintana, assistant professor, Department of Asian American Studies
Author of Urban Borderlands: Neighborhood and Nation in Chinese and Mexican Los Angeles, 1870s-1930s (forthcoming).
Want to learn more? The UCI School of Humanities offers majors and minors in Asian American studies, Chinese studies, Latin American studies, and history. Want to try a course first? We offer undergraduate courses on Asian American history and culture, U.S. history, and Chinese stories.
---
1978: Edward Said's Orientalism is published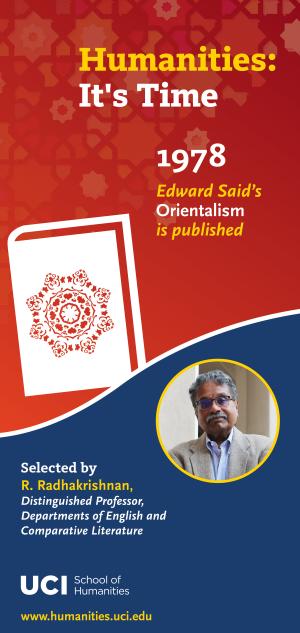 The publication of Edward Said's influential book Orientalism in 1978 inaugurated an academic field of study known as postcoloniality. Orientalism makes the case that there is nothing called "the Orient" except in the colonizing imagination of the West. Thus, the "Orient" is an ideological concept that traps the East into a position of submission: political, cultural, and epistemological. As a concept, orientalism empowers those in the West to depict the non-West in stereotypical and one-dimensional terms. Even the literary masterpieces of authors like Joseph Conrad and Gustave Flaubert are no exception. In fact, culture and imperialism are intertwined. 
In orientalism, the East does not speak but becomes instead the object of Western desire and representation. It becomes the orientalized Other. As Said puts it: "Orientalism was ultimately a political vision of reality whose structure promoted the difference between the familiar (Europe, West, 'us') and the strange (the Orient, the East, 'them')." In other words, characterizations and portrayals of the Orient emphasize the positional superiority of the West and exaggerate us-versus-them differences between East and West. 
Said lays bare the fact that orientalism is not a neutral discourse, nor for that matter is Western humanism, whose supposed objectivity masks a political program of conquest. The subtlety of Said's polemic lies in the fact that despite this insight he does not call for a separatism of the non-West from the West or an identity politics of insiderism. Instead, he posits a postcolonial politics of "contrapuntal reading and understanding," acknowledging intertwined histories and perspectives. Said's work reenergizes the humanities as a site of politically interested and ethically sensitive scholarship. 
Selected by R. Radhakrishnan, Distinguished Professor, Departments of English and Comparative Literature
Author of A Said Dictionary (Wiley, 2012), History, the Human, and the World Between (Duke University Press, 2008), Between Identity and Location: The Cultural Politics of Theory (Orient Longman India, 2007), Theory in an Uneven World (Blackwell, 2003), and Diasporic Mediations: Between Home and Location (University of Minnesota Press, 1996). He is currently completing a book entitled, The Open and the Imperative of Coexistence.
Want to learn more? The UCI School of Humanities offers majors and minors in English, comparative literature, global cultures, and global Middle East studies. Want to try a course first? We offer undergraduate courses on critical and literary theory, writing about race, and more.
---
1982: Feminists challenge military dictatorship & patriarchy in Chile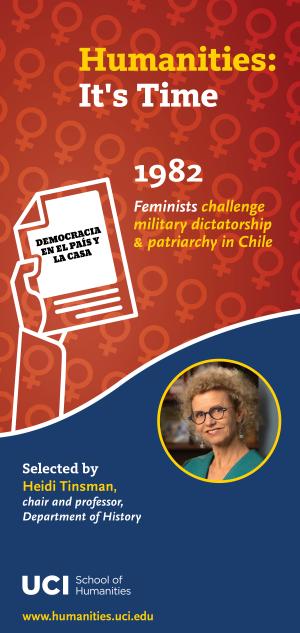 On Sept. 11, 1973, the U.S.-backed Chilean Armed Forces overthrew the democratically elected socialist government of Salvador Allende and launched a brutal, 17-year military dictatorship under General Augusto Pinochet. Chilean feminists and women's organizations played leading roles in creating the pro-democracy movement that forced Pinochet from power in 1990. 
In her 1982 book, Ser Política en Chile: Las Feministas y los Partidos Políticos, Chilean writer and activist Julieta Kirkwood brilliantly argued that patriarchy was the basis of authoritarianism. But she warned that getting rid of Pinochet would not, itself, create a true democracy that fully included women. Chile's male-dominated political parties across the ideological spectrum needed to be transformed by independent feminist movements that pushed for gender equality. Throughout the 1980s, feminist organizations proliferated and heavily influenced the agenda of the many groups that opposed military rule: worker and peasant movements, student associations, human rights groups, and progressive Catholics. Feminists rallied behind the slogan, "democracia en el país y en la casa" (in English, "democracy in the country and in the house"). They organized massive street demonstrations and made International Women's Day (March 8th) a time of national strikes. Women also mobilized against domestic violence and drew parallels between the military regime's human rights abuses and men's violence in the family. Feminists played vital roles getting out the vote in the 1988 national plebiscite that paved the way for the end of military rule.
Since the restoration of democracy, feminists have continued to draw on Julieta Kirkwood's legacy and shape Chile's politics. As a result, robust women's movements have compelled Chilean governments to expand women's access to education, work, and reproductive rights. Chileans twice elected a woman president: Michelle Bachelet, a member of the Socialist party and an outspoken champion of women's equality. In 2018 and 2019, feminist movements against sexual assault and femicide were instrumental in creating new laws and forcing a national referendum for getting rid of Chile's 1980 constitution, written under the dictatorship. Thanks to feminist pressure, Chilean women currently make up 50% of the elected delegates to the Constitutional Assembly that is now writing the new constitution. Dr. Elisa Loncón, an Indigenous Mapuche woman and longtime women's rights activist, presides over the assembly.
Selected by Heidi Tinsman, professor, Department of History
Author of Buying into the Regime: Consumption and Grapes in Cold War Chile and the United States (Duke, 2014) and Partners in Conflict: The Politics of Gender, Sexuality, and Labor in the Chilean Agrarian Reform, 1950-1973 (Duke, 2002).
Want to learn more? The UCI School of Humanities offers majors and minors in history, Spanish, and gender and sexuality studies, as well as a minor in Latin American studies. Want to try a course first? We offer undergraduate courses on Latin American culture and history, feminism, and the politics of gender and sexuality.
---
1979: The start of the Salvadoran revolution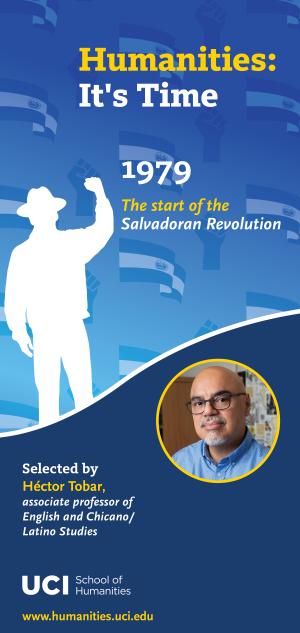 The 1979 Salvadoran revolution was a popular uprising against the oligarchy that had long ruled the small Central American nation as a "banana republic." It was inspired, in part, by the successful Sandinista Revolution in Nicaragua against the Somoza dictatorship that same year. In March 1979, popular protests against the de facto one-party state in El Salvador led to a military coup. A social explosion followed, with dozens of peasant, trade-union, and student groups taking to the streets of San Salvador and other cities.
The military junta and right-wing paramilitary death squads responded with an orgy of violence, "disappearing" thousands of activists and dumping their bodies in the capital city's trash heaps. The Reagan Administration backed the junta, and El Salvador became a Cold War battlefield, its very name synonymous with horror. Those killed by the forces of right-wing order came to include the Archbishop of San Salvador and four American Catholic church women. Radicalized resistance groups formed four armed groups that were unified into the Farabundo Martí National Liberation Front (FMLN), a great improvised guerrilla army. The FMLN launched several dramatic general offensives and eventually fought the U.S.-trained army to a stalemate. A 1992 peace agreement ended the civil war; but the enduring effects of the conflict include dramatic changes to the demographics of California and other corners of the United States, as waves of Salvadoran immigrants resettled in the United States, becoming union activists, entrepreneurs, and parents in their adopted country.
Selected by Héctor Tobar, associate professor, Departments of English and Chicano/Latino studies.
Author of The Last Great Road Bum (MCD, 2020), Deep Down Dark: The Untold Stories of 33 Men Buried in a Chilean Mine and the Miracle that Set Them Free (Farrar, Straus and Giroux, 2015), The Tattooed Soldier (Picador, 2014), The Barbarian Nurseries (Farrar, Straus and Giroux, 2011), and Translation Nation: Defining a New American Identity in the Spanish-Speaking United States (Riverhead Books, 2006). 
Want to learn more? The UCI School of Humanities offers majors and minors in English, Spanish, and history, as well as a minor in Latin American studies. Want to try a course first? We offer undergraduate courses on Latin American culture and history, colonization, and history writing.
---
1987: Assata Shakur's autobiography is published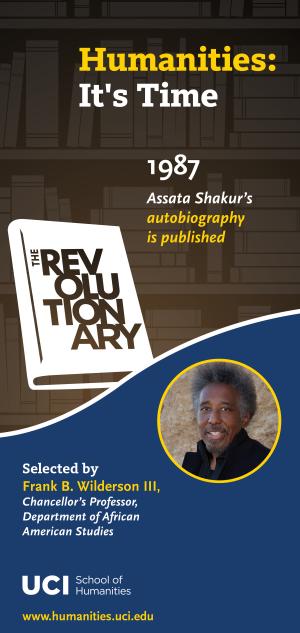 In 1987, Zed Books in London published Assata: An Autobiography, by former Black Panther and Black Liberation Army soldier Assata Shakur – a woman known in Black America and beyond as the Harriett Tubman of the 20th century. She wrote it in Cuba, where she'd been granted political asylum after the Black Liberation Army freed her from the Clinton Correctional Facility for Women in New Jersey in 1979. 
For 34 years, Assata has been the anchor tenant of syllabi, conference panels, and radio shows; and inspired films, artworks, T-shirts, and songs by rappers like Common. Like a splinter in the eye of Reagan era right-wing consolidation, it helped renew the resilience of the Black community as well as non-Black activists on the Left who, during the 1980s, had begun to give up hope for radical transformation. Its narrative structure, the commingling of political theory, history, poetry, and transcripts from her trial with autobiography, is a genre of critical artistic practice known as autotheory.
Reading Assata, one acquires more than just a deep understanding of the life of a Black girl in the Jim Crow South and a Black woman of the revolutionary 1960s and 70s. One also sees how the structure of feeling of millions of Black people cannot be reconciled with the structure of feeling of most non-Black Americans. The FBI learned this the hard way in 1981, when it distributed wanted posters to Black New Yorkers and New Jersey residents asking for assistance in Assata's apprehension. In response, the residents plastered posters in doorways and hung banners from their windows: "Assata Shakur is Welcome Here."
Selected by Frank B. Wilderson III, Chancellor's Professor, Department of African American Studies
Author of Afropessimism (W.W. Norton, 2020), Incognegro: A Memoir of Exile and Apartheid (Duke University Press, 2015), and Red, White & Black: Cinema and the Structure of U.S. Antagonisms (Duke University Press, 2010).
Want to learn more? The UCI School of Humanities offers majors and minors in African American Studies, history, and English. Want to try a course first? We offer undergraduate courses on African American culture, history, and literature.
---
2018: Winnie Mandela's life recognized in #WeAreNomzamo & #SheDidNotDie campaigns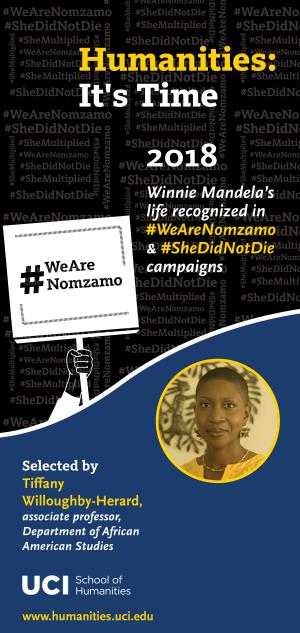 On April 2, 2018, when the anti-Apartheid freedom fighter Winnie Nomzamo Zanyiwe Madikizela Mandela died at the age of 81, a revolution was born.
Though she was celebrated as an anti-Apartheid leader, she had also been for many decades cast by the Western media and male leaders as a threat. For eight years, the Apartheid regime banished Mandela to a township. Later, she endured solitary confinement for thirteen days and seventeen months in prison, a horrific experience she chronicles in 491 Days: Prisoner Number 1323/69 (Ohio UP, 2014).
Ignited by her death, South African activists inaugurated the #TotalShutDown in August of that year, a series of mass demonstrations and coordinated campaigns against femicide and gender-based violence. Mandela was seen as a symbol of how racism and patriarchy work against Black women, even the Black women who fight for the eradication of such inequities. In unison, activists wore doeks and the color black and used a series of hashtags across social media, including #WeAreNomzamo #SheDidNotDie #SheMultiplied #AllBlackWithADoek. In their marches, they proclaimed "Amandla! [Power!]" and declared themselves the feminist afterlives of Mandela's work.
A social worker, youth advocate, and banned dissident, Mandela's ability after her death to haunt us with the yet undone work of anticolonial liberation is part of the cross-generational work that animates the scholarship and writing of many activist-scholars today.
Selected by Tiffany Willoughby-Herard, associate professor, Department of African American Studies
Author of Waste of a White Skin: The Carnegie Corporation and the Racial Logic of White Vulnerability (University of California Press, 2015) and co-editor of Sasinda Futhi Siselapha: Black Feminist Approaches to Cultural Studies in South Africa's Twenty-Five Years Since 1994 (Africa World Press & Red Sea Press: 2020).
Want to learn more? The UCI School of Humanities offers majors and minors in African American Studies, gender and sexuality studies, and history, and a minor in queer studies. Want to try a course first? We offer undergraduate courses on Black feminisms, South African literature and history, and protest traditions.
---
1972: Congresswoman Patsy Mink fights to pass Title IX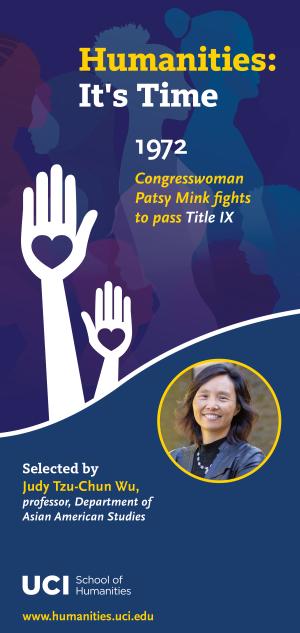 1972 was a banner year for U.S. women's history. Patsy Takemoto Mink, the first Asian American and the first woman of color in Congress, ran for the U.S. Presidency, as did Shirley Chisholm, the first African American woman in the House of Representatives. Mink did so as an opponent of the U.S. War in Vietnam. She even traveled to Paris that year to attempt to broker a peace agreement among female leaders.
Domestically, Mink co-sponsored Title IX, which would be renamed after her when she passed away in 2002. Title IX prohibits sex discrimination in educational institutions that receive federal funding. Although passed initially with little controversy, Title IX generated anxiety and hostility as athletic lobbies and various schools sought to limit its impact. Most commonly associated with sports, Title IX actually encompasses the entire educational experience, including admissions, scholarships, housing, and employment. The legislation transformed educational institutions for girls and women and continues to serve as the legal basis for striving towards gender equity in schools. 
Mink would sponsor and advocate for many other bills as she argued for racial and gender equality, environmental protection, and anti-militarism. For her, though, she considered "Title IX to be one of my most significant accomplishments as a Member of Congress."
Selected by Judy Tzu-Chun Wu, professor, Department of Asian American Studies
Author of Dr. Mom Chung of the Fair-Haired Bastards: the Life of a Wartime Celebrity (University of California Press, 2005) and Radicals on the Road: Internationalism, Orientalism, and Feminism during the Vietnam Era (Cornell University Press, 2013). Her political biography of Patsy Takemoto Mink, written in collaboration with Mink's daughter, political scientist Gwendolyn Mink, will be published in 2022 (New York University Press). She is also working on a book that focuses on Asian American and Pacific Islander women who participated in the 1977 National Women's Conference.
Want to learn more? The UCI School of Humanities offers majors and minors in Asian American Studies, gender and sexuality studies, and history. Want to try a course first? We offer undergraduate courses on Asian American culture, feminism, history and literature, and the politics of gender and sexuality.