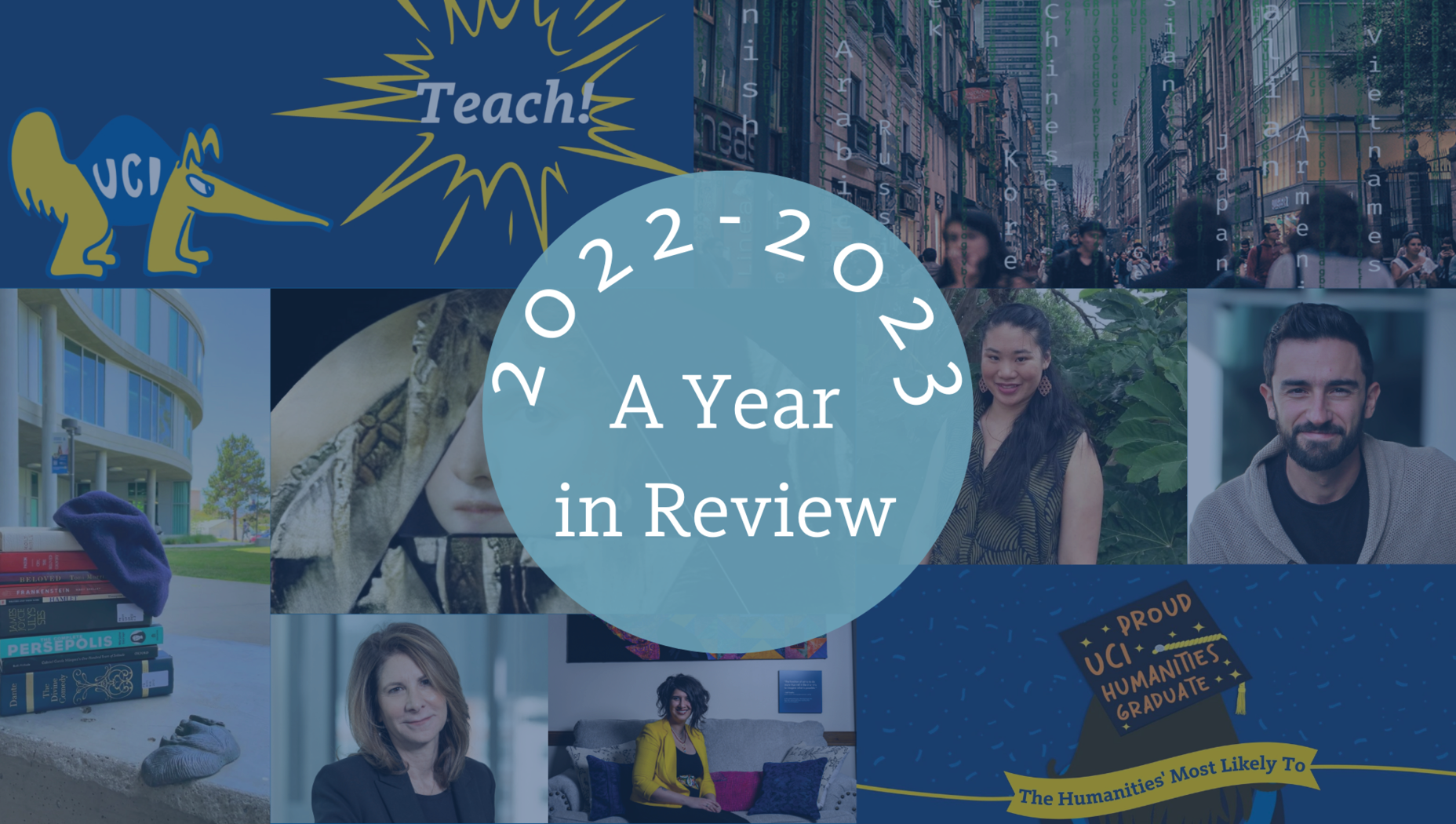 As we cruise into the fall — also known as Southern California's true summer months — the School of Humanities is preparing for the return of our students, including over 650 first-year and transfer students. The upcoming academic year holds many exciting possibilities to feature in our newsletters and social media posts, including new cross-campus programs, student and faculty profiles, research collaborations, innovative humanities courses and stories on the humanities, health and the environment. As we look ahead (no need for a spoiler alert warning here… stay tuned!), we revisit a few of last year's stories, in case you missed them.
Teaching and student success
Teaching excellence. The future is looking bright in the classrooms of six scholars from the UCI School of Humanities awarded Teaching Excellence Awards. Read about these faculty recognized for their outstanding commitment to students and pedagogical innovations in teaching. 
Celebrating the class of 2023. Last June we celebrated graduation with our humanities majors. Meet 12 of these incredible students identified as "Most Likely To" make an impact. 
Humanities and the digital
Virtual reality lab. Did you know that UCI's VR lab is the first in the UC system to focus on language instruction, specifically for undergraduate students? Learn more about how UCI language students wander through the streets of Vietnam, practice Tagalog in the Philippines, explore the Arabic-speaking world and more — all from a lab in the humanities. 
A bridge across space and time. A newly released open-access education and research environment lets you venture, virtually, to Renaissance Italy and delve into the early 16th-century Italian studio fashioned by the most famous woman of the Italian Renaissance.
Humanities alumni
School of Humanities alumni share how their educational journeys at UCI set them on the path for diverse and thriving careers. Meet four alumni we recently reconnected with – Linda G. Mills, M. Shadee Malaklou, Juan Manuel Rubio and Larissa Fong – all of whom have inspiring career paths that highlight the power of a humanities education. 
Instagram stories
If you haven't been following us closely on Instagram (@ucihumanities), you should! We've spent the last few months developing multi-media creations that engage with our research, teaching, students, faculty and staff in ways that go beyond the page (oh, and definitely don't miss our bookish take on the Wes Anderson video trend).