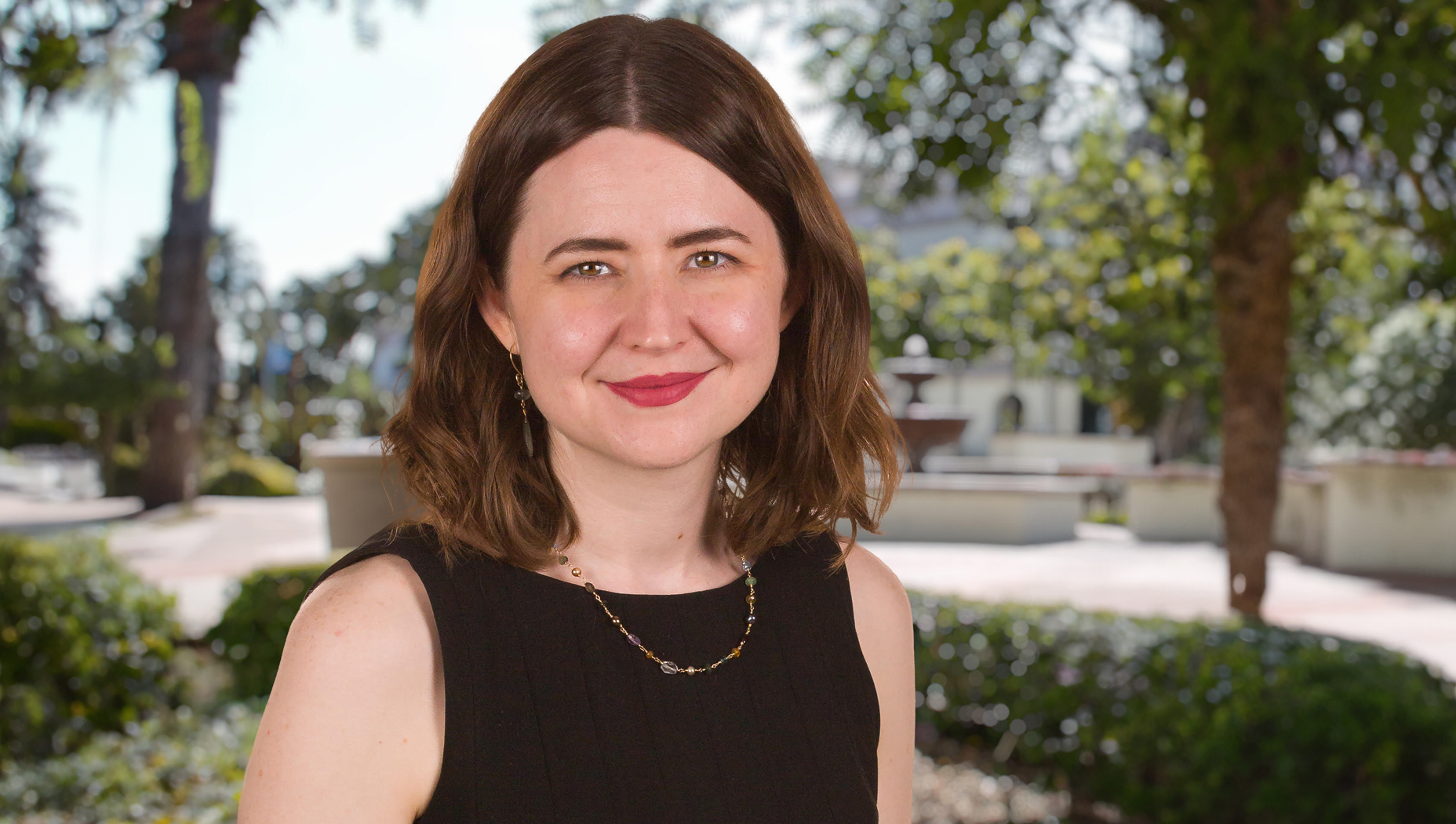 By Munyao Kilolo, Ph.D. Student, Comparative Literature
Darby Vickers is in high demand at the University of San Diego, where she's an assistant professor in the Department of Philosophy. She has gained recognition for service work with the ethics of AI and ChatGPT, her undergraduate courses on ancient philosophy and her grant writing expertise.
Vickers graduated from UCI with a Ph.D. in philosophy in 2021. During her time on campus she was centrally involved in workshops to support graduate student professional development. As a graduate student researcher (GSR) with the UCI Humanities Center, she developed workshops aimed at encouraging fellow graduate students to explore diverse careers beyond academia. Her tenure at the Humanities Center also equipped her with valuable skills, particularly in grant writing, prompting her to consider a potential role in academic administration.
During her interview, the dean discovered that Vickers was interested in grant writing and had worked on a Mellon Grant with the Humanities Center at UCI as a GSR. "It is not very common to see this from people in the humanities, and she really loved it," Vickers reflects. She not only secured the position but has spent the last two years collaborating with the Dean's Office to write grants for educational reform.
Vickers' grant writing experience is just one of the skillsets, honed at UCI, that have proved very useful within her institution. She finds that colleagues seek her various skills, often without coordination. "It's difficult to say no to the people who are in power above you," Vickers jokes. She acknowledges the delicate equilibrium required in academia, balancing teaching commitments, service positions and research responsibilities.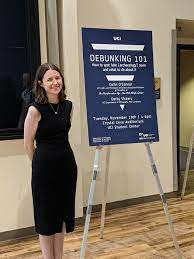 While Vickers has several articles under review in academic journals, including one recently shortlisted for a prize, her substantial teaching workload, coupled with her involvement in the Ethics of AI committee and additional teaching requests relating to ChatGPT, can feel overwhelming.
"These extra commitments come with compensation, of course, but they also consume a significant portion of my research time," Vickers says.
 Vickers feels supported both by the philosophy department and by the College of Arts and Sciences more generally. "Dean Noelle Norton really cares about the faculty. She puts together meetings to get faculty input, something that really matters to her." According to Vickers, this spirit of collaboration is pervasive throughout USD's College of Arts and Sciences.
Teaching philosophy and the ethics of AI
In this nurturing environment, Vickers has the opportunity to explore her teaching in ways that bring her fulfillment. She teaches service classes, encompassing "Ancient Philosophy" for philosophy majors and "Ethics and Education," a mandatory course for seminary students. She also leads courses on computer and AI ethics and a class on ChatGPT, predominantly geared toward computer and electrical engineering students but open to students from various fields who share an interest. What excites Vickers most is that her students play a pivotal role in shaping the final syllabus for these courses.
Vickers emphasizes the significance of flexibility in her teaching approach. For example, during a session on AI ethics last quarter, she encountered an unexpected yet engaging classroom scenario. When her students excitedly shared a new Snapchat AI chatbot feature, Vickers seized the opportunity to pursue an impromptu discussion on the ethics surrounding this customizable chatbot.
"It was an AI chatbot that you could customize on Snapchat and talk to. The students started playing around with it and taking note of the different responses they were seeing. I used this moment as an opportunity to stimulate a spontaneous, and interesting, conversation about the ethics of AI."
She attributes her adept classroom management skills to the pedagogy classes she took at UCI's Division of Teaching Excellence and Innovation (DTEI), which provided her with the tools to navigate such dynamic teaching environments.
Advice for graduate students
Vickers made many strategic decisions while at UCI, including around the selection of her dissertation topic. She engaged in extensive discussions with her advisors and ultimately narrowed her focus to two topics. Her advisor emphasized the importance of ensuring that the dissertation topic was not excessively niche-oriented, especially if she aspired to a teaching-focused position.
Vickers explains her advisor's perspective: "Suppose you have a dissertation on the Philebus, which is a pretty obscure platonic dialogue. In that case, people are going to wonder whether or not you can communicate to undergrads because you have written on such a small, niche topic." Vickers valued this advice, as her dissertation explored the intersection of the ethics and epistemology in Plato's Meno and Republic. These texts are frequently taught in undergraduate courses, making it easier for her to bridge the gap between her research and teaching.
She advises graduate students to also explore research topics unrelated to their dissertations. This practice allows them to demonstrate a broad skill set and versatility when applying for academic positions. Her ability to teach and research in several subdisciplines played a pivotal role in her being hired by USD.
"Most departments aren't looking for ancient philosophers that can also do AI. But it happened that USD was. And that was important to them because they needed somebody who could do both ancient philosophy and philosophy of education to fulfill the position that had just been vacated."
In her own words, she was their "unicorn dream fit."
Alumni
Humanities Center
Philosophy