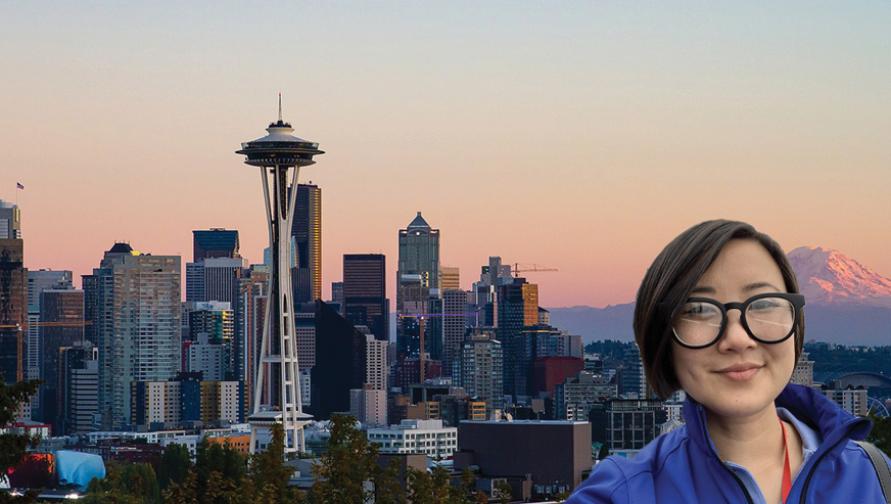 By Valerie Elwell

Connie Wang Griffith '06 had a formidable nickname back in her early days at Blizzard Entertainment, an American video game developer and publisher based in Irvine, Calif. Always a fan of the octopus, her co-workers dubbed her "The Kraken"—after the giant cephalopod-like sea monster of Scandinavian folklore—because she stood up for herself and was a master multi-tasker, much like her eight-legged namesake.

That kind of fun-loving feistiness has served Griffith well throughout her sixteen-year career in a male-dominated industry but so has the education she received as a double major in comparative literature and East Asian cultures at the University of California, Irvine.

Griffith is a senior game designer who has worked on multiple award-winning titles at a variety of top video game publishers. She started at Blizzard in 2003 when the company was located just down the road from UCI in University Research Park. She worked fulltime as a game tester while carrying a full-time course load.

"I originally tested 'World of Warcraft,' which is the game they're most famous for, and I worked the 7:00 p.m. to 4:00 a.m. shift. I'd get off, go crash at my friend's dorm and then go to my 8:00 a.m. class," she says.

Despite that grueling schedule, Griffith was chosen for the Humanities Honors Program, participated in undergraduate and summer research programs and graduated cum laude. She also won a Monbukagakusho Scholarship to study Japanese literature at the International Christian University during her year in UCI's Education Abroad Program. 

She credits her professors—who were incredibly supportive and accessible—as key factors in her success. James Fujii, professor emeritus of East Asian studies, responded to her emails even though he was on sabbatical and studying abroad in Japan. Victoria Silver, professor of English and head of the Humanities Honors Program at the time, was an empowering presence. Jane O. Newman, professor and chair of comparative literature, encouraged her to apply for a Fulbright Fellowship in her senior year.

Someone else won the Fulbright that year and Griffith had to wait to apply for graduate school. In the interim, she needed to pay her bills. With her foot already in the door at Blizzard, she landed a job as the receptionist and, surprisingly, it was a defining step on the path to becoming a game designer.

"I was really good at 'Defense of the Ancients'—a custom map for Warcraft III. I would play at lunchtime with some of my other co-workers and since I was really good, they'd use my gamertag [a person's online persona] and say things like 'Megakill! Woebetideth [her gamertag] is godlike!' Then, I would take a screenshot of the in-game system message and make that my email signature," she says.

Everyone could see Griffith's gaming prowess because she sent emails all day long. Those emails got the attention of the senior vice president of game design. It turns out he was looking for an executive assistant and thought she'd be perfect for the job.

"I was basically his shadow for three years as he went about his business of overseeing game design at Blizzard. I helped manage the day-to-day of running the Blizzard design department, across multiple projects, as well as helped coordinate company presence at large industry events like Game Developers Conference. It was an incomparable training ground," Griffith says.

When Griffith expressed an interest in learning more of the creative side of the operations, her manager began including her in creative development meetings. As a result, she joined the Strategic Initiatives team where she helped with business development plans for the games Diablo III and StarCraft II and began collaborating with brainiacs from Harvard and Wharton who had previously consulted at bigger gaming companies.

"I got a lot of real exposure to that [part of the business] and it made me realize that I could fly with these guys—and of course, [at that time] they were all guys," she says with a laugh.

Griffith spent eight happy years at Blizzard but her heart kept gravitating to narrative development. She landed a position with Carbine Studios [now defunct] in Aliso Viejo as a writer and content designer where she wrote in-game and voice-over dialogue for many of the iconic characters of WildStar and managed gameplay implementation.

After four years, Griffith transplanted herself to the Seattle tech scene and was snapped up by ArenaNet to work on the latest expansion of Guild Wars 2: Path of Fire, a popular MMORPG [massively multiplayer online role playing game]. There, she truly began to utilize her comparative literature background to design several of the main story missions of the game.

"The bread and butter of what I did as a comparative literature student was to take a text and analyze it. What's being said here? How is it reflective of its history or time or the person who wrote it? We do the exact same thing in gaming. We take a game and ask what makes it work. We look at context, game mechanics and player experiences and applying that sort of analysis to games has made me a much better designer," Griffith says. 

One of her design missions for Path of Fire was to uncover the mysteries of Tyria —the world of GW2—and have the player discover what happened to all the gods that had abandoned the planet 250 years prior.

"It was a very thoughtful process to explore the enigmas of this fantasy world. I started by asking 'What do I want the player to be feeling when they're playing my content?' Then I sat down and actually wrote out the concrete mechanics that would reinforce that feeling," she says.

Heavily inspired by the original Superman movie and the Fortress of Solitude, a fictional fortress represented in DC Comics' Superman, she wanted to put players in the mindset of exploring memories and the past. Out of that process, Griffith designed a series of combat-free jumping puzzles where players have to activate memory crystals to learn about past events.

While her past work is a hard act to follow, Griffith just recently landed her dream job at Sucker Punch Productions. She's a senior game designer for the visually stunning game Ghost of Tsushima. Reminiscent of a Kurosawa film, the game is set on the small islands of Tsushima— part of the Japanese archipelago halfway between the Japanese mainland and the Korean peninsula—during feudal times.

"[This game] is probably the one that I'm most excited about in my 16-year career. You play as one of the last surviving samurai—this character named Jin Sakai. The Mongols have invaded the islands. Jin has to learn to compromise some of his samurai ideals about honor and become more of a ninja stealth assassin character because that's the only way that he's going to save his people," Griffith says.

Once again, she's employing the critical thinking and comparative analysis of history and linguistics that she learned at UCI. Griffith says there's been some backlash against games and the way they've reinforced notions of imperialism—something she's now more conscious of and aiming to rectify.

"Many games are about fighting over scarcity of resources, arriving somewhere and taking something from the people already there, and about expanding and conquering. Being thoughtful about how we represent that, even if combat and resource gathering is still core to popular games, is really important. I really see the value of bringing a multi-disciplinary approach to game design," she says.

Griffith is also employing her long-held fascination with the octopus in a new way. She volunteers as a marine science interpreter at the Seattle Aquarium's cephalopod room. While the giant Pacific octopus may be the star of the show, Griffith's work in the touch pools opens this ocean world to those who find access a challenge.

"We have guests in wheelchairs or elderly folks who find it very difficult to lean over; we also have children who are too small to reach in. So, I've been trained to take some animals out and put them in a bowl so they can touch a sea cucumber or look at a hermit crab up close and not feel left out," she says. 

This commitment by the aquarium to provide access to everyone and their belief that guests are better able to digest and retain information from interactions with the staff are two of the primary reasons Griffith volunteers there. The third is far simpler.

"I work crazy hours, but I still make time every week to go and volunteer on Sundays because it just brings me so much joy. As my manager puts it—I'm diversifying my happiness pools," Griffith says.

And feeding her own joy and sense of play can only translate into better games for all of us.

Follow Connie Griffith on Twitter @Squiddiez. Find out more about "Ghost of Tsushima" here.
Alumni
Comparative Literature
East Asian Studies