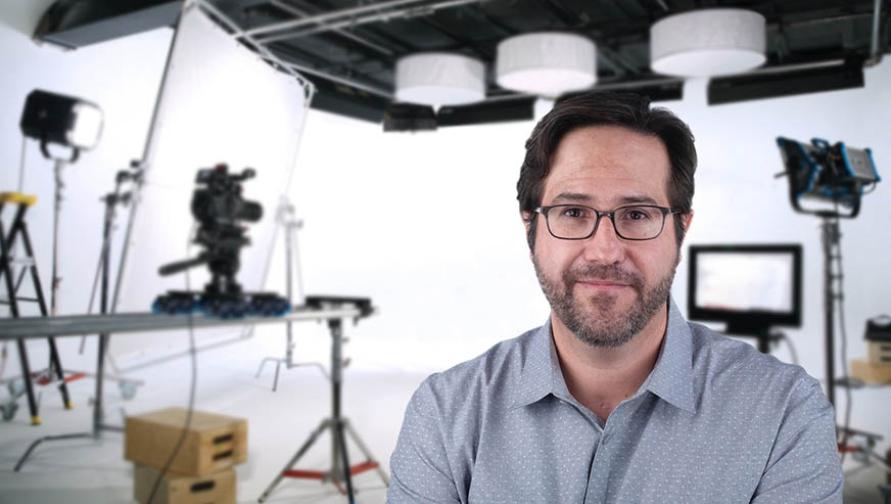 By Charity Lindsey

Fabian Marquez (B.A. Film & Media Studies '95) has traveled the world as an award-winning writer and producer of films and commercials. The University of California, Irvine alumnus credits his education in humanities disciplines with helping him launch a successful career. His education also played a vital role in providing him with the necessary skills to advocate for himself as a medical patient when an autoimmune disease nearly killed him in 2011.

UCI was an obvious choice for Marquez, as his two older sisters' attendance before him filled him with fond memories of visiting them and seeing the campus grow over the years. His decision to become a film and media studies major was kindled by his family's frequent movie theater outings when he was young and his mother's fondness for Gene Siskel and Roger Ebert's TV program "At the Movies."

Like many film majors, he entered college "wanting to be the next Spielberg," but was surprised to discover a love for writing more than directing.

"As a freshman, I initially wasn't thrilled about having to take Humanities Core classes. I thought I was a pretty good writer but then suddenly I realized that I still had a lot to learn," Marquez says. "My first six months at UCI challenged me, and you need those experiences in life if you want to grow in a meaningful way. Humanities courses really helped me evolve as a writer."

He explains that the "unexpected benefits" of majoring within the UCI School of Humanities included learning how to read more comprehensively, write for a broad audience and "dig deep" when analyzing text.

"It forced me to think differently — to think critically," he says.

Several faculty members had a major impact on Marquez, including the late Anne Friedberg, whose voice he still hears in his head. He describes Friedberg as "tough but nurturing" and "so accomplished but also so accessible." Friedberg, who passed away in 2009, was a founding faculty member of the film studies program, and oversaw its transition to the Department of Film & Media Studies in 2002. She was also on the founding faculty of UCI's doctoral program in visual studies.

Rhona Berenstein, director of the film studies program at the time, and former professor Linda Williams also made a positive impact on Marquez. Berenstein made "luminaries and mentors" available to students, including Ann Donahue, co-creator of the "CSI" franchise, while Williams encouraged Marquez to apply for a program that allowed him to attend the Telluride Film Festival in Colorado as a student.

By the time he graduated, Marquez had discovered that screenwriting was his primary passion. Not long after, a fellow film and media studies alumnus, Paul Davidson ('94), helped him secure a job in New Line Cinema's post-production department, which gave him an additional perspective on the filmmaking process.

"They say a movie is made three times — on the page, on set and then in the editing room," Marquez says. "As a writer working in post-production, I found myself on the opposite side of the process, right before the film is finished … It was extremely valuable to see how scripts get reshaped in the editing room."

A highlight from nearly five years at New Line was working as the post-production coordinator for the 1997 cult classic film "Gummo," the directorial debut of acclaimed filmmaker and screenwriter Harmony Korine.

"Coming out of film school and going right into a place where this stuff was happening all around you — it was an incredible time," Marquez says.

He left New Line to "take a leap of faith" by serving as an on-set writer and script supervisor for an indie film he co-wrote. Although it was a questionable decision to many professionals around him, Marquez believes art is all about taking risks.

And it was a risk well taken. That indie film was "Better Luck Tomorrow" (2002), the first film by director Justin Lin, best known for his work in "The Fast & Furious" franchise. It was nominated for the Sundance Film Festival's Grand Jury Prize in 2002 and won the San Diego Asian Film Festival Visionary Award.

"Trust your gut and go with your intuition," Marquez says when asked to give advice to current students. "It's always a battle between your head and your heart, and, most of the time, your heart isn't wrong."

"Better Luck Tomorrow" is about Asian-American high school seniors who are honor roll students, characters Marquez said he could relate to because he was always in honors and Advanced Placement classes in high school.

"I'm Latino and I had friends from all backgrounds — we were the United Nations of friends, but we were all overachievers, so it was a story I could relate to," Marquez says. "Having the background I had in humanities and the exposure to different cultures made me feel like I could hold my own. It helped me overcome the imposter syndrome I felt when writing characters that were outside of my personal experience."

Marquez remembers taking courses in Chinese and Asian studies at UCI, along with a comparative religion course that "stuck with" him.

"Ever since I left UCI, I've found myself in situations in which my behaviors and takeaways are directly informed by the lifelong education that started as a seed at UCI," Marquez said. "To see that sprout and grow over time is kind of humbling — it's really amazing."

His studies combined with home and work life during his time at UCI made Marquez into a "citizen of the world."

Though Marquez was born and raised in Anaheim, his parents emigrated from Argentina, and while he was in college, he worked as an office coordinator for the family-run business, a language service agency.

"That experience exposed me to a broad range of cultures and definitely taught me the importance of being culturally sensitive," he says.

In addition to "Better Luck Tomorrow," Marquez wrote an Oscar-nominated live-action short, "Johnny Flynton," based on a true story about an undefeated boxer in a small Alabama town, in 2002.

And most recently, he wrote and executive produced a television series for NBCUniversal & Syfy called, "Spides." Season one premiered internationally on March 5 and will continue to air in over 40 countries in 2020.

When not writing for film and television, Marquez serves as a senior strategic creative director for a digital marketing agency, a career move he made in 2008 amid the Writers Guild of America strike and financial crisis of 2007–08. During that time period, he took a huge risk — along with his wife and two daughters — by moving to Raleigh, North Carolina, to join Centerline Digital, where he has now worked for 12 years.

The added benefit of working for Centerline has been that the job is flexible in allowing Marquez to balance his work with screenwriting projects.

"It's been a boon creatively where I can still flex my artistic muscles and pay the bills, while at the same time, it allows me to take a few months off if I go shoot a TV show," he says.

However, his career was interrupted when he became terribly sick with an autoimmune disease called dermatomyositis in 2011.

"It basically shut down my whole body," Marquez explains. "(Doctors) told my wife to make arrangements and say goodbye."

Marquez spent the first half of 2012 in the hospital, and although it was a harrowing time for his family, he recovered remarkably, dodging death and coming out of the experience an even stronger person.

"I found ways that I could still apply my craft and what I learned in film studies and the humanities — that kind of got me through in a lot of ways," he says. "It got me through on a personal level because I learned to advocate for myself as a patient."

Marquez had a foundational education from UCI that taught him "how to connect with people," and this served him well when being an effective communicator was critical to saving his life.

"The way I helped myself get better was to connect with healthcare providers and to engage with them in a meaningful way," he says. "Even when I couldn't use my words because my voice box was damaged and I had to communicate in other ways, I leaned on that foundation to connect with people."

That foundation has also served him well in his role as a creative director for Centerline, which has taken him all over the world interviewing a variety of people on camera to tell their unique stories. Last year, he went from South Africa to make a film about how artificial intelligence is used to stop rhino poaching, to Germany and Colombia, where he worked on a video about a new technology that is helping local farmers ensure higher crop yield.

"To ping pong around the world with different cultures — I definitely benefited from the humanities in that regard — being able to interact and have meaningful conversations," he says.

At UCI, student organizations played a significant role in giving him the collaborative and hands-on experience that he'd later need to replicate in his real-life positions. For example, as part of his involvement with the UCI Film Society, he learned the business side of filmmaking, from handling and sourcing prints from a distributor to working within a budget, and even developing a marketing plan to gain an audience.

"I didn't realize it at the time, but that experience ended up being invaluable to me later in various capacities in my career," he says.

To the humanities students who may be seeking a colorful career like his, Marquez says to lean into what they've learned and not waste any time.

"Be very specific about what you want to do, then throw yourself at it with all your might," he recommends. "Many times, it's going to feel like things aren't going to work out. Just stick to your guns."

You can follow Marquez on LinkedIn here.
Alumni
Asian American Studies
Asian Studies
Film and Media Studies