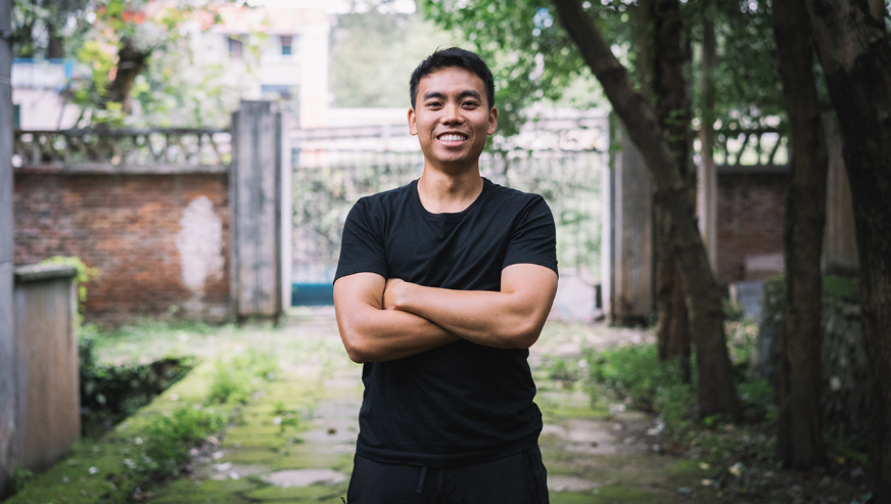 By Valerie Elwell
Directly after graduating with a B.A. in film and media studies from the University of California, Irvine in 2010, Sheldon Chau was at a crossroads—whether to go straight into the film industry or continue on to film school. Hedging his bets, he applied to the top four film schools: NYU, USC, UCLA and AFI but also applied for a camera fellowship with Visual Communications Inc., a Los Angeles-based organization that supports Asian artists and runs the Los Angeles Asian Pacific Film Festival. He won the fellowship and was given a small amount of money to make a five-minute film, which would then be shown at that year's festival.
With the funding, he created
"To Light,"
a riveting short documentary in which Chau's father recounts the conflicts and heartache he faced as his family was forced to flee Vietnam in the 1970s. Chau also discovered—on camera—a family history of sacrifice, struggle and surprises that had never before been revealed to him.
"I'm so glad I did that film. Four years later, my dad passed away from cancer. It preserved such an important part of our family history," Chau says.
It also inspired in him a passion for authentic storytelling and was a key component to his gaining acceptance to the cinematography program at NYU's Tisch School of the Arts. Once there, Chau leaned heavily on his UCI film and media studies training, which offered him a rich background in history, criticism and theory as well as opportunities to acquire key writing and production skills.
"From the beginning, they were impressed by my knowledge of film theory and how many films I knew, which I credit to UCI. While I was in school, I tried to watch a movie a day. I never actually hit the 365 movies in a year goal, but I'd watched so many films that they were all in my head and I could reference them," he says.
Chau also credits the mentoring he received from Fatimah Tobing Rony, professor and chair of the UCI Department of Film and Media Studies, as an impetus for him to succeed.
"She definitely taught me critical thinking—how to analyze and critique and deconstruct filmmaking techniques, but more than that she pushed me and provoked me and made me realize what I was capable of achieving. She really listened and gave the one-on-one personal attention that made me grow as a filmmaker," he says.
Even with that strong foundation, Chau still spent many hours outside of class at NYU doing research and reading just to make sure he kept pace with his peers.
"I didn't think I was qualified. I didn't know what it took to be a cinematographer because at UCI being a filmmaker mostly translates into directing. My last year or two at Irvine, I purchased a DSLR camera and filmed projects for people in my classes. But now, I was in grad school with talented people of all ages, from all around the world. It was intimidating and, initially, I had to pretend that I knew what I was doing," he says. 
Chau's dedication paid off, as did his philosophy of letting his work do the talking and treating people with respect.
"I think those were good characteristics that people saw in me and so a lot of my peers asked me to shoot their projects. The biggest thing I learned at NYU was that you could be very talented but if you're rude or you have a difficult personality, people are not going to want to work with you," he says.
Chau has carried that lesson into his career and it's served him well.  He hasn't had to submit a resume or look for work since graduating.
In the beginning years, Chau accepted whatever project came his way in order to gain experience, especially if the project involved international travel. So far, he's been to India, Senegal, Dubai, Nigeria, Ghana, Taiwan and China. But over time, he found his work becoming unintentionally complacent. He decided to go back to his roots—picking projects based on whether they provoked something inside of him.
"I realized that if the story and character aren't good, it all falls apart; people don't care. I can make the prettiest film, the best-looking lighting shot, whatever it is, but if the human connection and the story doesn't hold together—it really doesn't matter," he says.
Chau's recommitment to authenticity has captured the film world's attention. In 2015, he won the prestigious ARRI Volker Bahnemann Award for Cinematography. In 2017, he was handpicked as the cinematographer for "Nigerian Prince" directed by his NYU classmate, Faraday Okoro, and produced by the AT&T/Tribeca Film Institute through a million-dollar grant. His work has been screened at major film festivals like Sundance, Toronto, Venice and Tribeca. His latest film, "Nafi's Father," recently earned The Golden Leopard of Filmmakers of the Present and The Golden Leopard for Best First Feature awards at the Locarno Film Festival. Currently, he has two films in post-production: "Summer Knight" and "Nhomlaau," and he is finishing up a third in Hyderabad, India.
"My philosophy has always been to really honor and realize the vision of the director, but now I don't even talk about visuals and shots right away. It's all about character development, emotion and the story first. I do that with all the directors I meet. It's a little different for them but it's maybe why I get called back," he says.
Once again, Chau finds his humanities training coming back into focus.
"Humanities is everything—it's storytelling, it's history, it's culture—all rolled into one. The one thing that connects everybody— around the globe—are the stories you share, the conversations that you have. I'm really passionate about what I do because what's the one thing that lasts from culture to culture—through generations, decades, millennium? It's storytelling," Chau says.
Follow Sheldon Chau: Instagram @sheldonchau or his official website.
Film and Media Studies
Alumni