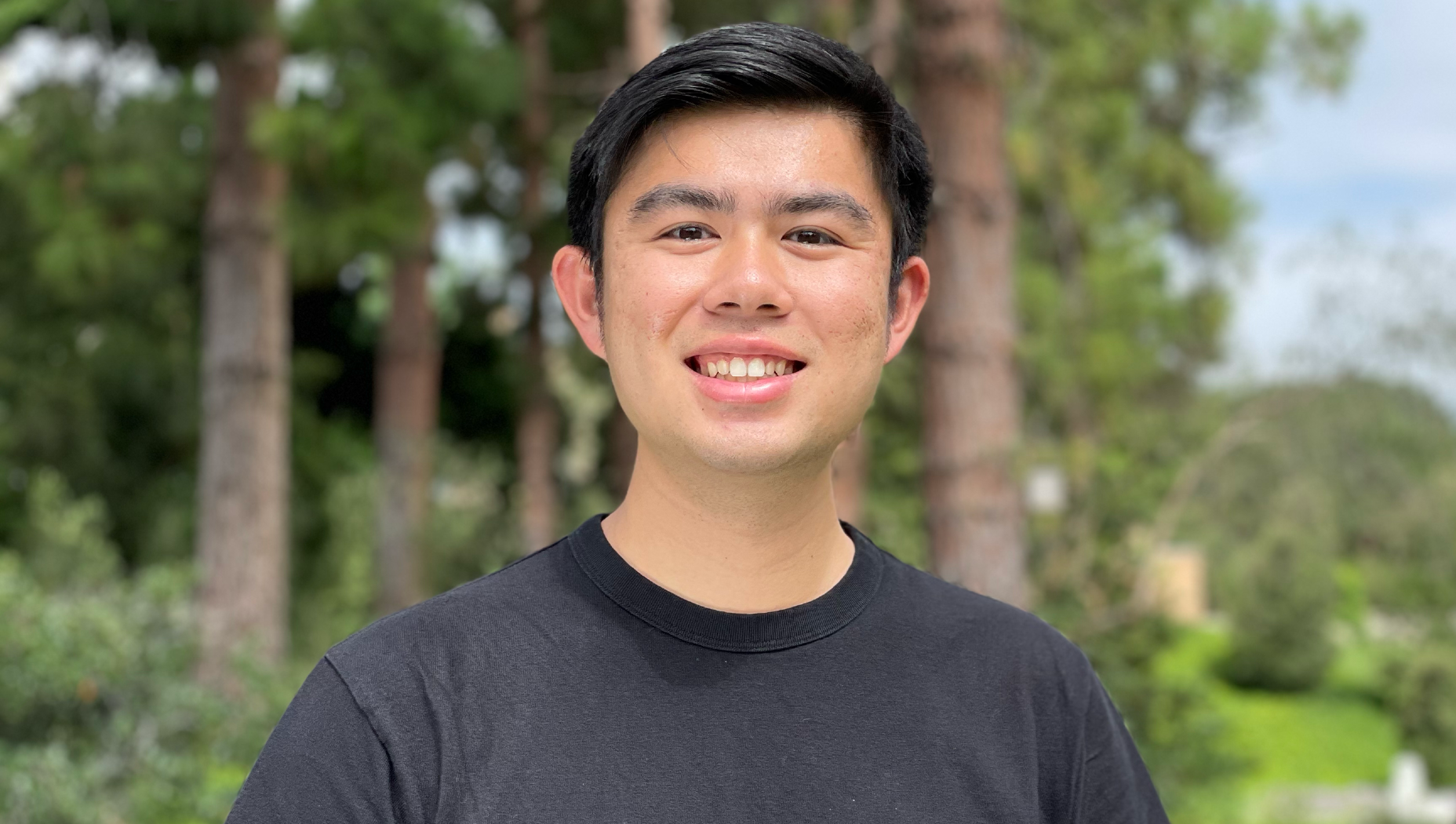 By Emily Schoeff, UCI B.A., English, '23
Sitting on the third floor balcony patio of Humanities Gateway, Humanities alumnus and first year UCI Law student Joseph Cheung reflects on his educational journey. For Cheung, who graduated from UCI last year with majors in English and Chinese studies, personal discovery and community defined his undergraduate experience. And his past year has been a busy one, filled with volunteering at a local film festival, traveling and yes…spending much time preparing for the LSATs. 
Well before starting at UCI, Cheung knew that he wanted to make a difference in his community. After an eye-opening high school career fair, Cheung realized that his path forward should build on his love of reading. "I wanted a job that had an impact on people. I think I was sitting around and realized that I talked about doing a career in STEM, but in reality I was always buying books and reading them. And I thought, you know, literature is what I actually love," Cheung shares. As part of that realization, Cheung began to consider law, and with it, the humanities, reflecting "I thought I'd go to the humanities because it was something I was interested in and enjoyed. It was something worth studying." 
Studying literature offered Cheung the ability to explore his personal history, but through university-level research. In Humanities Core (HumCore), a yearlong series of courses taken by undergraduate students at UCI, Cheung discovered the personal significance of research. While struggling to determine a research topic under the course theme "Empire and Its Ruins," Cheung's seminar leader, Dr. Katharine Walsh, suggested starting somewhere with personal significance. Cheung found inspiration in a place many of his family members call home: Hong Kong. "It affected my family, my family's culture. Their background informed who my grandma was, who my great grandma was. And it made me understand my cousins, which was really exciting. It made it all personal." His research culminated in an award winning project, "Nostalgic Futures: The Self-Fashioning of Victoria Harbor in Film Posters," which explores how film posters reflect the city's construction of its cultural identity through their distinct depictions of the Hong Kong skyline.
Cheung completed the paper just as the 2019 protests regarding extradition erupted in Hong Kong, noting "the very moment I sent in the revised copy was the moment the first tear gas canisters were launched in Hong Kong." Many of the issues he examined in his research were suddenly making international headlines. "I thought, at that moment, the research we do in humanities is definitely not in a vacuum. It's important and has a direct impact. It reflects what's happening in the world." For Cheung, this sparked an interest in research that has a direct connection with the world and modern social issues.
But Cheung's foundation in the humanities extended far beyond the classroom. During his first quarter at UCI, Cheung joined the English Major's Association (EMA). There, he found fellow literature lovers, and with them, a vibrant social and intellectual community. The balance of academic interests and social engagement was crucial to Cheung, who feels that "sometimes people put a lot of pressure to only focus on academics. Having a community to stress with together about a certain paper makes it more enjoyable." Serving as EMA president in his third and fourth years at UCI, Cheung approached the role as "an opportunity to try to keep creating the environment I was so grateful for."
Now in his first year of law school, Cheung remains grateful for the communities he has found and fostered at UCI. Thinking of his new peers, Cheung states, "The range of life experiences from people who were formerly paralegals in big law to people who have worked in environmental protection groups adds a lot of richness and diversity to my classes." In a group of dedicated students with their own visions for the future, Cheung feels passionate about pursuing international law. His decision is influenced by his research, volunteering with the Hong Kong On Screen Film Festival in Los Angeles, his recent travels to Hong Kong and, of course, his undergraduate experience.
"More than anything else, I'm really grateful for the people I've met at UCI. I think that is really what made my experience and, I would argue, is what makes UCI what it is. Just the wonderful people and the community and culture." 
Alumni
English
Humanities Core
Undergraduate Students