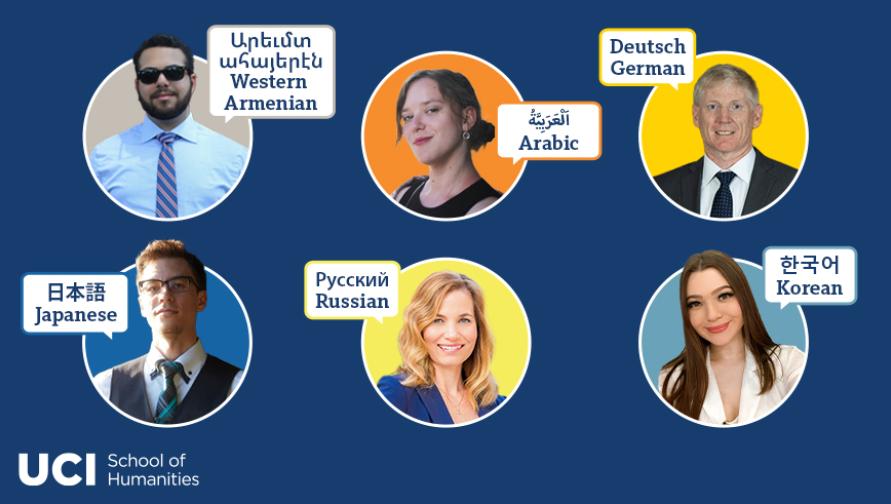 By Lilibeth Garcia
An entertainment entrepreneur. A field representative for a California State Assembly Member. A writer for one of the top healthcare websites. These are just a few of the career paths made possible for UCI alumni by studying languages other than English.
At UCI's School of Humanities, students can take courses in 14 languages other than English, and major or minor in several languages.
Fluency in languages other than English has enabled our students and alumni to study and travel abroad, launch careers domestically and overseas, and deepen their connection to their own cultures and that of others.
These are the stories of six multilingual alumni.
Eliza Partika
B.A.s Literary Journalism and Global Middle East Studies '20 (with a focus on Arabic)
Associate editor and writer at WebMD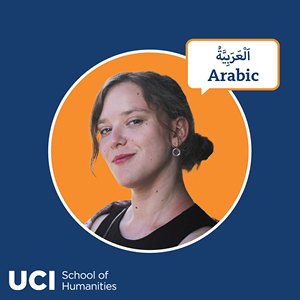 While an undergraduate majoring in literary journalism, Eliza Partika felt her storytelling chops would not be complete without learning a second language. After she was exposed to Arabic during a study-abroad trip to Israel and Palestine, she returned to UCI with the decision to add a major in global Middle East studies and learn Arabic.
Later, on a second visit to Israel and Palestine, she was able to engage in conversations with diplomats, journalists and locals about the ethical, moral and political dilemmas in the region. For one of her literary journalism workshops, she wrote a feature story about the people and culture of Little Arabia in Anaheim and their fight with Disneyland to be recognized as a tourist destination.
Partika received a Fulbright alternate award to study Middle Eastern history and conflicts at Tel Aviv University, which was canceled due to the pandemic. Nevertheless, she continued studying Arabic at the UC Berkeley Graduate School of Journalism through a Foreign Language and Area Studies fellowship.
"Studying Arabic for so long, I fell in love with the beauty of the sound and flow of the language itself and the cultural, social and even political and religious intricacies embedded in it," she says. "Arabic and global Middle East studies were both something I stumbled on by chance and opportunity, but going in, as someone who grew up learning music in various languages and styles, and as someone who traveled and read widely, I always knew I wanted to use language and culture in some way to magnify and improve my writing."
Her travels and studies surrounding the Middle East taught her more than just the local tongues. She also learned about the mental health issues plaguing the people living in the region, which enlightened her on the different ways trauma and history can affect the mind and body. She wrote features for literary journalism workshops that focused on the mental and social health of students and local communities as they navigated food and housing insecurities, the internet and the COVID-19 pandemic.
While at UCI, she also worked at the Office of Strategic Communications as a writer and explored Alzheimer's research, stem cells and other topics in neuroscience – a focus she continued while at UC Berkeley, where she wrote briefs about public health research for Berkeley Public Health. Now a writer for WebMD, she continues to study the many different social and cultural determinants of health, an interest sparked by her passion for Arabic.
"Languages open so many doors: doors to people and the lives they live, to concepts and objects you've never heard of before, or they get you thinking about the world in a new way. You can expand your vocabulary and your understanding of how people communicate, how cultures exchange ideas and discourse with one another. Language is a door to culture, to music, to history and, ultimately, it gives you a deeper understanding of what it means to be human."
The School of Humanities offers two years of Arabic language courses.
Christopher Khachadour
B.A. History '19 (with a focus on Armenian studies)
Field representative for California State Assembly Member Laura Friedman
Christopher Khachadour grew up speaking Western Armenian, an endangered language with only 200,000 native speakers and about a million second-language speakers.
Between 1915 and 1923, the Ottoman Empire systematically killed over a million Armenians in what is known as the Armenian Genocide. Khachadour's great-grandparents were orphaned because of the war. His ancestors escaped to various parts of the Middle East and later to Los Angeles.
A hundred years have passed since the Genocide ended, but the Western Armenian language is still in peril. Western Armenian is rarely taught intergenerationally, with fewer descendants of genocide survivors who live outside of Armenia learning the language.
After three generations of expulsion due to violence, Khachadour's family fought to keep the language alive. His parents enrolled him and his sister in an Armenian private school where he learned how to read and write Western Armenian.
"For me, the Armenian language is a treasure, almost like a family heirloom passed down over generations," Khachadour says. "While we cannot return to our ancestral homes in modern-day Turkey, we have this unbroken bond via the language."
His early education ignited a passion that he continued to nourish at UCI, where he enrolled in all courses related to Armenian history and language. He took classes with Houri Berberian, professor of history & Meghrouni Family Presidential Chair in Armenian Studies, who founded UCI's Center for Armenian Studies and has led the development of Armenian language instruction. He also studied under Talar Chahinian, who currently serves as interim director of the center.
"Armenian history and language courses took me back to my childhood years in Armenian school," he says. "Many of us in the program had previously attended Armenian school, and Dr. Chahinian would give us advanced coursework to accommodate our capabilities and keep us engaged. She was a great teacher. Dr. Berberian always found a way to look at the greater picture and tie Armenian history to world history, reminding us that we did not develop in a vacuum of history."
While a student, Khachadour served as the Armenian Students Association's liaison to UCI's Armenian Studies Program, where he encouraged his peers to enroll in Armenian courses and attend lectures organized by the program. He also worked as a tour guide, providing campus tours to Armenian middle and high school students in Southern California. His fluency in Armenian even enabled him to catalog a collection of about a thousand Armenian books at the UCI Libraries.
Khachadour double majored in history and political science, with a focus on West Asia. While at UCI, he spent four years as a board member of the Olive Tree Initiative, through which he planned and led trips to Armenia, Turkey and Georgia in 2017 and to Boston, New York City and Washington D.C. in 2018 and 2019. There, he met with local Armenian and Turkish lobbying groups as well as journalists, NGOs, religious leaders, former ambassadors, the United Nation's representatives and the State Department.
After graduation, he spent six months volunteering in Armenia with various organizations that required in-depth knowledge of the Western Armenian language and the region's history, including the Eurasia Partnership Foundation, the Armenian United Nations Association and RepatArmenia.
Since returning from Armenia, he has worked part-time at USC's Institute for Armenian Studies and full-time as a field representative for California State Assembly Member Laura Friedman, who represents the 43rd district, encompassing the cities of Glendale, Burbank and La Cañada Flintridge; the unincorporated communities of La Crescenta and Montrose; and a portion of Los Angeles, including Little Armenia and East Hollywood.
The 43rd district represents the largest Armenian constituency in the country. Khachadour, who works with 150,000 ethnic Armenian constituents, is the sole Armenian staffer.
"Having the ability to study Armenian is a privilege, as it's not offered at many institutions. It is an ancient and unique language. I encourage everyone to study a second language, if not a third. And for those interested in engaging with the influential Armenian community of Southern California, I'd strongly recommend it."
The School of Humanities offers a minor in Armenian studies and two years of Western Armenian language courses.
Mark Gagnon
M.A. German '99
Director of the German Program at West Point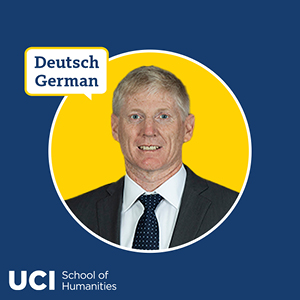 Mark Gagnon, director of the German Program at the United States Military Academy at West Point, began his academic teaching journey at UCI, where he earned his master's degree in German.
Before becoming a professor, Gagnon led a highly decorated military career that regularly stationed him in Germany. His first visit to the European nation, however, was through the Congress-Bundestag Youth Exchange Scholarship program. As a senior in high school, he lived just outside of Hamburg and attended German school as an exchange student.
He continued his German studies at West Point and was stationed in Germany during his first assignment as a U.S. Army officer. After serving for seven years, West Point recruited him to become a German instructor. To do so, he would have to pursue a master's in German.
Gagnon chose UCI to complete his graduate degree: "UCI's German program offered a variety of possible specializations one could pursue in German studies as well as a welcoming and accommodating faculty," he says.
At UCI, Gagnon focused his master's thesis on a 1959 West German war film, "The Bridge," which is about German youths drafted at the end of World War II who are given the mission to defend a meaningless bridge in their hometown. He explored challenges in the reception of the film's "anti-war" message, as well questions of German guilt surrounding the war.
"My education at UCI served as the foundation for teaching German courses at all levels, from the introductory level to advanced courses," Gagnon says.
After teaching German for two years at West Point, followed by an Army assignment in Germany, Gagnon earned a Ph.D. in German from Harvard University in 2006 and returned to West Point as a professor.
"Germany is a strong ally of the United States and a global leader," he says. "The study of German helps students to better understand Germans as well as the cultural and intellectual legacy of the German-speaking world." 
"Knowledge of languages and cultures is essential for success in today's global economy as well as navigating our more culturally diverse country. Learning languages also builds empathy, which is critical for working with international partners as well as better understanding the people students may eventually be leading."
The UCI German program offers a master's and Ph.D. in German and a bachelor's and minor in German studies.
Mike McNamara
B.A. Japanese Language and Literature '08 
President and CEO of Strangely Compelling Multimedia & Rocket Panda Games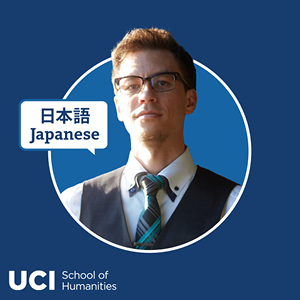 Mike McNamara may be an entrepreneur in the U.S., but his two entertainment companies – Strangely Compelling Multimedia, a PR and localization agency, and Rocket Panda Games, an independent video game publishing company – have deep ties to Japan. Over his 15 plus years in the video game industry, McNamara's language skills have enabled him to negotiate deals across the world.
"I use my Japanese communication skills everyday – and then some," he says. "From daily emails and Zoom meetings to the occasional live interpretation session on camera with Marie Kondo, the ability to swiftly communicate what's being said in high-pressure environments comes from knowing both languages and cultures intimately."
Marie Kondo, the famous tidying expert, isn't the only high-profile Japanese person for whom McNamara has translated. He has also interpreted for animation directors Makoto Shinkai and Mamoru Hosoda and the creators of a "Dragon Ball" video game.
After growing up in Japan during his early childhood and attending a public Japanese elementary school, McNamara picked up Japanese. However, studying it more deeply wasn't his first choice at UCI. He initially attended as a computer sciences major. In a quick pivot, he decided to double major in Japanese and business economics – and the rest is history.
For McNamara, learning a second language involves much more than the ability to communicate with an additional library of words. He sees Japanese as a toolbox to convey universal thoughts and feelings that can draw bridges between contrasting cultures.
"Say, for example, you have a hammer and a nail or a screw and a screwdriver," he says. "Both combinations allow you to secure pieces of wood together to make a table or chair, yet both toolsets are fundamentally different. Oftentimes, a 'hammer' may exist in one language or culture but not the other; nevertheless, looking beyond the tools for a common understanding of what a 'table' or 'chair' looks like in the respective language or culture is much more valuable. Finding the common denominators underneath the toolboxes is the fun part."
"In our interconnected modern world, understanding more than one language equips one to not only communicate with those from other countries but also to open their minds to deeper understanding and acceptance of differing cultures. In my experience, multilingual/multicultural people are much more likely to grasp concepts that differ from their own set of values much quicker. And that open-mindedness applies to any concept or idea that initially may seem foreign – not just language."
The Department of East Asian Studies offers a bachelor's and minor in Japanese language and literature and a minor in Japanese studies.
Keely Ganivet
B.A. Korean Literature and Culture '16
Alumni relations coordinator at UCI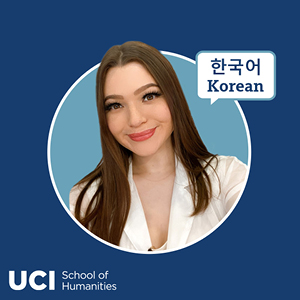 Before Keely Ganivet began her first quarter at UCI, she spent the summer watching K-dramas and listening to K-pop. It was 2012, the summer Psy's "Gangnam Style" topped music charts and went viral on the internet. The U.S. was beginning to see the effects of the Hallyu wave: a Chinese term for "Korean Wave," the growing popularity of Korean TV, movies and music first in Asia and then overseas.
Ganivet, having studied French in high school and eager to take on a new language, enrolled in Korean 1A, 1B and 1C her first year.
"When you're learning a new language, even the small breakthroughs in understanding feel like victory," she recalls.
As a Korean literature and culture major, she could even learn about Hallyu from one of its leading experts, Kyung Hyun Kim, UCI professor of East Asian studies.
Ganivet didn't have a specific occupation in mind when she chose to major in Korean. A lot of people don't end up working in their field of major after college anyway, she reasoned. "I was happy that I didn't have any pre-existing expectations hanging over me," she says. "I was studying a language because it genuinely interested me, and there was freedom and pride in that."  
In retrospect, she realizes how overcoming challenges while learning Korean taught her how to overcome difficulties in her day-to-day job. As a Korean language student, she would reframe her thinking when she struggled to translate something that required looking beyond surface-level meanings. "This practice of taking a step back, looking at things a different way or removing preexisting cultural understandings has endless applications in the real world," she says.
Above all, she believes learning Korean taught her empathy: "The world is a very polarized place right now. Language is the gateway to communication, to culture and, most importantly, to a shared understanding of the world, even if there are differing perspectives."
"I believe learning languages, histories and cultures other than our own makes people more well-rounded and the world a better place. This is because we are all connected: our histories are intertwined; we all share the same planet; we are all human. That is why they call it the humanities."
The Department of East Asian Studies offers a bachelor's and minor in Korean literature and culture.
Larisa Lutes
B.A. Russian Civilization '93
Vice president of mortgage lending at Origin Point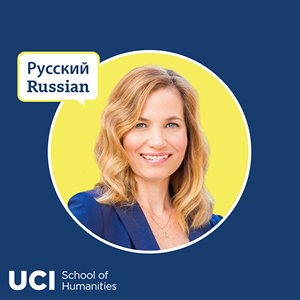 Larisa Lutes' interest in Russian studies grew from a need to understand her ancestral history. Her mother was born in Belarus during World War II and had to flee the country. Born in Los Angeles, Lutes was raised during the height of the Cold War and experienced prejudice from peers because of her Slavic heritage.
UCI offered her a window into understanding a history and personal past that continued to affect her life. As a Russian civilization major, Lutes' most compelling class was linguistics, in which she learned the roots of Russian words and other world languages, revealing how languages all over the world are connected. She also had the opportunity to study in Saint Petersburg for a semester in 1992.
Her expertise in the language led her to move to Moscow after graduation and kickstart her career. Russia was undergoing tremendous change, and she was able to experience those political and economic transformations firsthand. In Moscow, Lutes developed her skills at a British law firm specializing in corporate finance. She worked on cross-border deals for foreign businesses to enter the Russian marketplace, even assisting in bringing the very first TGIF restaurant to Moscow.
"Without my knowledge of Russian, I would never have had such an opportunity to be part of building commerce in Russia after decades of communist rule," she says.
Now, she brings her talents in managing multi-faceted transactions to her job as a mortgage lender. In addition, she says that having a deep understanding of another culture gives her a broad perspective that she uses in consulting and advising her clients.
"I can connect with clients who have immigrated to the United States – not just from Russia but also from other parts of the world – because I can empathize with their experience of learning a new language and culture, which in turn, leads to a much higher level of expertise in my field of finance," she says.
"I believe language is the key to understanding other cultures. Learning a second language is direct insight to the history and psychology of other people and is also reflective of understanding your own history and psychology. What better way to grow as a person?"
The School of Humanities offers a minor in Russian studies.
---
The UCI School of Humanities opens a gateway to the wider world through the study of languages. Through our immersive courses, students can gain proficiency in 14 languages other than English. Want to learn more? Click here.
Alumni
Armenian Studies
German
Global Middle East Studies
History
Japanese Studies
Korean Studies
Language Study
Literary Journalism
Russian