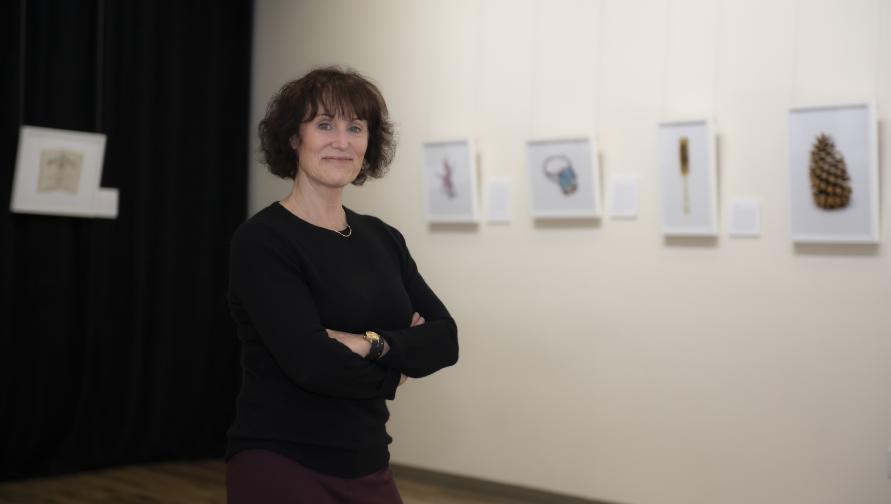 By Lilibeth Garcia
An antique slot machine. A set of forks from WW II. A plush star ornament. What do these objects have in common? They all belonged to people who are no longer alive. And they have stories to tell.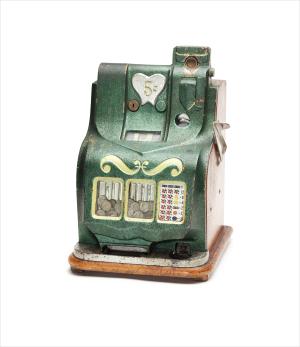 As part of a 2020 exhibit at the Viewpoint Gallery in the UCI Student Center, these objects, among others, were photographed as part of an ongoing collaboration between UCI English Lecturer Lorene Delany Ullman and North Carolina-based artist Jody Servon. The exhibit examined, through prose poetry and visual art, how material things can embody abstract emotions of loss and memory. By the time the works were presented at UCI, they had been shown in over twenty-five exhibitions, with excerpts published in five literary journals, and the project was featured in the Los Angeles Times and the New York Times. Now the project can be experienced through the recently published book, Saved: Objects of the Dead (Artsuite, 2023).
Saved is a photographic and poetic exploration of the human experience of life, death, and memory. Through a mixture of object, ethnography and language, Saved chronicles the lives, deaths, and relationships of individuals whose objects, imbued with their emotional and physical senses, are then "saved" by loved ones and friends to affirm their lives. Based on interviews with the objects' owners, the language of storytelling is directly incorporated into the prose that accompanies the photographs.
The book also features micro-essays with photographs by five artists/authors, including Literary Journalism Associate Professor Erika Hayasaki and Alex Espinoza, UCI M.F.A. alumnus and esteemed novelist.
Delany-Ullman, who earned an M.F.A. in poetry at UCI in 2003, studies and teaches topics ranging from war and popular culture to the rhetoric of grief and mourning. She shares with us some background on the project as well as her approach to writing and teaching about grief, memory, and mourning:
How did the idea for this project, later turned book, come about?
For over 13 years, I have collaborated with artist Jody Servon, a professor and coordinator of the art management program at Appalachian State University in Boone, North Carolina. The original impetus for the project began in 2006, after Jody lost her father and three friends in the same year. When her colleagues and friends asked how she was doing, instead of giving the banal answer "fine," she talked about her loss openly. In doing so, Jody created a space for people to share their memories of their deceased loved ones, and often this conversation included people showing her objects that they had kept in memoriam.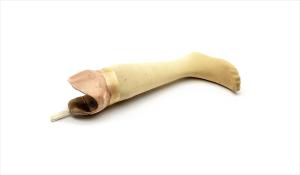 In 2007, Jody worked with photographer, Troy Tuttle, to photograph the objects (which ranged from a prosthetic leg to a slot machine) on a stark white background with a deliberate focus on the objects' wear and tear. The project grew by word of mouth – colleagues and friends talking about Jody's loss and her project – and soon, Jody and Troy had many objects of the dead to photograph. For Jody, working in tandem with Troy to document the objects became a means to process her grief.
In 2009, Jody and I met at Vermont Studio Center, an artist/writer residency where, frequently, artists and writers share their work. When Jody gave her slide presentation of the images, she mentioned she wasn't sure how to tell the stories about the people and their objects. Later that same evening, I approached Jody and offered to write the stories to pair with the photographs. I gave her a sample of my work, a prose poem about the murder of my ex-mother-in-law. My poetry is typically spare and economical. Although Jody did not have prose poetry in mind as the genre to tell the stories, she felt our aesthetics matched in a way that enhanced the project. Together we wrote four interview questions that she emailed to those who had lent her the objects to be photographed. I wrote about two-thirds of the prose poems in the first year and a half of our collaboration. In February 2010, we had our first exhibition as collaborators in the Haas Gallery of Art, Bloomsburg University.   
What do everyday objects, "saved" by surviving loved ones, generally reveal about their deceased owners?
Overall, there is a profound feeling of love and loss but also humor, surprise, nostalgia, shock and a little regret. Yet, each one is a unique story of grief. What I have learned from this project, book, and my experiences in losing my ex-mother-in-law and, more recently, my parents, is that everyone grieves differently. Grief is fluid, not a definitive endpoint.
What piece or object in the book moved you the most?
Because all the images and prose are about someone who died, every object embodies their presence, and every object is special to the bereaved relative or friend, it is difficult to weigh one death, one object, and one story against another. Yet, one of the pieces that affected me the most is "Kitty's Pinecone." In the story, Kitty's teenage daughter is missing and then found murdered, and Kitty later dies from breast cancer in "the same spot where Tara Rose had been shot." I have a daughter, too, and I cannot imagine the devastation and grief a mother experiences when losing a child. To me, the coincidence or purposefulness of where Kitty's breast cancer occurs is symbolic of her immense and inconsolable grief. It is a heartbreaking piece. 
What was the most difficult part of working on this project?

"Alan's Hairbrush" from the book Saved, © Jody Servon and Lorene Delany-Ullman
I tried to be mindful of the pitfalls when writing about death, grief and mourning, such as sentimentality and cliché. We consider the lenders of the objects as collaborators, and in our shows and book, we thank them for their generosity and trust. But I had to distance myself and immerse myself in the interview material to write, and what helped was I did not know the majority of the people who had lent their objects to Jody. The most difficult part of working on this project was to write prose poems that honored the dead, created an authentic relationship between the deceased and the bereaved and addressed the object from an engaging point of view – all with the language and cadence of poetry. 
What do you hope readers take away from Saved?
There is the universality of grief and mourning that, until the pandemic, many of us were reluctant to address, myself included. Talking about death and dying are challenging topics; although we face mortality daily, many choose not to think or talk about it. Even though I am a writer, when called upon by sad circumstances to write a note of condolences, I often stare at the blank card, not knowing what to write.
We hope the book engenders more conversation about death, grief, mourning and memory – there is comfort and consolation found in shared grief, in shared stories. The book addresses our humanity and inclination to cling to our heirlooms, everyday objects and things representative of those we love but have lost. One can find community in grief and mourning, a familiarity to hold onto and support one through and around the avenues of grief.
What courses do you teach? Do you incorporate writing about mourning into your teaching?
Currently, I teach composition courses, usually critical reading & rhetoric, to first- and second-year students. For two quarters pre-pandemic, I taught a critical reading & rhetoric course called "The Rhetoric of Mourning: The Shared Gift of Grief." The theme explored how the bereavement genre encompasses a variety of texts from the traditional to the non-traditional: grief memoirs, podcasts, social media and multimedia art.
The study of these genres suggests that writers, artists and podcasters make conscious decisions to take their intimate experiences with grief to a public audience, perhaps to validate their bonds with the dead and to memorialize their relationships through words and objects. My students did well with the curriculum, but as we moved into the pandemic in which many of us were losing loved ones to Covid, the topic became too heavy for a composition course.
How did your poetry M.F.A. prepare you to work on this project and write this book?
The UC Irvine Graduate Program in Writing gave me the time to focus on my writing. During that time, I found my "voice," I learned much more about the craft of poetry, and how to give and receive feedback in the workshop environment. The workshop taught me how to navigate through peer review, whether positive or negative and revise the work based on the effect I was trying to achieve. After all, a successful writing workshop is dependent upon good communication. All of these skills have proved invaluable in my collaboration with Jody. Collaboration is an exchange of ideas and skills, but above all, it's about open communication. Jody and I have written over 6,000 emails and countless texts and spent many hours on Zoom.
What advice do you have for people writing about loss and grief?
The obituary, eulogy and elegy are all literary forms to help us write about death, grief and mourning. For some writers, the structure, themes and expectations of these forms work well to serve the writing process. While I did not adhere to these forms, they were in the background. There are many approaches to writing about loss, and writers should explore and find the one that works for both the material and the writer.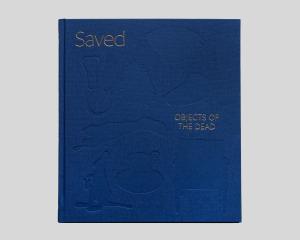 For Saved: Objects of the Dead, the interview material provided many details I needed to write the prose poems. But often, there wasn't enough information, and we asked for more. I intentionally included any particular language, such as nicknames, compelling phrases and dialogue. I looked for patterns and connections between images, events and words – narrative threads to string through the piece.
In addition to Saved: Objects of the Dead, I have written a manuscript titled "The Grief Contest," a series of lyric poems about my father dying from Alzheimer's. In some poems, I connected his death to our climate's death, an eco-grief that requires communal acknowledgment. For me, writing is about finding connections between what's happening inside my world and what's happening outside my world. Writing about loss can be cathartic and healing, but sometimes not enough time has passed since the death, and the writing can be excruciating. My advice to writers is to start slow, and ease yourself into the writing.
Please join Jody Servon and Lorene Delany-Ullman for a reading and conversation moderated by Alberto Agullaba, Jr., UCI English Lecturer and MFA Alumnus, and a book signing.
English
Literary Journalism