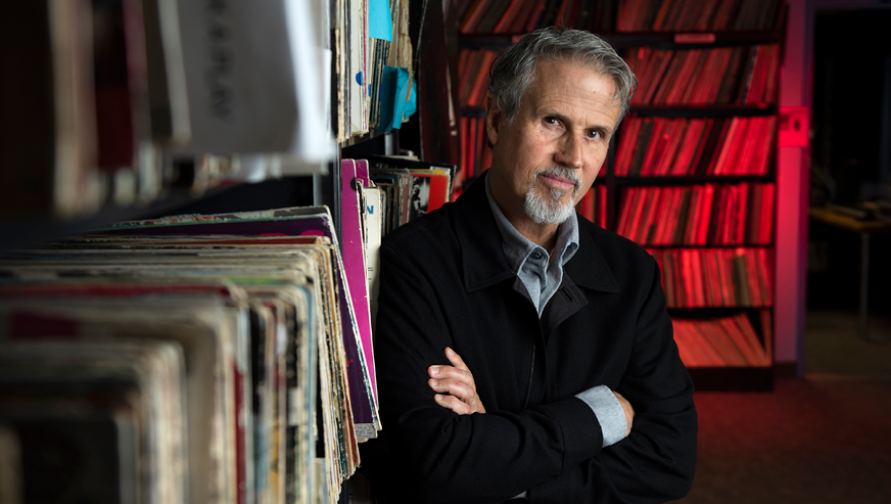 By Valerie Elwell
Jim Guerinot '85 (B.A. English) was incredulous when he got the call asking him to be this year's commencement speaker for the University of California, Irvine's School of Humanities. 
"I thought they made a mistake. It took me nine years to get out of college. I dropped out of high school at 16, got my G.E.D. and went to work. I was 26 when I got my degree!" he says. 
Guerinot's plan for his commencement speech is simple—to speak authentically about his life and untraditional career path. 
Story of My Life
Life goes by so fast
You only want to do what you think is right
Close your eyes and it's past
The story of my life—Social Distortion 
Guerinot is an oft-quoted, Orange County-based super manager who's helped mastermind the careers of bands like Social Distortion, The Offspring, Nine Inch Nails, Soundgarden, No Doubt and Rancid as well as mega-stars like Gwen Stefani, Trent Reznor and Sheryl Crow. 
His resume—which, by the way, he's never had to write—would read a little something like this: Helped shape Orange County's live music scene in the '80s; booked nightclubs and managed some bands while attending Fullerton College; served as UCI concert commissioner booking Crawford Hall and the Sound Stage with bands like The Cure, Oingo Boingo, George Thorogood, and Red Hot Chili Peppers; started Rebel Waltz, Inc., his artist management company during college; hired two days after graduation by Avalon Attractions—the biggest OC concert promoters at the time; joined the marketing division of A&M in 1988 and took over the reins as general manager in 1992; and quit A&M and turned down an array of corporate positions to start his own label, Time Bomb Recordings, in 1994. In 2002, he started a sports management company (SLAM) and repped Tony Hawk, Kelly Slater and Shaun White. In 2011, he co-authored a juvenile non-fiction book called
Legends, Icons and Rebels: Music that Changed the World.
Why Don't You Get A Job?
Say no way, say no way, no way
Why don't you get a job—The Offspring
Guerinot's path to success was circuitous and, in large part, spontaneous. After earning his G.E.D and moving out of his parents' house, he worked briefly in construction and hated it. At the time, he was dreaming of working in film and becoming a cameraman, so he decided to ditch construction and head to Fullerton College to pursue a degree. His favorite professor would be a catalyst for his career.
"He said if you want to direct, you need to study art. You need to study history. You need to study literature. You need to understand the great stories of all time and how they fit into things. It was the first time somebody pushed the humanities in front of me as being valid for a broader experience and what I would want to do in my life," Guerinot says.
After completing his credits at Fullerton College, he headed to New York City and showed up at NYU. He had never applied. They quickly set him straight on their exclusivity and back he came to California. He decided to apply to UCLA, mainly because John Wooden had great basketball teams and Francis Ford Coppola went to film school there. Even though all his credits would transfer, there was one problem—they were on a semester system and had already started. He would need to wait until the following September to begin.
"I was 23, right? I was anxious to get on with things and so they suggested UC Irvine because they were on a quarterly system and I could start right away. That's how I got here," he says.
Everyday is a Winding Road
Everyday is a winding road
I get a little bit closer
Everyday is a faded sign
I get a little bit closer to feeling fine —Sheryl Crow 
In hindsight, Guerinot sees his path to UCI as fortuitous. It helped jumpstart his music career in two pivotal ways. He was able to land the concert commissioner job because he was a bit older than the average student and had the experience from Fullerton College. And, he was able to book big names because he wasn't in direct competition with the L.A. promoters (like his counterparts at UCLA).
"I was making contacts in the music industry the whole time. I see that in the rearview mirror now. I'm getting to know the guys at Avalon Attractions because they're co-promoting a lot of these shows with me. I decided to stay at UCI and it was a career game-changer," he says.
His humanities education was the other game-changer.
"UC Irvine provided something that I had never encountered before which was this concept of critical thinking—that you kind of zoom out 30,000 feet and look at what's being said from a much more omniscient point of view and balance it with other points of view," Guerinot says.
As his career ramped up, Guerinot met really brilliant people—titans of the music industry—who valued literature, art, and history. People like Herb Albert and Jerry Moss (founders of A&M), Gil Friesen (chairman, A&M) and Clive Davis.
"It was a huge education but I showed up and I didn't feel outmatched. I felt like 'Wow! This is going to augment what I started in school. I'm right where I need to be,' as opposed to 'what the hell are they talking about?'" he says.
Guerinot also credits his English degree and exposure to great literature and poetry for helping him figure out which bands and artists to represent.
"I think that [exposure to great literature and poetry] coupled with the critical thinking component gives you an understanding of who you would gravitate towards­—who was the real deal, whose art would endure," he says.
We're in This Together
You and me
We're in this together now
None of them can stop us now
We will make it through somehow—Nine Inch Nails 
Although being able to recognize talent was a large part of his job, Guerinot also had the knack for building and maintaining personal relationships with his clients and mentoring them.
"I was a little older than all my clients. So, I had my kids and then maybe 10 years later they'd start to have kids. So, they'd ask questions like 'Hey, did you do this? Where do you invest your money?' There were a lot of the interstitial life experiences that they were starting to have that I'd had, and I could share my experience on those. And they still call me. So, these friendships endure beyond the commercial aspect," he says.
Guerinot also sees those friendships as paying forward the mentoring he received from Gil Friesen throughout his life—everything from investing and buying a tux to appreciating art, theater and history. He remembers being invited to Friesen's house every six weeks or so for informal salons. There would be a chef and maybe four other couples. After dinner, there would be a speaker or performance.
"Once, Gil said 'Let's go in the living room. There's someone I'd like you to meet.' And it's Bob Dallek (UCLA emeriti professor of history, presidential expert and best-selling author). He gave us a two-hour lecture on FDR!" Guerinot says.
When Friesen was diagnosed with leukemia, he asked Guerinot to take over as producer of his documentary film "20 Feet from Stardom," which is about the lives of background singers. After his death in 2012, the team took it to Sundance where it received nearly universal positive reviews and was bought. It went on to win the Academy Award for Best Documentary Feature in 2014 and a Grammy for Best Music Film in 2015.   
"It was very gratifying and I felt it was a great tribute to him and his career," Guerinot says. 
Trapped in a box
Trapped in a box I'm not alone
I know of others with a box as their home
Light only enters from a crack or a hole
This is not enough for a human to grow
Trapped in a box—No Doubt 
In 1989, Polygram bought A&M. By 1994, Guerinot had become disenchanted with where things were headed. He felt their business model was antithetical to how one should deal with a creative business. He'd rebelliously been managing Social Distortion on the side and had just signed The Offspring. So, when The Offspring blew up—selling 11 million copies of "Smash"—it gave him the platform to start his own artist management company, Rebel Waltz, as well as Time Bomb, his recording label. 
"I had these two great bands and I started thinking 'you know what—I can shrink my overhead. I can go back to a very small way [of doing business]. I can go have fun. I can make the flyers again. I can go on the road. I can do all these things and I can just live small.'" 
Living small turned into managing some of the most prominent and prolific performers of the 1990s and 2000s, partnering with Clive Davis and BMG, doubling royalty rates to artists and radically restructuring the record-company paradigm by keeping overhead down. 
Rebel Waltz
I slept as I dreamed of a long time ago
And the rebels were waltzin' on air—The Clash 
Guerinot recently retired and will turn 60 a few days after his commencement speech. True to rebel form, he doesn't have a plan for the future except for following the Civil Rights Trail this summer.
"It's like okay—I've still got some gas in the engine. What's it going to be? I want to have that feeling I had when I was 23, 24, 25 years old, where it's like, 'Oh, wow! I never thought that would happen. I had no idea I would wind up doing that!' Well, that's because I was a lot more open then. Now I have the means and the ability to make decisions based on my experience, but that's a problem because it means I'm going to limit myself. I want to shut that down," he says.
So far, he's taught music history classes at elementary, middle and high schools all over Orange County based on his book
Legends, Icons and Rebels: Music that Changed the World.
In addition, over the past four years, he's taught advanced placement U.S. history about the 1960s, most recently, at Laguna Beach High School. 
"If you would've said to me five years ago, 'You're going to teach 20 hours of U.S. history on the 60s. What do you think about that, Jim?' I would've said, 'What are you talking about? That's absurd!' But, I want to be open to those experiences because I think that's where I'm going to find something really interesting. That's where I'm going to grow," he says.   
And that's a wonderful lesson to impart to the next generation—that there are many ways to get your humanities degree—and many ways to use it. You just have to be open on the journey. 
The School of Humanities' commencement ceremony will be held Sunday, June 16, at 12:30 p.m. at the Bren Events Center.
Jim Guerinot's speech will be live-streamed on
commencement.uci.edu
.
Photo credit: Steve Zylius / UCI