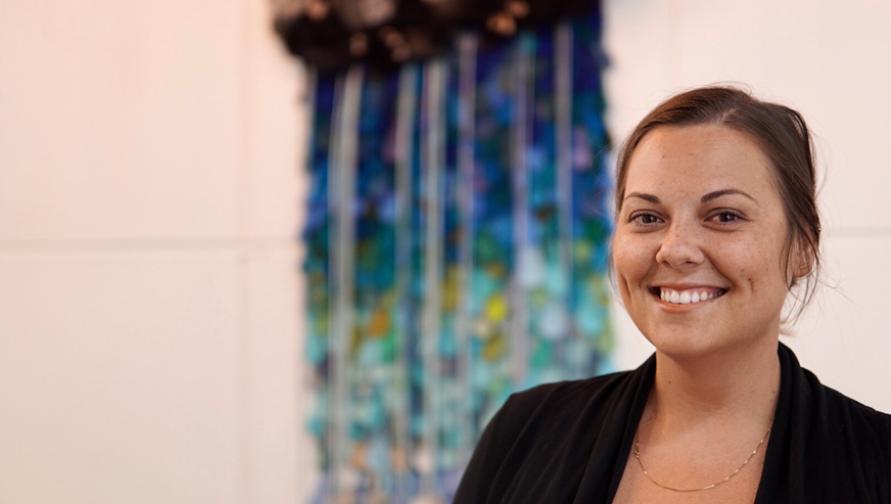 By Valerie Elwell
"It's possibly one of the School of Humanities' best kept secrets," says University of California, Irvine alumna Jasmin Pannier (B.A.s art history and anthropology; M.A. art history '17). That secret helped her land employment immediately after she graduated and gave her the skills to simultaneously launch her own business. What is it? Paid internships through the UCI Department of Art History, which Pannier had four of as a student.
Currently, Pannier is leveraging her art history acumen in several fields, from traditional to emerging: she teaches Western art at the Laguna College of Art and Design (LCAD), serves as the gallery director for Workwell, a collaborative workspace in Irvine, and leads Aquila Projects, LLC, a company she co-founded that brings art by emerging artists to public spaces.
"The internships that I had as an undergraduate student set me up for success. When I applied to LCAD, I didn't have a formal interview. I sent them my resume and had a phone conversation with the chair, who said the second that he saw how many institutions I'd worked for and the experiences I'd had at UCI, he wanted to hire me," she says.
Since 2011, UCI's Department of Art History has provided art history majors and minors as well as visual studies graduate students with paid internships at local and national museums and arts and cultural organizations. Funded by Friends of Art History, the department's giving society, students have been placed at more than 120 internships. Pannier is one example of how these internships have led to successful jobs after graduation.
Taking advantage of the opportunity, Pannier fit four internships into her time at UCI despite having a serious setback.
"Unfortunately, I was diagnosed with relapse Hodgkin's lymphoma in my senior year and had to withdraw from UCI. I had to get a bone marrow transplant and, because of that, I couldn't do anything too strenuous when I returned to school because my immune system was weakened," she says.
Not wanting her health scare to deter her, Pannier spoke with Cecilia Flanagan, Department of Art History undergraduate coordinator, to discuss her options when she returned to UCI. Flanagan set Pannier up as a research intern constructing bibliographies and scanning periodicals for Alka Patel and Amy Powell, both associate professors in the department. The experience sparked Pannier's interest in research and spurred her to enter the then inaugural
4+1 Art History B.A./M.A.
program. The program enabled her to pursue independent study and to take graduate-level courses during her final year as an undergraduate.
"I was able to do a different internship each quarter and when I became interested in 16th-century portraiture in Europe, Amy Powell gave me the tools for success to do research abroad in Europe and to write my senior thesis," she says.
With a UCI internship under her belt, Pannier now had skills to land an external internship at one of the world's largest arts organizations: the Getty Research Institute in Los Angeles, which Patel and the Department of Art History facilitated. With Patel as her mentor, Pannier worked for nearly two years on a 19th-century book of photographs from Afghanistan. She pinpoints one moment in particular that changed the trajectory of her career.
"We had just gone through an initial introduction to the album that I would be working on with Alka and I asked a really simple question about the group of people that was being depicted. Basically, it was 'How do we know that the label correctly identifies the ethnic tribe pictured?' Alka just paused and looked at me and said, 'You're right. How do we know?'"
Pannier's desire to answer that question inspired her master's thesis on ethnic identity through costumes in Afghanistan, with Patel serving as her advisor. 
A third internship led Pannier to San Diego-based artist, Concetta Antico, for whom she managed marketing and public relations.
"It was fascinating to work with her but I learned from that experience that I'm terrible at marketing and social media. Knowing what you're not good at helps narrow down what you want to do," she says.
It was her fourth internship, however, that planted the seed for her businesses.
As part of UCI's 50th Anniversary "Festival of Discovery," Pannier worked with fellow art history majors to put together her first exhibit in Aldrich Park. Attendees were thrilled to experience art in a natural setting, which sparked a desire in Pannier to think consciously not only about how art is displayed but also where.
This responsibility to think thoughtfully about the accessibility of art is integral to her role as gallery director for Workwell.
"It's a pretty funny story. My childhood friends opened this co-working space and I went in to congratulate them. They said, 'Hey, you studied art history. We're going to Ikea. Can you help us decorate?' and I said, 'No, no, no! But can I put a gallery in here instead? Can I take over your walls and have rotating exhibits?'" she explains.
Just as her friends were trying to challenge conventional ideas of office space, Pannier wanted to challenge the ideas of where you can see art. Workwell is a minimalist space with high ceilings, indoor ponds, plants and a variety of wall textures that lend it warmth. Every three months, Pannier changes what's on its walls and hosts a free opening reception replete with food, drink and jazz music.
"We primarily show local artists although we do get some national and international artists. People have told me that they feel less intimidated—that the different wall textures and lighting allow them to think about how the art would look in their own home. So, it's been really fun to curate shows here," she says.
Finishing up her first year of exhibits, Pannier is paying it forward and has already mentored two student interns at the gallery.
"I'm where I am today because UCI exposed me to so many discourses, to critical thinking, to reconceptualizing and adapting my education, and to giving me the tools to think outside of the box. That's why it's exciting and rewarding for me to help other students and young artists get their start," she says.
Learn more about Friends of Art History and help create invaluable paid student internships at UCI. Follow Jasmin Pannier on her blog or on Instagram. See Workwell OC's gallery schedule here.