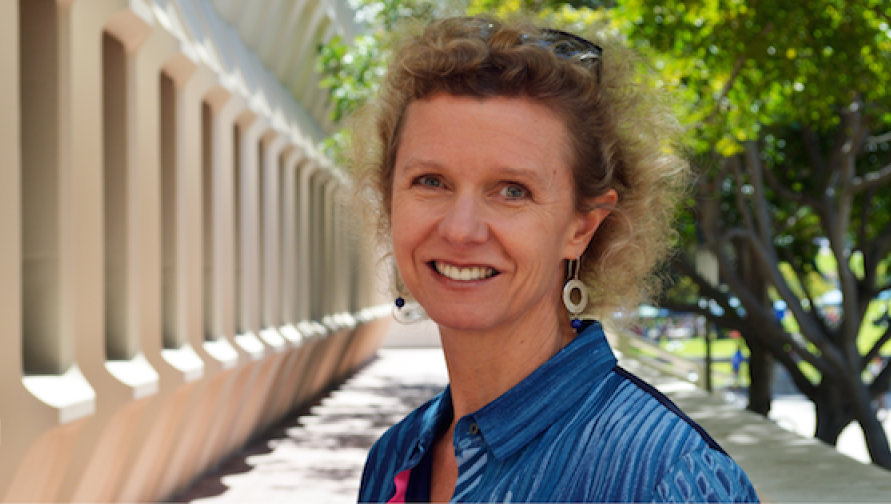 Heidi Tinsman, professor in the Department of History and affiliated faculty in the Department of Gender and Sexuality Studies at the University of California, Irvine, has been awarded a prestigious Guggenheim Fellowship in the Humanities category and field of European and Latin American History.

This year, after considering the recommendations of panels and juries involving hundreds of distinguished practitioners in the competition fields, the John Simon Guggenheim Memorial Foundation's Board of Trustees granted 175 Fellowships (including three joint Fellowships) to a diverse group of 178 scholars, artists, and scientists. Appointed on the basis of prior achievement and exceptional promise, the successful candidates were chosen from a group of nearly 3,000 applicants in the Foundation's ninety-second competition. In all, fifty scholarly disciplines and artistic fields, seventy-one different academic institutions, twenty-seven states and the District of Columbia, and two Canadian provinces are represented by this year's Fellows, who range in age from thirty-one to eighty-four.
"These artists and writers, scholars and scientists, represent the best of the best," said Edward Hirsch, president of the foundation, in a statement. "Each year since 1925, the Guggenheim Foundation has bet everything on the individual, and we're thrilled to continue to do so with this wonderfully talented and diverse group. It's an honor to be able to support these individuals to do the work they were meant to do."

Tinsman, who centers her scholarly work on Latin America and gender history, teaches courses on modern Latin America, gender, labor, race, and world history. Her work brings feminist paradigms to bear on the history of agricultural workers; and over the years it has become increasingly transnational and interdisciplinary. Her first book, Partners in Conflict: The Politics of Sexuality, Gender and Labor in the Chilean Agrarian Reform, 1950-1973 (Duke, 2002), explored the centrality of struggles over sex to the class conflict and peasant movements that brought Socialist President Salvador Allende to power. Her second book, Buying into the Regime: Grapes and Consumption in Cold War Chile and the United States (Duke, 2014), examined connections between Chile's fruit-export boom during military dictatorship and the growing demand for "fresh and healthy lifestyles" in the U.S. in the 1980s. She co-edited the volume, Imagining Our Americas: Towards a Transnational Frame (Duke, 2007) with Sandhya Shukla, which argued for bridging area studies divisions between U.S.-American Studies and Latin American Studies. As a Guggenheim Fellow, Tinsman will conduct research for a new book on Chinese labor and masculinity in 19th century Peru, Cuba, Mexico, and Chile. She is interested in how the stories we tell about Latin America, and our very conception of "Latin America" as a region, change when we see it as part of a Pacific World.

"For a scholar to receive any national award is a great honor, but it's a singularly impressive honor for Professor Tinsman to be named a Guggenheim Fellow," said David Igler, chair of the Department of History. "Heidi deserves this distinction based on the innovative nature of her research as well as her reputation in the international scholarly community.  She is a cherished colleague in the Department of History and a tremendous intellectual asset to the UCI community."

Since its establishment in 1925, the John Simon Guggenheim Memorial Foundation has granted more than $334 million in Fellowships to over 18,000 individuals, among whom are scores of Nobel laureates, Fields Medalists, Turing Award winners, poets laureate, members of the various national academies, winners of the Pulitzer Prize, and other important, internationally recognized honors.