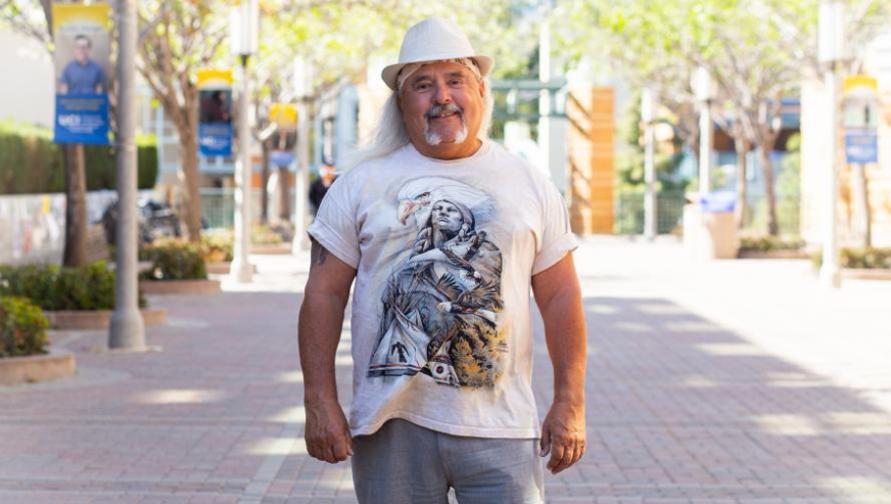 Retired teacher Albert Encinias (Spanish, '72) will be recognized as Distinguished Alumni for the School of Humanities at the Lauds & Laurels ceremony on May 26. He is among 23 accomplished individuals who will be honored by the UCI Alumni Association at the university's oldest awards ceremony – a tradition that has recognized more than 800 members of the UCI community.
Encinias, who is Latino and Native American, was one of the first 13 minority students admitted into UCI under California's "2 percent rule" affirmative-action program, a precursor to the Educational Opportunity Program, which was created in 1969.
At a time when minority students were not expected to attend college, Encinias struggled his first quarter, but with support from faculty and the directors of EOP, he was able to thrive in his future classes and as an elementary school teacher four years later. He eventually became a gang and drop-out intervention specialist for Santa Ana schools, leading an after-school program for at-risk kids.
"This is when UCI rallied behind me and offered every opportunity to succeed," he says, recalling those early days as an undergraduate. "I had tutors; professors spent time with me explaining what I didn't understand; support came from all areas. I was taught how to learn. Where friends had abandoned me, UCI held me up and never disappointed me. It was through the support of many that I graduated, continued toward a teaching credential and eventually became a teacher."
The experience made such an impact that – 50 years after he first arrived at UCI in 1968 – Encinias donated $25,000 to create an endowment for UCI's renowned M.F.A. Programs in Writing called the Jose & Susanna Encinias Award in Creative Writing, in memory of Al's parents. Encinias' dad never learned to read or write more than his name. The endowment has since provided one student in either the fiction or poetry division of the program with a $1,000 scholarship each year.
"UCI took me personally and became my family," he recalls. "I am now spending the rest of my life returning the favor."