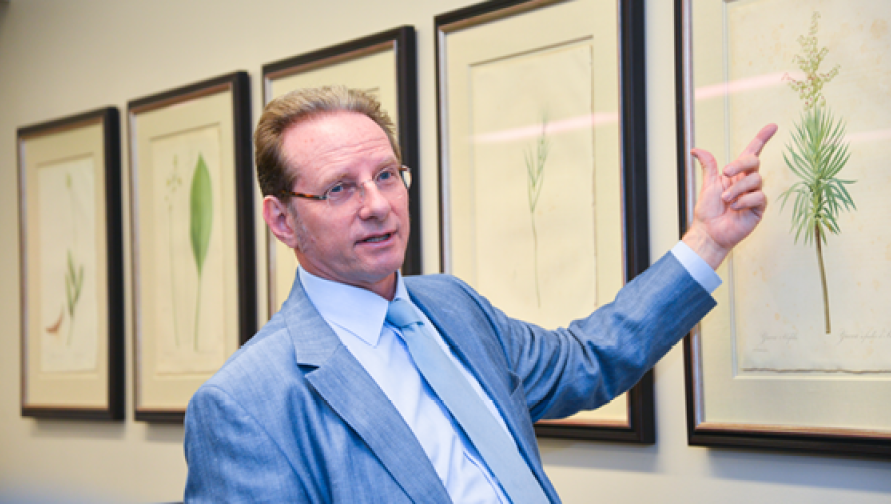 By Annabel Adams
Before there were computers, online databases and digital design tools, explorers and scientists would record and draw their findings by hand. One such explorer and nature enthusiast, John Cassin, painted and named nearly 200 birds, including Cassin's kingbird, Cassin's vireo, Cassin's sparrow, and Cassin's finch. Today, his chromolithographs hang throughout the University of California, Irvine's School of Humanities.

Over the past two years, the school has received $4.7M worth of historical maps, botanical illustrations, watercolors, and prints from various donors including W. Graham Arader, III, Nicholas Bruno, Jeffrey Leving, Victor Mankovsky, Michael and Kathy Mouron, and Michael White. In addition to collections by John Cassin, donated art includes historically significant works by Joan Blaeu, Daniel Giraud Elliot, Gerardus Mercator, Abraham Ortelius, Jacques le Moyne de Morgues, John Ogilby, William Roxburgh, Arnoldus Montanus, Pierre-Joseph Redoute, Justus Danckerts, and Albert Bierstadt.

The growth of UCI's fine art collection has been of personal significance to Georges Van Den Abbeele, dean of the UCI School of Humanities, who has incorporated the art into classes taught through Humanities Core and in his "Picturing the World" class for History and Comparative Literature. Other classes in History and Art History have also made use of these materials.

"Over my career, I have found that historic art like that donated to the School of Humanities can play an important role in students' ability literally to see how the past representations have shaped our current perceptions of the world," said Van Den Abbeele. "We are incredibly grateful to our community of donors for giving our students the opportunity to experience world-class art directly in the context of their classroom learning and university experience."

Arader, a well-known fine art dealer who has donated some of his personal collection to the school, has devoted more than four decades to building a comprehensive gallery of natural history artwork, including hand-colored aquatints and lithographs by John James Audubon and other important ornithological, zoological and botanical artists.

"During the last 40 years I have given away over $200M of artwork to schools in the hope that university Professors would use it to inspire students," said Arader. "The greatest success has been by Dean Georges Van Den Abbeele of the University of California at Irvine. His towering intellect, warm disposition, integrity and passion to be collaborative is unequaled by his peers. His skill puts UCI at the forefront of the merger of art and science in a college setting in the world."

Highlights of the various collections on display through the UCI School of Humanities include:  Audubon-style depictions of birds by John Cassin; a Lewis & Clark diagram of the western U.S.; renowned cartographer Abraham Ortelius' stretched-out view of America; Montanus' engravings of life in the early modern Americas; Danckerts' delightful map of colonial New England, which features drawings of local animals, forts and a 1600s version of Google Maps' street view; and the official cartographer of the Dutch East India Company Joan Blaeu's engraving of Amsterdam from Atlas Major, the largest and most expensive book published in the seventeenth century.

Together with other major collections recently being acquired by the university, these works of art will eventually find a permanent home in a major campus museum, currently in the early phases of development.
Art History
European Languages and Studies
Gifts & Grants