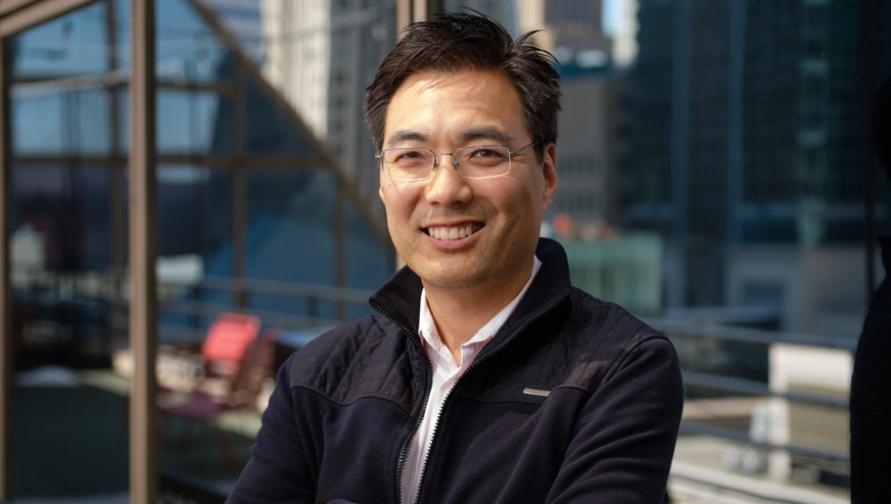 By Lilibeth Garcia
When Sam Choi ('91) began his studies at UCI as a biological sciences major, little did he know that he would soon pivot to English after taking Humanities Core – or that, 30 years later, a once-in-a-century pandemic would transform the world, and that it would inspire him to write his first novel: The Forty-Something Fanboy (2021).
Choi's journey to becoming a published author was not linear but not entirely unpredictable either. Although he is now the vice president of digital design at CVS Health, Choi studied creative writing throughout high school, at UCI with English Professors Julia Lupton and Michelle Latiolais, and while earning a Ph.D. in English at the University of Pennsylvania.
The early pandemic's seemingly uneventful, prolonged period of seclusion gave him an open canvas to imagine a story about what it means to be lonely. When the freeways emptied out in March 2020, Choi's a.m. commute was replaced by a morning writing session that culminated into a book-length project.
The novel follows David Yi – a recently divorced, remote-working father who can't visit his daughter due to COVID restrictions – during the first half of 2020. To cope, he fills his free time obsessing over a one-sided relationship with a Korean influencer.
As if a midlife crisis alone wasn't enough, Yi must come to terms with being "forty-something" and face the realities of aging parents, growing children and withering relationships – all with the limitations of the state-mandated lockdown. That means reckoning with what he took for granted in pre-pandemic life: communication, intimacy, family, holidays, community and tradition.
"Once you reach a certain age, you start thinking about what's really important in the world," Choi says. "And sometimes it's very, very, very simple things, as opposed to all the million silly things that we think are important."
The story is also about being Korean in America and American in Korea. Amid K-drama binges, learning Korean recipes and his Korean friends asking him to turn in his "Korean card," Yi questions his own identity and sets on a heartfelt search for belonging. Despite the heavy themes, there's a lightheartedness that runs through the narrative.
In early 2020, restaurants closed their dining rooms en masse, and the ones that couldn't find success with take-out closed their doors permanently. From lonesome frozen burritos to an indulgent Korean BBQ dinner with distant relatives at the tail end of the shutdown, Choi wrote often about the meals that accent daily life and give us meaning.
"It's a very primal and intimate experience to share food with people," he says. "Even in prehistoric ages, we would go back to the cave and share food, and today, it's one of the key ways that we socialize. During the pandemic, that's what we lost. We lost the ability to go out and eat with people because restaurants closed."
Once an Anteater, always an Anteater
His book was a long time coming. At UCI, Choi found himself at home in Humanities Core – a yearlong seminar series first-year students are required to take. The themes for his year were "love, the self, and the family." In the spring quarter, he took a Shakespeare course with Lupton that would decide his fate.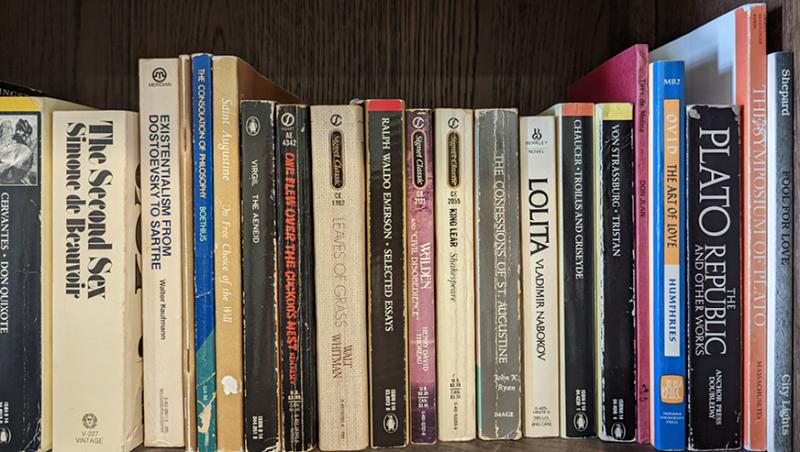 "Lower-level biology was mostly about memorization, learning the principles of things that have already been discovered and applying them, which is obviously an important foundation for learning more, but I felt like I wasn't discovering anything on my own," he recalls. "Whereas in English, while we were reading Shakespeare, books that have been written hundreds of years ago, professors wanted to hear what my take was. They didn't want me to memorize someone else's take. They wanted my take, and that's what I loved about it. I loved being able to bring my own perspective and write my thoughts and make my own arguments – even if they were totally wrong-headed."
Choi minored in French and philosophy because they enhanced his appreciation of great literature. As a Humanities Honors student, he completed an imaginative thesis about a fictional alternate text that tells the story of Spartacus, for which Latiolais was his advisor.  
After earning a Ph.D., Choi's first job was as an assistant professor of English at Ohio State University, where he met Judy Tzu-Chun Wu, currently director of UCI's Humanities Center and professor of Asian American studies. They were both fresh out of graduate school and the only two Asian American faculty members hired that year, even though Ohio State had the largest student population in the United States at the time. They became great friends.
Despite leaving academia for the corporate world to develop his interest in digital technologies, Choi's fondness for creative writing lingered. After he wrote the first draft of his novel, he reached out to Wu, who read it over and offered honest feedback, particularly on its historical angle and how to ground it in events that took place during the early pandemic. He also worked with Chancellor's Professor Emerita of English Margot Norris, who was one of his favorite professors at UCI. Like Wu, she read every chapter and gave him advice on how to improve.
Latiolais and Lupton, who are still professors at UCI, are chairing a book talk for Choi on April 27, and the event is co-sponsored by UCI's Humanities Center and the Center for Critical Korean Studies.
Although his time at UCI was long ago, his humanities education left an imprint that continues to impact his life to his day (and possibly into the future, since his son, a freshman in high school, aspires to attend UCI like his father).
Choi still remembers all his classes thanks to a bookcase he keeps, which contains the wide variety of works he read while he was an undergraduate. The texts are sorted in the order of when they were taught. "I can look at my bookshelf and reproduce all my classes," he says. A whole shelf is dedicated to the Humanities Core books that nourished him on his path to becoming a lifelong writer and, now, author.
Join us in-person or via webinar Wed., April 27 at 5:00 p.m. for a book talk with Sam Choi. For location details and registration, visit here. The first 25 people attending in-person will receive a free copy of the book.