Each year we host a number of scholars through our postdoctoral fellowship and scholars-in-residence program. While in residence, scholars have an opportunity to advance their academic research and facilitate professional networks.
Postdoctoral Fellow 2022-2023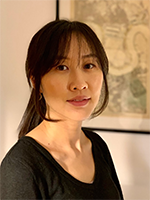 Youngeun Koo
Youngeun Koo is a 2022–23 Korea Foundation Postdoctoral Fellow at the UCI Center for Critical Korean Studies. She is an interdisciplinary scholar of modern Korean history, specializing in Cold War humanitarianism, postcolonial social welfare, and state­–society relations. She received her PhD in Korean Studies (summa cum laude) from the University of Tübingen in 2022. Her current book project examines the intersection of humanitarian liberalism and developmental authoritarianism throughout the history of South Korean international adoption, from its systematization after the military coup in 1961 through the decline of the humanitarian aid era in 1979. Tracing the institutionalization of international adoption from the perspective of social work, her project reveals novel processes of governmentality in postcolonial, Cold War South Korea. Her research has been published in the Journal of Asian Studies. During her fellowship at CCKS, Koo has been working on her book manuscript and co-organizing a conference on South Korean adoption. Koo also contributes to the state investigations into international adoption and potential human rights violations recently launched in South Korea, Sweden, and Denmark.
Visiting Scholar Fellow 2021-2022

Seoin Shin

Seoin Shin is a professor of the Department of Korean Language and Literature at Hallym University. Her research area is Korean grammar, corpus linguistics, and discourse analysis.
In Korean grammar, she has studied sentence pattern, argument structure, semantic role and so on. As she is interested in using the knowledge of grammar for natural language processing, she has attended several projects of building annotated corpora.
By using corpus linguistic methods, she studies not only Korean grammar but also discourse analysis. In discourse analysis, she has studied various keywords such as democracy, green, growth, distribution, welfare, which were issues in Korean society.
While staying at UCI, she studies changes in basic income discourse in Korean newspapers.



Chang Gyu Choi

Chang Gyu Choi is a Professor at Hanyang University's Graduate School of Urban Studies. With diverse academic and practical experiences in urban planning, urban design, and real estate developments, he joined Hanyang University, one of Korea's most prestigious universities, in 2009. He received his B.A (1990), M.S (1992) and Ph.D (1997) in Urban Planning from Hanyang University, Seoul and MsRED (2004) from Columbia University, New York. In pursuit of a career in urban planning and design, he has focused on mixing economic and business-driven mind with the understanding of public benefits.

He received the Academic Prize in 2015 from Korea Planners Association which was established in 1958, Korea's oldest and most renowned academic organization in the field of planning. He has authored more than 60 articles in leading academic journals such as Urban Studies, Cities, Land Use Policy, Environment and Planning B, Journal of Korea Planners Association, and etc. In addition, he has energetically participated in seminars, conferences, and workshops as chair, co-chair, and vice-chair for Korean government, Seoul City government, the World Bank, and etc.


Postdoctoral Fellow 2019-2020

Hye Kyoung Kwon
Ph.D. Theater and Performance Studies, UCLA

Our 2019-2020 CCKS Postdoctoral Fellow, Hye-Kyoung Kwon, holds a B.A. and M.A. in Korean literature and Theater from Sogang University and a Ph.D. in theater and performance studies from UCLA. Her research areas include gender studies, fashion theory, post/colonial studies, and Korean performance studies. Her doctoral dissertation, Performing Masquerade: The Politics of K-Beauty in South Korean Literary and Popular Culture from Japanese Colonialism to Neoliberalism, investigates how young Korean women's beauty practices have produced new modes of femininity and empowered women's agency, especially in the context of everyday life and media representation from the Japanese colonial period to the neoliberal era.
Postdoctoral Fellow 2018-2019
Hyun Hee Park
Ph.D. East Asian Languages and Civilizations, University of Chicago
Visiting Professors 2018-2019

Seong Kon Kim

Seong Kon Kim is a professor emeritus at Seoul National University where he was dean of the School of Language Education. Previously, Kim has taught at Pennsylvania State University, Brigham Young University and the University of California, Berkeley. Kim also taught at the Universidad de Malaga in Spain as a profesor visitante. In 2018, he taught at George Washington University as a Dean's Distinguished Visiting Professor. Kim has conducted research at Harvard and Oxford as a visiting scholar and was educated at Columbia University and the State University of New York at Buffalo, from which he received his Ph.D. degree. 

Kim has received the Distinguished Alumni Award from the State University of New York at Buffalo, CU Distinguished Alumnus Award, and the Fulbright Distinguished Alumnus Award. In 2013, Kim received a medal from the Czech Republic for cultural diplomacy and in 2014, the Order of the Jade for distinguished service from the Republic of Korea. In 2018, Kim was decorated by the Spanish government with La Orden del Merito Civil (The Order of Chivalry). In 2017, the State University of New York conferred on him an honorary doctoral degree in Humane Letters in recognition of "the profound impact Professor Kim has had as a cultural and literary bridge between Korea and the United States."

Kim was President of the International Association of Comparative Korean Studies, the American Studies Association of Korea, the Association of Modern Fiction Studies, and founding president of the Association of Literature and Film.

Kim was Chair of the Advisory Council for the Promotion of Hallyu in the Korean government and a research member of the Presidential Council of Social Coalition. He was also invited to be a member of the Public Diplomacy Council in the Ministry of Foreign Affairs and the Korea-China Cultural Exchange Council in the Ministry of Culture. In addition, Kim was Vice-President of the Seoul Literary Society which was a foreign ambassadors' Korean literature club. From 2012 to 2017, Kim was President of the Literature Translation Institute of Korea in the Ministry of Culture.

At UCI, Kim teaches "Multicultural Issues in Literatures and Films" in the Department of English and "Modern Korean Literature" in the Department of East Asian Studies.



Past Fellows

Lee Jin Kim

Lee Jin Kim is an artist, filmmaker and professor of the Dept. of Film & Animation at Soonchunhyang University. In Korea, she got a BFA in painting and a MFA in film and video in the US. After returning to Korea, she got a DFA in fine arts. She has worked on single-channeled film or installation with a source from documentary image and drawing animation. Besides, she is interested in collaboration with performance so have a wealth of experience in co work for stages of theater and dance. At her university, she teaches students drawing and 2D animation.

Youngah Lee
Associate Professor, Myungji University

Seulki Park
Assistant Professor, Hallym University


Dong Wook Seo
Dong-Wook Seo is Professor of Philosophy at Sogang University in Seoul. He has published many books about philosophy, literary criticism and poems.



Soo-Young Nam

Soo-Young Nam is associate professor of Cinema Studies in the School of Film, TV and Multimedia at the Korea National University of Arts. Her scholarly focus is film theory and contemporary critical theories from perspectives of cultural studies and media archaeology, which means that her research sometimes deals with questions of media representations in popular narratives, but mostly she is more curious about the ways in which cinematic images are created and composed and what kind of effects the visual media, such as films, have on our senses of world, i.e. on our ways of experiencing worlds around us.

In a book published in 2009, Historical Memories in the Era of Image: Documentary, Repetition for Subversion, she analyzed the repetitive elements of visual image vis-à-vis reality through documentary movements in Germany late 20th century and argues for the "creative repetition" inherent in reproduced images in a meta-filmic sense.

Currently she is working on a project under the title of "Inter-Spaces of the Viewing Subject in the Time of New-Media: Mediations of/in Reality." In this a would-be alternative study of spectatorship, she will point out the ways in which the evolution of storytelling in SNS's requires new understanding of media space and time. Eventually this study aims to categorize cinematic experiences changed in the new environments of media and to contextualize various spaces around the viewing subject in terms of "mediation" and "interspace."



Sarah Chee, Korea Foundation Postdoctoral Scholar

Sarah Eunkyung Chee received her B.A. from UCLA, double majoring in East Asian studies and Asian American studies. Upon concluding a year at Yonsei University as an exchange student, Chee spent eight years living and working in South Korea with various civic and human rights organizations. She returned to the U.S. to get her Ph.D. in anthropology at UC Santa Cruz, exploring issues of intimacy, aid and belonging between North Korean defectors and the South Korean Protestants who attempt to domesticate them to a new country and culture.



Myung Sahm Suh, CCKS Postdoctoral Scholar

Myung Sahm Suh is a Postdoctoral Scholar at the Center for Critical Korean Studies. He received his B.A. in religious studies from Seoul National University, and both his M.Div. and PH.D. in Anthropology and Sociology of Religion from the University of Chicago. He specializes in social scientific studies of religion, with a focus on the intersection between religion and politics in contemporary South Korea.