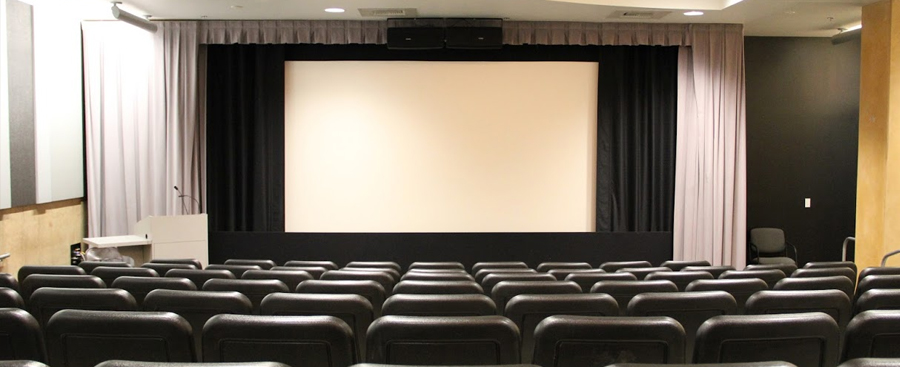 1070 Humanities Gateway

A state of the art venue for film screenings, film courses, and local festivals, the McCormick Screening Room is a place where faculty, filmmakers and students come together to engage in discussion and analysis of a wide range of topics on film and media studies. Features include:
89 fixed seats
35mm, 16mm, Dolby Digital film projection
Video playback in Bluray, DVD, VHS, podium Mac computer, or via laptop HDMI or VGA
DCP (Digital Cinema Package) capability
Sound: Dolby Stereo, Dolby SR Stereo, Dolby Pro Logic, Dolby Digital 5.1 Sound, DTS Digital, DTS Neo Digital, Mono
QSC Professional Cinema Series speakers and amplification
Smart podium
Reserving McCormick Screening Room
McCormick Screening Room can only be reserved by UC Irvine faculty, staff, and student organizations. 
Because some regular weekly classes are scheduled in the screening room, the room can only be booked in advance after the schedule of classes is posted for the quarter. Email Nikki Normandia (nikkinor@uci.edu) with:
The title of the film being screened, and the format you plan to use (laptop with HDMI, Blu-Ray, streaming, etc.) 
Your requested date and time
An alternate date and time for your screening
Plan to pick up a key from the Film & Media Studies checkout booth during their operating hours on the day of or day before the event, or by appointment directly from Nikki outside of those hours. As of Spring 2022, the checkout booth hours are 10:30am through 3:30pm, Monday through Friday. The checkout booth is in the hallway on the second floor of Humanities Gateway, next to room #2021.
There is no fee for academic units or campus organizations to use the screening room. 
The Rules 
There is no food or drink (except water) in McCormick Screening Room. Please keep the room clean. 
Make sure to shut down the projector and lock the door when finished with the room.
Do not prop the double doors open; this will damage the motorized doors.
Do not tape anything to the doors or walls, inside or outside. This can damage the paint. 
Do not block exit paths or exit doors. 
If you use the tables or extra chairs in the room, please fold tables back up and stack the chairs back in the front of the room to the right of the screen.