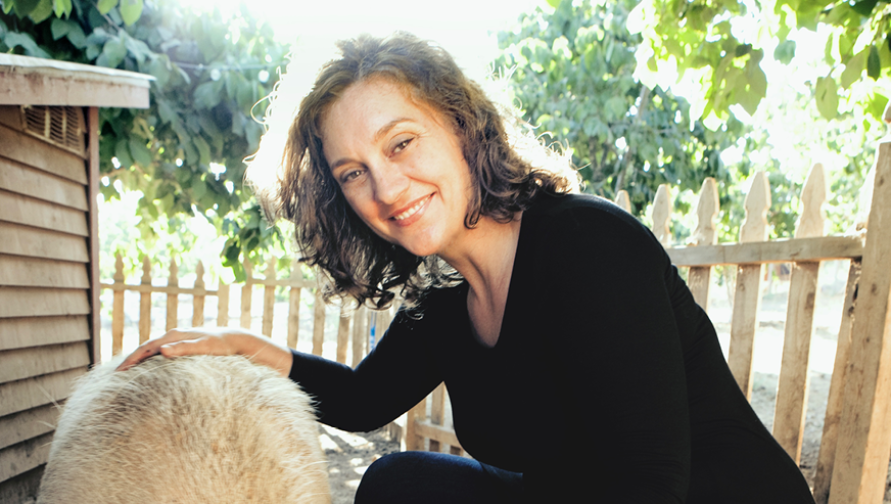 By Lilibeth Garcia

Since Brianne Donaldson came to UCI in the fall of 2019, the religious studies professor and Shri Parshvanath Presidential Chair in Jain Studies has pioneered a focus not found on many other college campuses: applied ethics and South Asian philosophies. In her courses, she brings this focus, including on Jainism, to discussions about medical, animal and agricultural ethics. Such topics are especially relevant today as debates about abortion rights and mandatory vaccination flood social media platforms and as climate change brings into question the sustainability of animal agriculture. Now, an open-source book co-authored by Donaldson – the first of its kind – aims to bring Jainism into these contemporary bioethical conversations.

Donaldson and Ana Bajzelj, religion professor and Shrimad Rajchandra Endowed Chair in Jain Studies at UC Riverside, recently co-wrote the book Insistent Life: Principles for Bioethics in the Jain Tradition (UC Press, 2021), the first full-length interdisciplinary examination of Jainism in relation to contemporary bioethics.

Jainism is an indigenous Indian tradition well-known for its practice of 'ahimsa' or non-violence. According to its philosophy, the universe is teeming with vibrant, conscious life, and every living being down to the most microscopic organism is worthy of existence. Until now, its systematic bioethical applications had not been formalized for a broad audience.

Analyzing ancient Jain texts, some of which date back to sixth-century B.C, Donaldson and Bajzelj reveal Jainism's bioethical approach, which includes an elaborate classification system for all living things, from mammals, plants, and insects to the immeasurably small, and systematic formulations of birth, life and death. According to Jain tenets, each being is on its own autonomous journey, imbued with consciousness and energy and an aversion to pain. Because of this, there are complex karmic consequences for hurting living entities.

"It's not sufficient to just say that Jainism is a tradition of non-violence," Donaldson says. "It's a very sophisticated philosophical and religious system, and we want to help readers understand that the ethics of nonviolence emerge from the tradition's multifaceted internal logic."

Though its foundations are ancient, Jainism has surprising applications to contemporary bioethics, including in reproductive technologies, end-of-life care, organ donation and animal research. A first step comes in the Jain claim that one must be aware that life is all around them and that every action of mind, speech and body has an effect.

Although the book explores sources and responses within the Jain tradition – including its monks, nuns, and lay community members – it also points to ethical implications beyond Jains alone. What would the world look like if we valued a plurality of viewpoints from a universe filled with living beings, or acknowledged that all flora and fauna on earth have a desire to live and avoid pain and destruction that is no less important than our own?

"Some people present Jainism as a very idealized belief system that is impossible to practice, but in reality it presents an ethical perspective that only comes through practice," Donaldson says. "Jain philosophy suggests that only by recognizing the pervasive cost to oneself and other beings in everything that we do, can we actually understand the universe rightly and then imagine and attempt practices that reduce those harms."

Jain bioethics in medicine today

During their research, Donaldson and Bajzelj conducted an international survey with Jain medical professionals in India and diaspora communities in North America, Europe, and Africa. The book includes their responses to critical questions regarding dissection, animal research, antibiotics use and physician aid-in-dying. Their insights provide fresh perspectives on how to approach bioethical decisions.

The COVID-19 pandemic has made bioethics part of everyday discussions. As the public evaluates masks, vaccines, lockdowns and personal responsibility, the Jain tradition offers a new way of looking at our present circumstances. In her conversation with School of Humanities Dean Tyrus Miller as part of the "COVID-19: The Humanities Respond" video series, Donaldson offered her thoughts on the dangers of our current food system.

"COVID has shown us that our vision of a narrowly human-centric world, where humans can exist independent of all other beings, is not true," she says. "This belief, whether it's secular or scientific or religious, is pervasive, and we need to examine it. Jainism presents a view that life is everywhere; it's responsive, it's contributing and it's on its own path, and we are entangled with it. If we don't have a way to even engage [life at this level], then how can we deal with this health crisis that we are in?"

Learning about Jainism at UCI

Students can deepen their understanding of Jainism through one of Donaldson's courses on medical ethics, animal ethics and religions, as well as Asian philosophies and ethics. This year, she will be a lecturer in the current Humanities Core theme of Animals, People, and Power, which will introduce over 900 incoming students to animal ethics in western philosophy, Jain and Indian philosophy, as well as perspectives in gender and race theory. In spring 2022, she will offer a graduate-level course on sex, gender, and species.

For the public, Donaldson hosts an ongoing "Lecture in Ethical Innovations," which invites a leader in the public or private sector to describe their work in advancing a harm-reducing innovation such as human organs on chips, or plant-based or cell-cultured meat, milk and eggs. An upcoming lecture on Nov. 3 will feature Miyoko Schinner, CEO of Miyoko's Creamery, as she discusses her recent landmark legal victory to use terms "butter" and "dairy" on her plant-based products. And on Dec. 1, Anne Vallely from University of Ottawa will present "Non-ordinary States of Consciousness & Religion: Reflections on the Jain Tradition."

Donaldson says anyone can start practicing Jain ethics todays. Two ways include eating only plants, which reduces harm, according to Jain texts and practices. And restraining the purchase of material goods can help one focus on self-value and reduce harm to living beings involved in production.

From engaging courses and events to a groundbreaking book, Donaldson is bringing Jainism and its contemporary applications to today's most complex issues.