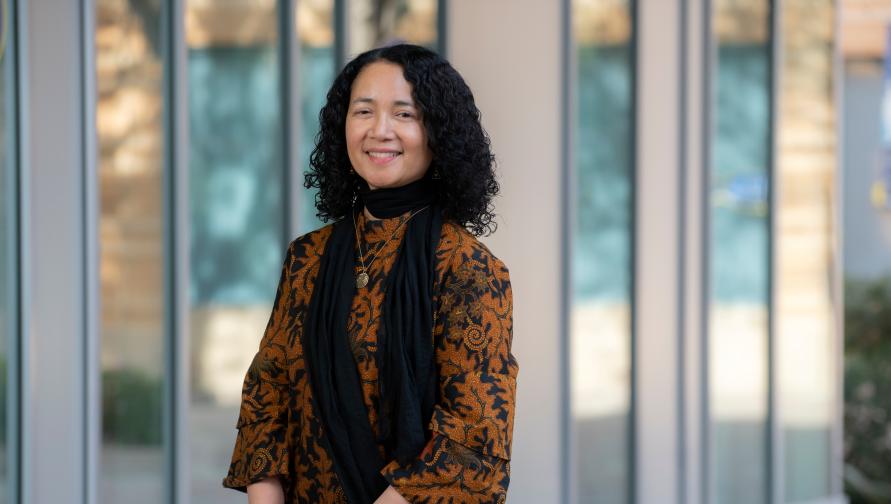 By Megan Cole
In an 1893 portrait by the famed post-impressionist painter Paul Gauguin, a young girl – described in accounts as a "négresse" – rests in an armchair, wearing only earrings. A small monkey crouching at her feet symbolizes her presumed place of origin in what was then called "the East Indies." Not much is known about the girl in "Aita tamari vahine Judith te parari," besides that she was Gauguin's 13-year-old model and maid for a year before eventually running away from his Parisian studio. For over a century, the girl went largely overlooked by art historians – until her piercing stare in photographs caught the attention of Fatimah Tobing Rony, professor and chair in the Department of Film and Media Studies and professor in the Ph.D. Program in Visual Studies at UCI. The teen in the painting issued a silent plea: "Do not leave me in the archive."
After researching the Gauguin painting, Rony spearheaded a series of projects about the girl – known as "Annah la Javanaise" – culminating in her forthcoming book, How Do We Look? Resisting Visual Biopolitics (Duke University Press, 2022). Since the publication of her first book in 1996, Rony has spent several years delving into the dilemma of how to represent the voice of a girl for whom we have no written traces in the historical archive, all while teaching film history and production courses, chairing UCI's Department of Film and Media Studies, traveling the world and orchestrating other creative projects.
"To write a book like How Do We Look? over the course of so many years, you have to have led a life," Rony says. "Your heart has been exploded, you've had great loss, seen and felt so many things – and it's all influenced your writing and made it into something you're proud of."
Origins of the artist
Rony never planned to be a film scholar. She was a history major in college, but "fell in love" with art history after she audited a class as a senior. Rony swiftly picked up the art history major and completed the required coursework in one year. Upon graduation, she went to live in Indonesia where her family is from, earning a Fulbright Scholarship and helping to run a children's library. These years served her later when she had to depict scenes set in Java in her short film about Annah. Rony ended up living in Indonesia on and off for nine years, but decided against being an Indonesianist and instead used her talents to study and critique Western art. She pursued a Ph.D. on 19th-century French painters – including Gauguin – at Yale University. However, while in grad school, Rony realized that the art she was most entranced by was film, so she wrote a dissertation critiquing the way native people are seen in various forms of cinema.
Because Rony's interest in film history intensified over the years, she decided to continue her scholarly career in California, accepting a President's Postdoctoral Fellowship at UCLA. While in Los Angeles, Rony developed a passion for creating films of her own and went to UCLA Film School to study live-action directing. She has since written, produced and directed several award-winning shorts and one feature.
"Having a background in art and film history really eased my transition into filmmaking," Rony says. "If you're a person of color creating films, you absolutely have to study the history of representation to know how you've been portrayed in the past, in order to make films that will describe something different – the inner and creative life of real people."
In 1998, Rony came to UCI following the publication of her award-winning first book, The Third Eye: Race, Cinema, and Ethnographic Spectacle (Duke University Press, 1996), which addresses how indigenous people and people of color are framed as "primitive" in ethnographic films and documentaries. Since that debut book, Rony has devoted herself to her work as a creative artist, scholar and mentor at UCI where she focuses on "giving back to the community that has supported me."
"Whether they're students, faculty or staff," Rony says, "as a chair and professor, my goal is to make sure that everybody is in their zone of genius."
On Resisting Visual Biopolitics
Rony has remained squarely in her own "zone of genius" since first being captivated by Annah la Javanaise nearly two decades ago. Annah, most likely not her real name, was a trafficked girl, yet art history accounts relegate her to the role of "mistress."  Though she was likely not actually from Java, Annah was racialized as "la Javanaise" – associated at the time with "wickedness" and "sensuality" – and was thus allowed to be exploited and violated by the adults around her.
Annah's story anchors Rony's forthcoming book, How Do We Look? Resisting Visual Biopolitics. The "visual biopolitics" in the subtitle, Rony explains, refers to how Indonesian women – and people of color generally – have been depicted in film, photography and art in ways that reinforce their designation as "subhuman" and thus more vulnerable to violence. From Annah to the scores of Indonesian dancers imprisoned in the 1960s, "the trope of the dancing, murderous, sexual woman is used again and again and became imprinted in [Indonesia's] deep unconscious," Rony writes. It's these "visual biopolitics" that Rony hopes to expose and resist with her book – and with her award-winning short film, "Annah la Javanaise."
Animating Annah
Along with How Do We Look?, Annah's story inspired "Annah la Javanaise," the animated short film Rony released in 2020 to international acclaim. Last year, the film was an official selection at the Annecy International Animation Festival, widely considered the top animation festival in the world.
"Annah la Javanaise" was born just as How Do We Look? was wrapping up, Rony explains. In trying to figure out what image to use for the book's cover, she knew that she was not going to use an image by Gauguin. Instead, Rony decided to use her background as a live-action director to create a short, animated film about Annah. The image that she knew would anchor her film is the moment when Annah, coming to France for the first time, is waiting to be picked up at the dock and sees snow falling from the sky for the first time. Rony and the publisher ended up choosing a different image for the cover of How Do We Look?, a photo from the feature film that Rony co-directed, "Chants of Lotus."
Over the course of two years, "Annah la Javanaise" was made in Jakarta, Indonesia in collaboration with animator Ariel Victor and composer Aghi Narottama. Despite being entirely self-produced on a tight budget, it was submitted to international festivals alongside European films that cost hundreds of thousands of Euros to make. The "underdog" success of "Annah la Javanaise" is overwhelming: In the past year, it has been an official selection in over 25 film festivals and has won several domestic and international awards. While Rony remains "surprised at how resonant this little film has been for people," she credits its success to Annah's story told in a powerful visual way, with very little dialogue and explanation.
"I made this film because I wanted to show the interior, creative life of a trafficked girl," Rony says. "I think 'Annah la Javanaise' simply shows a point of view that nobody's ever considered. The story that is told over and over again is the story of Paul Gauguin, never the story of the girl. If you see somebody as being subhuman – or nonhuman, or an object – then you can't imagine their life. That's all I did."
Like the stardust
Though Rony has spent years bringing Annah's story to life and placing it in conversation with contemporary Indonesian art and politics, she's not yet finished.
"She's still with me, and with us," Rony says. "She's like the stardust. When someone is gone, they still exist with us. And the great granddaughters of Annah are still with us: Child trafficking of girls and women of color still exists in Europe, and the U.S., and elsewhere."
Rony hopes eventually to expand Annah's story into a full-length feature film, which would imagine Annah's life after she runs away from Gauguin's studio, joins a traveling French circus and "finds a blended family among the sexually and ethnically diverse characters at the circus." Earlier this year, Rony won a competition to pitch the feature film project at Annecy in 2021, and she is currently writing the script – so eagerly, she laughs, that "most days, I jump out of bed ready to work, no coffee necessary."
"It's really for Annah that I wrote this book and made this film," Rony says. "Annah is the reason I wake up in the morning and want to work on these projects. All because I've been haunted by her eyes for almost twenty years."
Learn more about How Do We Look? (Out January 2022) here and watch the trailer for "Annah la Javanaise" here.
Photo credit: Steve Zylius/UCI
Film and Media Studies
Visual Studies