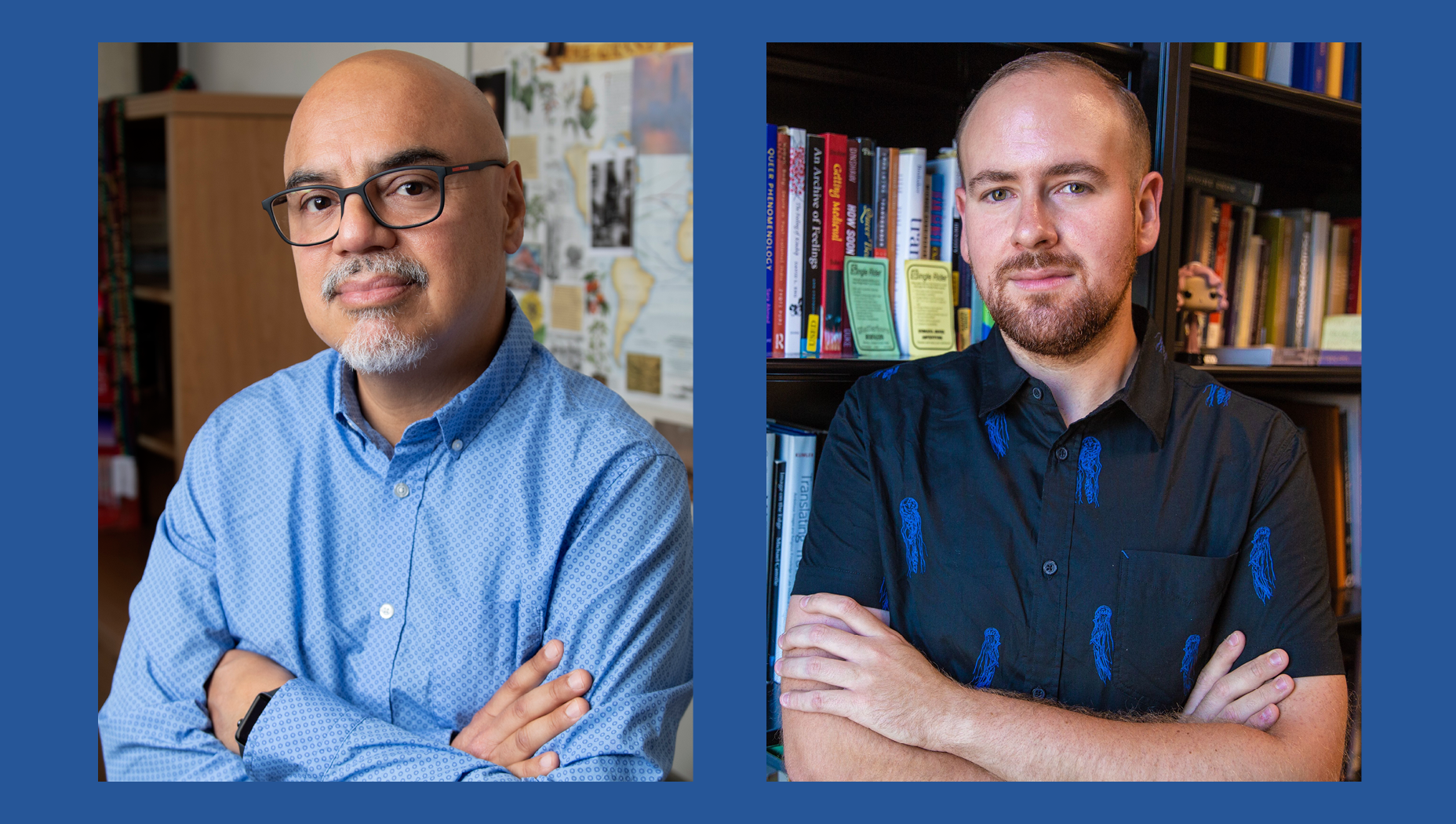 By Nikki Babri 
As the winding, cobblestone roads of the Byzantine Empire collide with the bustling, jammed freeways of Los Angeles, you might be surprised to find the crossroads in UCI's School of Humanities. 
Two UC Irvine humanities professors have been awarded prestigious 2023 Guggenheim Fellowships. Selected from a pool of nearly 2,500 scholars and artists, Roland Betancourt, professor of art history, and Héctor Tobar, professor of English and Chicano/Latino studies, are two of 171 award recipients around the U.S. and Canada joining in this honor. 
Established in 1925, The John Simon Guggenheim Memorial Foundation awards yearly fellowships to exceptional mid-career scholars and artists who have demonstrated remarkable talent and productivity in their fields and show great potential for future accomplishments. Betancourt and Tobar will have creative freedom to utilize their grant funds in whichever capacity best suits their work. 
Byzantium in the queer, modern age 
Roland Betancourt, an art history professor, received the Guggenheim for his ongoing book project, Queer, Byzantine: Camp, Excess, Aesthetics. In this book, Betancourt uses a queer lens to examine the ways in which the art and culture of the Byzantine Empire intersect with twentieth and twenty-first century popular culture and non-heterosexual history.
"Every year, I have always looked on with excitement at the full-page New York Times announcement of the Guggenheim Fellows in April and it's always been a dream to find my name on that list," Betancourt shares. "It has felt utterly surreal and I could not quite believe the news until I saw my name in the Sunday paper."
Betancourt joined UCI in 2014 after earning his Ph.D. at Yale University. Along with publishing four books exploring different aspects of Byzantium, he received a UCI School of Humanities Faculty Teaching Award in 2016 and a UCI Chancellor's Fellowship from 2019-2022. His notable work on the Middle Ages, from QAnon and medieval slut-shaming to queer monks to historical contraceptives, have appeared in a number of esteemed publications.
As a queer, Latinx, first-generation American scholar, Betancourt has always been drawn to historical accounts that offer a fresh, alternative perspective to society's familiar and accepted narratives. In his latest project, he examines how nonconformist communities have long used foundational aspects of Byzantine art to carve a place for themselves in a historical time that often invalidates their existence.
"I am interested in how 'the Byzantine' provides a historical space for modern queer and trans subjects, particularly artists of color, to identify with a historical, medieval past that was not coded as white, heteronormative or cisgender in modern history writing," says Betancourt. 
Betancourt is also planning to continue work on his book project, A Plurality of Means: Disneyland and the Aesthetics of Automation. The project was born from his popular art history course, "Disneyland: Art, Architecture and Operation." The class builds on Betancourt's medieval expertise, taking a modern twist as he and students examine the art, architecture, technology and operations of Disneyland within a broader historical context. Planning the class required Betancourt to visit the park 130 times, ride the Matterhorn 600 times and take over 20,000 photos and slow-motion videos. 
There's no telling how many more hours he'll rack up at the Happiest Place on Earth while finishing his book, but to Betancourt, "The Guggenheim means time to focus on writing and further travel to archives and collections as necessary." 
Los Angeles from the rearview mirror 
Héctor Tobar's Guggenheim was awarded for his project, "The Los Angeles Novellas," a series of novellas about the rich history and culture of Los Angeles – past, present and future. In these stories, Tobar hopes to pay tribute to the generations of diverse peoples who have called Southern California home, and capture "all the hopes and ambitions they've brought to it."
Tobar, a professor of English and Chicano/Latino studies, joined UCI after teaching at the University of Oregon and following a long career in the newspaper business, where he received a Pulitzer Prize for his contributions to covering the 1992 L.A. riots for the Los Angeles Times. 30 years ago this summer, Tobar quit his newspaper role to pursue an M.F.A. in fiction at UCI. Since then, he has published six books in 15 different languages and became a New York Times bestselling author with his critically acclaimed novel, and now movie, Deep Down Dark (MCD, 2015).
"It's a wonderful recognition and one of the highlights of my career as a writer," Tobar shares. "Receiving a Guggenheim to write fiction feels like a validation of so many of my creative and professional decisions."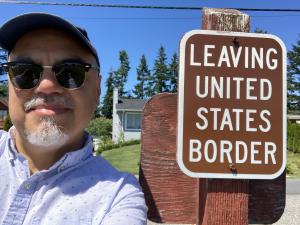 While Tobar has written extensively about the lives and experiences of Chicano/Latino individuals throughout the United States (see: his 9,000-mile road trip across the U.S.), "The Los Angeles Novellas" will take place closer to home – literally, as Tobar was born and raised in East Hollywood, California, and his own upbringing is tightly entwined with key moments in U.S. history (like the assassination of Martin Luther King Jr.). As a Latino, first-generation American, Tobar is uniquely positioned to unravel the multifaceted narratives of the Hispanic/Latinx community, which make up 49% of the Los Angeles population.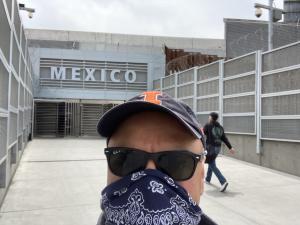 With the award, Tobar says, "I'm going to bask in that luxury all writers dream of: time to work exclusively on my book."
In the meantime, Tobar will be busy this spring and summer giving readings and talks about his latest book, Our Migrant Souls: A Meditation on Race and the Meanings and Myths of "Latino" (MCD, 2023), which decodes the true meaning of "Latino" and its complicated relationship to the ideas of "race" which have shaped U.S. society. 
And to any aspiring fellows, Héctor Tobar shares some words of advice: "Believe in your work and in your unique vision. Understand that any intellectual or creative endeavor is going to involve some rejection or 'failure.' Work hard enough and long enough, and eventually your subjectivity will align with the subjectivity of those who can bestow prizes, fellowships, grants and other nice things upon you." 
Art History
English
LGBTQ