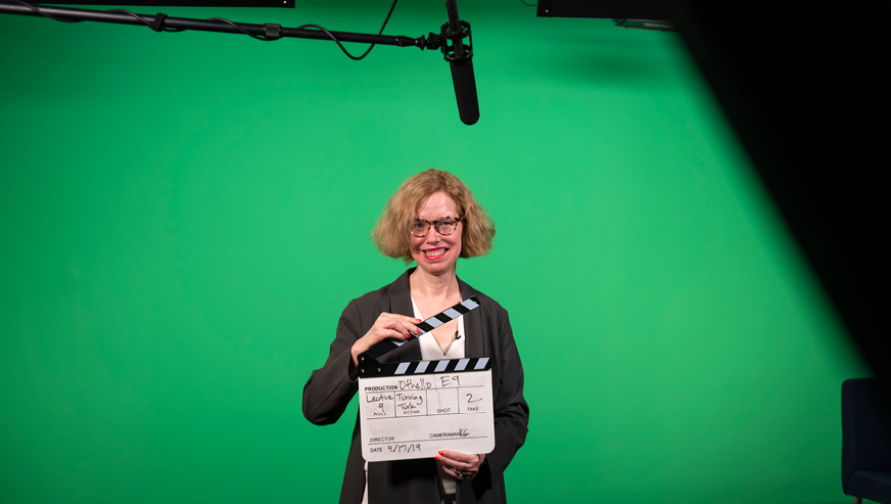 By Annabel Adams

What happens when Shakespeare meets the digital age? A selfie soliloquy, for one. A new online course taught by Julia Lupton, professor of English and co-director of the Shakespeare Center at the University of California, Irvine, is the first of its kind at UCI and across the UC system. It will bring the world of Will to life through immersive recorded lectures by Lupton, guest lectures by UCI professors and alumni, footage from Shakespeare plays performed at UCI's New Swan Shakespeare Festival and at the Globe in London and more. The course will first be offered this Summer Session II (August 5-September 11) and again in the spring quarter.

Funded by a UC Innovative Learning Technology Initiative (ILTI) grant, which provides opportunities for faculty to create new online courses, Lupton's English 9: Shakespeare course provides what she calls a "virtual Shakespeare festival." Focusing on the plays "A Midsummer Night's Dream," "Twelfth Night," and "Othello," Lupton will provide students with exploratory opportunities akin to those offered in theater festivals—workshops, assignments where students create their own works, and opportunities to virtually meet and interact with actors, directors, Renaissance scholars, and even UCI choreographer, Lar Lubovitch.

"I've been teaching Shakespeare at UCI for thirty years, and I've experimented with some sessions being online when I'm traveling or when students are unavailable, but I've always wanted to do a full-scale online course," Lupton says. "The ILTI grant has provided me with the resources and infrastructure to take Shakespeare fully online. I've been working with both an instructional designer and a videographer to recreate Shakespeare's world in ways I could not achieve in an in-person classroom setting."

To build the virtual world of Will, Lupton hasn't had to look much farther than the UCI campus. Every summer, a 15-ton Elizabethan stage is reassembled on campus and becomes the New Swan Theater, where – during a six-week season – two plays are performed in an open-air setting akin to that enjoyed by Shakespeare's original audiences. Lupton tapped several New Swan actors, including Thomas Varga and Maya Smoot, to bring Shakespeare's characters to life through dramatic voiceovers. Students will also watch recordings of actual New Swan performances to see the plays artfully staged in a UC setting.

Guest lectures by UCI instructors and alumni broaden the scope of the plays to consider their global influence and impact, the role of race in historic and contemporary stagings of Shakespeare, and the Bard's investigations of love, sex, friendship, and marriage. Kyle Grady, an incoming assistant professor of English and a scholar of early modern literature and African American studies, will contribute lectures on "Othello"; Sheiba Kian Kaufman '16, an alumna of the Department of English who works on Persia and the Shakespearean stage, will place "Othello" in its global contexts; Rebeca Helfer, associate professor of English, will share her thoughts about Shakespeare and the Renaissance imagination in "A Midsummer Night's Dream"; and Andrea Henderson, professor of English, will explore the impact of the Reformation on "Twelfth Night."

The course invites students to complete a range of nontraditional, multimedia assignments including the selfie soliloquy, where students perform a monologue from one of Shakespeare's plays and capture it on their cell phones. They will also pitch a production idea, a Pinterest-style exercise that will immerse them in the design process. In "Adaptation Studio," students will review and evaluate adaptations of "Othello" in film, opera, and ballet.

Lupton piloted the selfie-soliloquy assignment last winter and was thrilled with the innovation of her students. One presented a speech from "Twelfth Night" as a SnapChat story. Another performed an original choreography with a voiceover of the passage.

"The filming and editing process I used to create my selfie soliloquy was exciting for me and helped me build new skills. It was one of my most memorable projects at UCI and allowed me to see how Shakespeare's works can inspire new interpretations," says alumna Ellen Shieh '19, who accompanied her selfie soliloquy with her own violin playing and edited them together.

Lupton is known for her enthusiasm and passion for keeping Shakespeare scholarship thriving at UCI. As co-director of the UCI Shakespeare Center, she hosts nearly 30 events each academic year that bring community members to campus to celebrate the Bard. At a recent birthday event—yes, for Shakespeare—nearly 100 people piled into a room in the UCI Langson Library to experience a range of activities from Renaissance fight choreography to original songs inspired by Shakespeare's works. There was even birthday cake. This summer, Lupton will welcome 30 local educators to campus to share best practices for teaching Shakespeare and to enjoy a performance of New Swan Shakespeare Festival's "Merchant of Venice." With English 9, Lupton now brings Shakespeare to the digital lives of students across the nine UC campuses.

"I'm thrilled to be able to provide students with such a unique and interdisciplinary introduction to Shakespeare," Lupton says. "This course brings together text, performance and exploratory work in a way that invites students to appreciate Shakespeare while also embracing how digital media allow them to recreate, interpret and challenge what Shakespeare means today."

Students interested in enrolling in English 9: Shakespeare (course code: 23310), may visit UCI Summer Session here.
Digital Humanities
English
New Swan Shakespeare Center