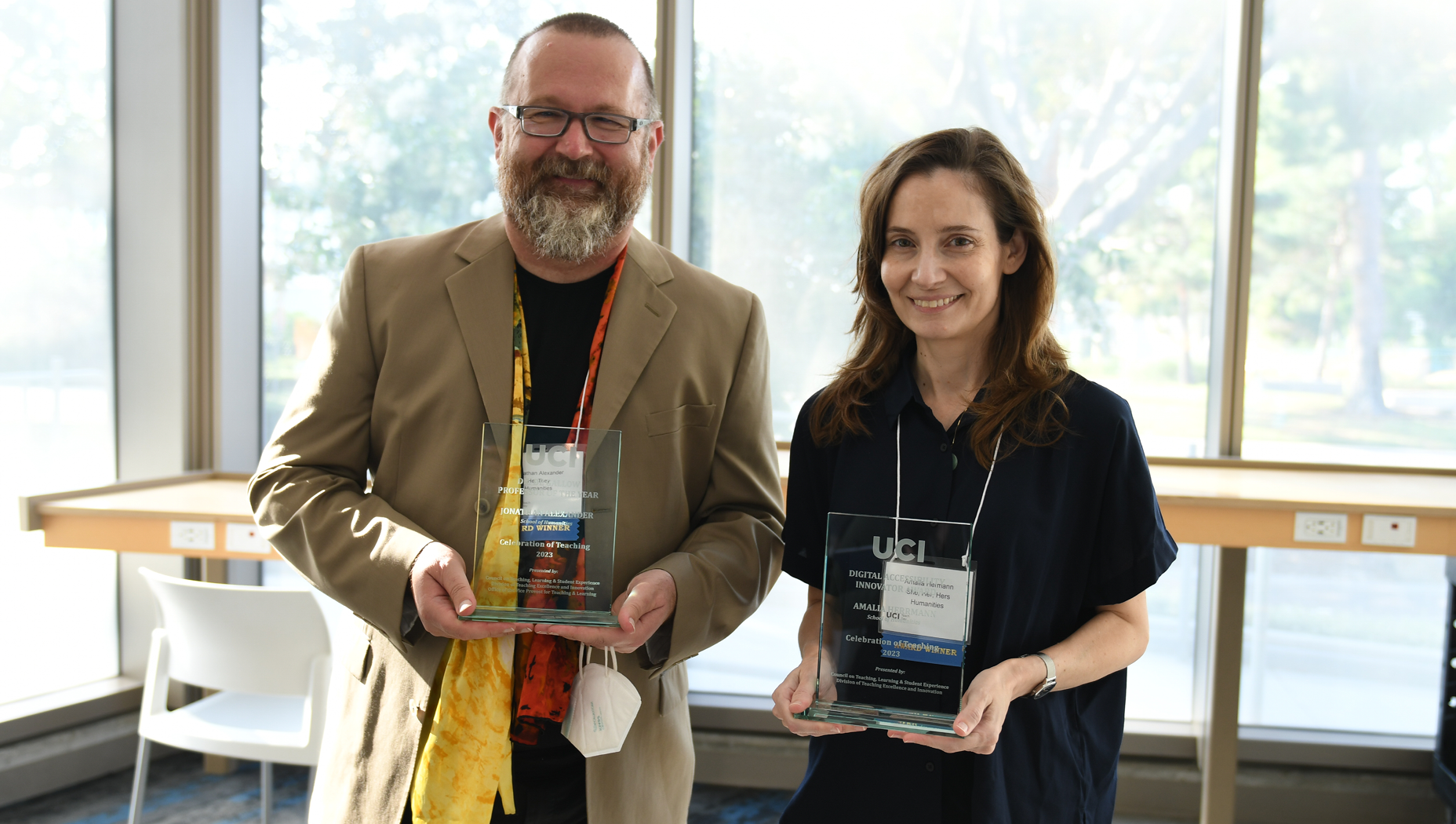 By Nikki Babri 
When it comes to shaping the future of undergraduate education, Jonathan Alexander and Amalia Herrmann are leaving a meaningful mark. In recognition of their excellence in undergraduate teaching, Alexander, Chancellor's Professor of English and informatics, and Herrmann, continuing lecturer and academic coordinator for digital pedagogy for Humanities Core, have received 2023 UCI Celebration of Teaching awards. 
The competitive campus-wide awards are hosted annually during National Teacher Appreciation Week. Nominated by students, faculty and staff across six award categories, these educators have demonstrated ongoing excellence in educating, mentoring and inspiring future generations of UCI students. Alexander and Herrmann join over 300 professors, lecturers and teaching assistants who, since the celebration's founding in 1992, have been lauded for their exceptional teaching and commitment to creating more equitable educational systems. 
Professor of the year & dean's honoree
Alexander has been named the Dr. De Gallow Professor of the Year at UCI. Chosen from all professors on campus, this prestigious accolade recognizes his unwavering commitment to the art of teaching. Adding to this honor, he was also selected as the School of Humanities' Dean's Honoree for Excellence in Undergraduate Teaching.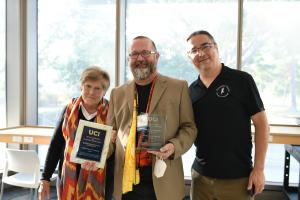 Upon learning of his win, Alexander expressed feeling surprised and honored. "There are so many deserving professors on our campus, so I'm humbled to be singled out in this way. I've taught in higher education for over 30 years now, so this feels like a recognition not just of recent work but of accumulated service and teaching," he shares.
A notable highlight of Alexander's esteemed academic journey was his involvement in organizing The Futures of Higher Education Festival during his tenure as associate dean in the Division of Undergraduate Education. This innovative event aimed to capture students' experiences during the pandemic lockdown and encourage thinking about the future of higher education. "Our mission was to support students, especially our transfer, first-gen, low-income and international students, and such work seemed so important because those were often the students most challenged by the lockdown," says Alexander. It was a platform for students to share their ideas, stories and insights through debate, art and even music. 
When asked about the teaching strategies that contributed to his recognition, Alexander hopes it is his commitment to fostering inclusive and collaborative learning environments. At the core of his pedagogical practice, he believes in listening to students, understanding their needs and making his experiences relevant and useful to them.
Looking ahead to his work as director of the Humanities Core Program, and this cycle's theme of Worldbuilding, Alexander aims to empower students to develop a sense of agency in their world. He adds, "we can't change everything, but we can learn to change and alter some things for the better – for ourselves and for others – and starting there helps to build a better world." Imagining the future of education, Alexander envisions a shift toward collaborative problem-based learning, tackling real-world issues and challenges. He believes that students are ready for this change and that they are already demonstrating innovative solutions.
"I'm grateful to have had the opportunity to work with students, and am delighted that this work is being recognized by them and our staff," he says.
Digital accessibility innovator 
Amalia Herrmann is one of this year's recipients of the UCI Digital Accessibility Innovator Award. Herrmann's win is recognition of the humanities' success in the technological and digital humanities spheres. As academic coordinator for digital pedagogy in Humanities Core, she has made significant contributions to ensuring education that is inclusive for all students.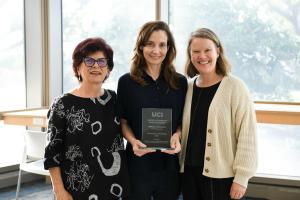 The award, created by the UCI IT Accessibility Workgroup, honors educators who exemplify UCI's culture of inclusion and accessibility. "This recognition is a completely unexpected honor and opens more avenues for raising awareness of accessibility issues," shares Herrmann, who recently received an award for pedagogical innovation. 
She has played a pivotal role in designing accessible digital course materials for students. Notably, Herrmann has been instrumental in developing a unique aspect of the HumCore curriculum: a personal academic website for students. This initiative encourages students to engage in multimodal digital composition activities on their websites, promoting awareness of how others experience their materials.
Her pedagogical mindset underwent a transformation when she embraced Universal Design in Learning, an approach that places inclusive means of learning at the forefront of teaching, rather than adding them on as an afterthought. This led Herrmann to ask and respond to a key question: "What if, instead of finding ways to help a particular student overcome barriers to access, you thought about how to avoid erecting such barriers in the first place?"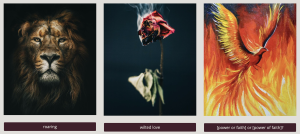 During the pandemic, Herrmann and other educators became acutely aware of the needs of students and colleagues with disabilities. They recognized the importance of addressing equity issues related to technology access and digital accessibility, which led to a renewed commitment to incorporating digital materials into in-person teaching. Herrmann's ongoing work involves collaborating with colleagues and engaging with students to raise awareness of inclusive teaching practices in the humanities. "We make our university more inclusive when we consistently practice consideration of the different ways members of our learning communities encounter digital resources and interact with digital tools," she shares. 
As a parting message, Herrmann encourages everyone to complete the ZotAbility Ally Training offered by the Disability Services Center, emphasizing the importance of collective efforts to create an accessible and equitable educational environment.
"Congratulations to Jonathan Alexander and Amalia Herrmann for winning these prestigious and meaningful awards. The School of Humanities is thankful for their exceptional dedication to teaching and contributions to fostering inclusive learning environments," says Dean Miller.
Digital Humanities
English
Humanities Core