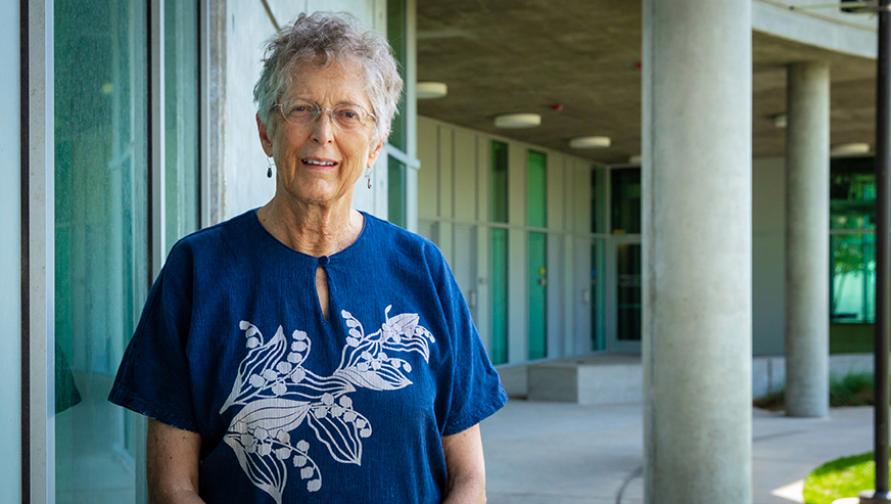 By Annabel Adams

At the turn of the 17th century, Japan began a peaceful period of restricted interaction with foreigners for 250 years. The peace dividend allowed Japanese culture to develop and flourish, resulting in cultural and artistic achievements considered uniquely Japanese, such as kabuki, haiku poetry and the precursor to manga. Anne Walthall, professor emerita of history at the University of California, Irvine, dedicates her scholarship to this important era. To ensure the field's longevity at UCI, she has pledged to fund an endowed chair in pre-modern Japanese studies through her estate. This $2M legacy gift will grow Japanese studies at UCI by creating a dedicated and permanent full-time faculty position in this area.  

Walthall's high school librarian can be thanked for sparking her interest in Japanese studies. He began teaching her Japanese characters and she became a dutiful student, going on to the University of Wisconsin to earn a B.A. in Japanese language and literature. While an undergraduate, she took her first trip of many to Japan. Following graduation, she spent three years in Kyoto where she studied as a research student at Kyoto University.

"Japan is a fascinating country historically and today. It's like peeling an onion: you encounter layer upon layer," she says.

Walthall went on to earn a M.A. in Far Eastern history and a Ph.D. in Japanese history from the University of Chicago. While earning her master's and Ph.D., she spent two years as a research student at the University of Tokyo.

While working on collective violence and social conflict in late eighteenth-century Japan, Walthall discovered the vast documentary resources available for the study of peasant life in the early modern period. "Thanks to a system of domination that separated the ruling military class from the land, every village had to communicate with the authorities in writing. This spur to literacy resulted not only in public records, but also in private family collections which can be mined for rich veins of information on daily activities as well as reflections on the trends of the times," she says. She has since authored and co-authored five books on the era, including Japan: A Cultural, Social and Political History (Houghton Mifflin Company, 2006), The Weak Body of a Useless Woman: Matsuo Taseko and the Meiji Restoration (University of Chicago Press, 1998) and Peasant Uprisings in Japan: A Critical Anthology of Peasant Histories (University of Chicago Press, 1991), which was a finalist for the 1992 Hiromi Arisawa Memorial Award. Her most recent publication is the co-edited volume, Child's Play: Multi-sensory Histories of Children and Childhood in Japan (University of California Press, 2017).

Walthall joined UCI's Department of History in 1991 after 12 years at the University of Utah and several visiting professorships both in Japan and in the United States. While at UCI, she served as visiting professor for the University of California Education Abroad Program at Meijigakuin University for three years and as the director of the University of California Study Center in Tokyo for two years. She recalls her many trips taking students to tour Hiroshima Peace Memorial Park, which was established to create an enduring legacy of Hiroshima as the first city in the world to suffer a nuclear attack. "We don't often learn from our past; the study of history affords us this possibility," Walthall says.

While teaching Japanese studies was her profession, mentoring graduate students and junior faculty across the country was her calling. Walthall never forgot the value of faculty mentorship in her own career. "It has been important for me to help scholars junior to me with their book projects and drive for tenure. I received a lot of help early on in my career, especially in the publication of my first book," she says. The UCI Emeriti Association presented Walthall with the Faculty Mentoring Award for this very reason in 2012.

Going from graduate-student mentor to benefactor, in 2016 Walthall funded a graduate research fellowship in Japanese studies. Named the Walthall Graduate Fellowship in Japanese Studies, the award provides a graduate student with fellowship support to pursue his or her passion for Japanese studies. The award is in honor of former UCI graduate student K?ta Inoue, who passed away in 2016.

"It's harder now to afford graduate school than when I was a student," she says. "I'm pleased to be able to offer students some help."

Walthall recalls working several jobs while in graduate school and knows the support she received to travel and write her dissertation was vital to her ability to be a scholar of Japanese history.

Walthall's most recent gift to UCI's School of Humanities, an endowed professorship, brings her interests full circle—ensuring that the graduate-student study of Japan is enabled and further enriched by the addition of a dedicated faculty position in the school. The eventual chair-holder of the Professor Anne Walthall Endowed Chair in Pre-Modern Japanese Studies will be a scholar committed to the study of Tokugawa Japan (1603-1867) or an earlier period.

Of her gift, Walthall says, "I wanted to do what I can to encourage the study of Japan because it is important for our relationship with East Asia but more importantly because it can teach us how this society, so different from our own, has evolved over time and created a historical identity that continues to resonate in the present. I'd like to attract more graduate students and see Japanese studies flourish at UCI."

"We are deeply grateful to Anne for her contributions to the School of Humanities as a teacher, scholar and mentor, and now for her enduring legacy gift," says Tyrus Miller, dean of the UCI School of Humanities. "Her gifts ensure UCI's continued growth and success in Japanese and East Asian studies."

Though she is retired now, Walthall remains dedicated to her field of study. She recently returned from the biannual Australian Association of Asian Studies Conference in Sydney. In the fall, she will head to Vienna for a religious studies conference where she will give a talk on her latest book project. Her enduring dedication to Japanese studies as both a scholar and benefactor is a testament to how valuable she sees the field in the broader landscape of the world.

In February 2021, Dr. Walthall converted her gift for graduate student fellowship support to an endowment and pledged to continue adding to the endowment each year for the next five years. Creating an endowment is a significant step forward for Japan Studies at UCI Humanities. The endowment will allow the school to attract some of the best graduate students in the world, with the long-term stability of funding which only an endowment can offer. Thanks to Dr. Walthall's generosity, Japan Studies at UCI will be competitive in offering graduate student fellowship support for generations to come.
Japanese Studies
East Asian Studies