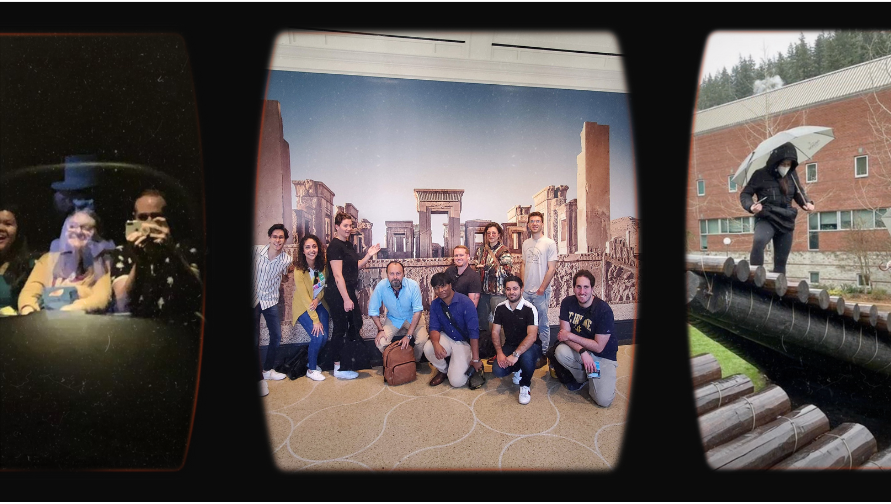 By Lilibeth Garcia
To study the human experience, it's not enough for humanities students to read about art, literature or film through textbooks. To absorb their lessons and enrich their research, UCI students have ventured out to and explored the wider campus and the city of Irvine, as well as cultural sites and landmarks across Orange County, Los Angeles, Las Vegas, Seattle and more.
For students in the School of Humanities, the world is their classroom. Below are some of the exciting ways five majors – literary journalism, art history, film and media studies, history and English – engage and teach their students through experiential learning.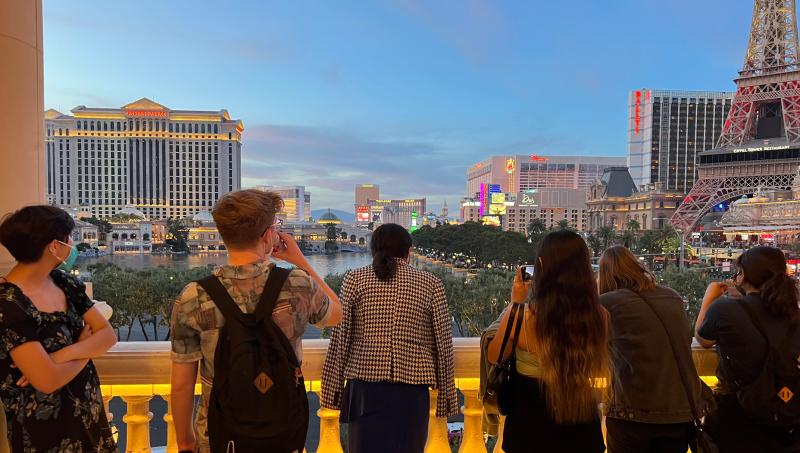 Art history
For art history majors, leaving the state to study works embedded in the environment has become a fixture of the curriculum. In 2018, students took a 1,900-mile road trip across the Southwest desert to learn from earth art. Most recently, art history students got to visit Seattle and Las Vegas to vividly experience how art has evolved across time.
The trips were made possible thanks to the generosity of one alumnus. Last year, the late Vince Steckler ('80) donated $5.4 million to the Department of Art history to provide experiential learning and research-related travel opportunities to diverse populations, who might not otherwise be able to travel out-of-state or out-of-the country to experience art.
Earlier this year, James Nisbet, professor and chair of art history, taught a traveling seminar,
"Site Specificity," about the relationship between works of art and the site(s) of their making and display. His class looked at the commissioned Olympic Sculpture Park dating from the 2000s, a site-specific landwork by the artist Robert Morris from the late 1970s, an inter-tribal Indigenous arts and culture center, and a campus sculpture collection at Western Washington University.
The students were able to see the works in person and discuss the ideas that they had been reading in the abstract in their seminar discussions. The trip bound several groups together, from undergraduate art history majors to masters' students to Ph.D. students in visual studies.
In the spring, students in Art History Professor Roland Betancourt's "Simulacral Spaces" course took a fully funded trip to Las Vegas, where they focused on the city's themed architecture and worked on a final research paper. They spent five days touring the entire strip and discussing its various structures, from Mandalay Bay to Resorts World.
The trip began and ended at the Special Collections and Archives at the University of Nevada, Las Vegas, which students utilized to write their papers. Throughout the trip, they learned how to read a landscape and location and understand levels of alteration. At the Special Collections library, students had access to sources such as promotional materials and original floor plans to build context on the buildings' histories.
"I think one of the most challenging, frustrating and exciting things about working on any form of historical site is that it's going to have a lot of layers of change," Betancourt says. "It's an interesting part of that process to be at a place like the Luxor, walking around this site that still exists but has very much changed from opening day and throughout its life."
Betancourt is no stranger to experiential learning. A couple of years ago, Betancourt took three different classes to Disneyland (about 25 minutes away from the UCI campus) as part of his "Disneyland: Art, Architecture and Operation," "History of Disneyland" and "Curating Disneyland" courses. One of his trips was even covered by the Los Angeles Times.
While the department has led students to numerous sites across the Western United States, faculty are planning to incorporate international trips into their coursework in the near future.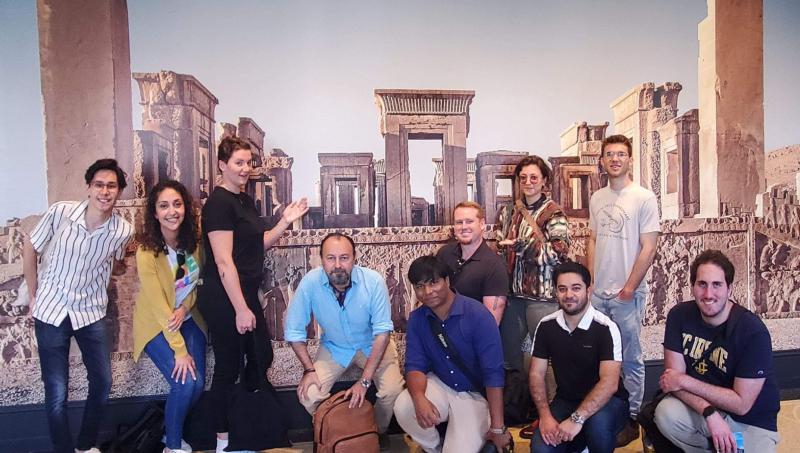 History
Experiential learning doesn't have to be elaborate or costly. Sometimes taking a walk across campus can offer valuable lessons. Last year, Chelsea Schields, assistant professor of history, along with Ian Straughn, assistant professor of teaching in anthropology, led the History Club on a "field trip" to the three old farmhouses on UCI's campus. Straughn teaches a class called "I Dig UCI" where students train in archaeological field methods to learn about the past uses of the land on which the UCI campus sits. Students in the History Club toured the Bonita Camp farmhouse site to learn about its uses through time.
They discussed how UCI's campus sits on the shared ancestral lands of the Acjachemen and Tongva people and other Native American communities of Orange County. In the early 20th century, the land was part of the Irvine Ranch and the site included barns, a blacksmith shop and other structures used for raising and processing livestock in the pre-UCI days. With the development of the campus in the 1960s and 1970s and the rise of the countercultural movement, some students took residence on these grounds. At the same time, a few faculty in the Social Sciences used the three existing farmhouses to host ethnographic informants as part of the short-lived "Learning by Doing" project. The site and its buildings' next incarnation, from the early 1970s to 2007, was as the "Farm School," an experimental K-8 program that enrolled both children of faculty and those from the local community.
The group reviewed the different ways that archaeologists access the past through material culture, and Straughn shared some of the findings from his class, including animal bones that revealed the former use of the site for livestock processing.
"Students were empowered to think about the campus space as one that is also theirs to reimagine and should not strictly be up to the imperatives of real estate development," Schields says. "As students wandered the grounds, they were asked to think how they would imagine this currently unused space to serve the needs of their communities. One idea that stuck with me was a fruit tree garden for breaking bread and relaxing."
The history of ancient Persia is a bit more complicated to access through a simple trip (compared to the hyper-local experience of studying the UCI campus). To immerse his "Ancient Persian History" students into a world long gone, Touraj Daryaee, professor of history and Maseeh Chair in Persian Studies & Culture, took them to the Getty Villa last spring for its "Persia: Ancient Iran and the Classical World" exhibition. A book that was published for the exhibition included writing from Daryaee.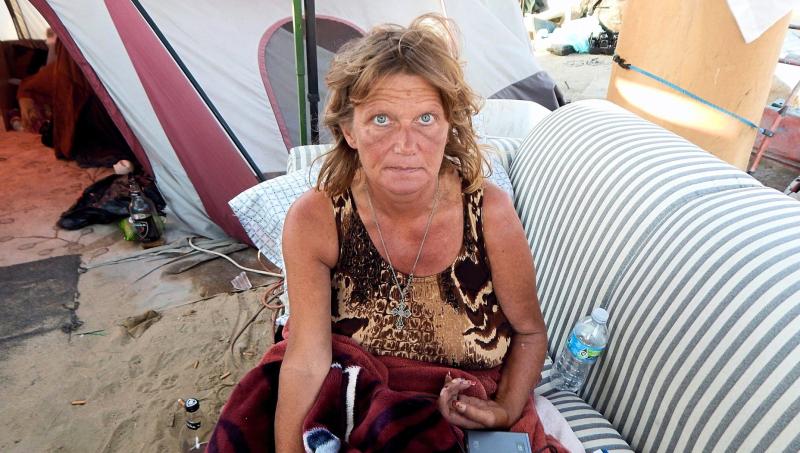 Literary journalism
Students in UCI's Literary Journalism Program learn the art of storytelling through a variety of writing workshops, which result in longform reported essays, investigative feature articles, podcasts, documentaries, in-depth social analyses and first-person narratives.
"I think almost everything we do in the LJ Program involves experiential learning opportunities," says Barry Siegel, director of the program.
To study reporting, students are encouraged to take their notetaking outside and immerse themselves in a diverse array of – often unfamiliar – environments.
In "Community Reporting," taught by mentor and lecturer Amy DePaul, for instance, classes have visited Irvine City Council meetings to learn about politics and policymaking at the local level. Inspired by the trip, Mariah Castaneda ('17), went on to develop local news projects, including a photo essay about homeless people in Santa Ana. At a community news internship, she produced a photo that was picked up by the New York Times. Now, as a podcaster and professional journalist, she has sustained her interest in local news by reporting on corruption in L.A. for the investigative series Smoke Screen: The Sellout.
For the courses "Intro to Literary Journalism" and "Reporting for Literary Journalism," student projects have included learning how to fly a plane (in an airplane, no less); learning how to swim ("for someone who was skittish about getting into the water," DePaul says); working a taco truck; operating a fresh fruit stand; rock climbing; and attempting to eat healthy on a food stamps budget for a week (to better understand community public health issues).
"Generally, I try to make sure that at least one assignment in my class includes field work, which I consider experiential learning," DePaul says. "Whether it's going to the Day of the Dead festivities in a Hollywood cemetery or interviewing people stocking up on toilet paper at Costcos in the early days of the pandemic or attending a Mexican religious ceremony (Las Posadas) in Huntington Park, students are always encouraged to be in the field."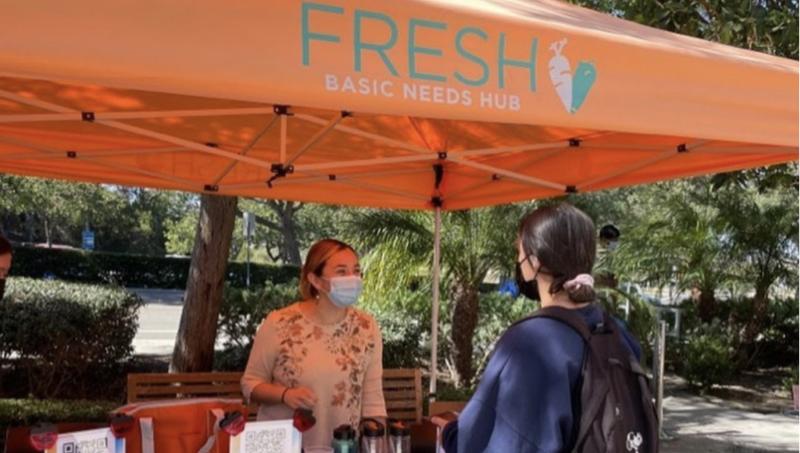 English
Experiential learning opportunities have even enabled students to spend entire quarters outside of the classroom. Students in UCI's English department can take advantage of fellowships and internships that place them "in the real world" well before they graduate, allowing them to enhance their resumes and get a head start on their careers.
The UCI English Internship Program places English majors in campus and community offices with stories to tell for a period of 10 weeks. The students are paid to work five to 10 hours a week, and they also earn course credit from taking "Writing 197: Writing Internship" with English Professor Julia Lupton, who founded the program.
For many undergraduate students, landing a job at a Silicon Valley startup immediately post-graduation is the dream, but for alumna Sherissa Go ('22), it was real life. Employed at SkyHive, a leading software company in Silicon Valley, she currently works with engineers, sales directors and marketing managers to sell artificial-intelligence technology to Fortune 500 companies.
In the fall of 2021, 25 English majors were assigned to marketing and communications internships at UCI and surrounding organizations. One of those students was Go. As a content marketing and copywriting associate for the UCI Division of Career Pathways, she wrote podcast scripts for the hub's Spotify on how to get an internship during college, how to ace a job interview and more.
"I graduated with my English degree at the end of winter and scored a job at a leading Silicon Valley startup with no experience other than my internship work and my work for New University," Go says. "I think this serves as a testament to the program's importance."
"Our students are eager for new experiences that expand their visions of the future. It's exciting to see them take their writing skills and retool them in these real-world settings," Lupton says. "The outcomes are tangible: some are kept on by their employers, others apply for related opportunities and all of them make new friends and contacts while building their resumes. The students grow so much over the course of 10 weeks, and they take real pride in the work they do on behalf of UCI departments and Orange County non-profits."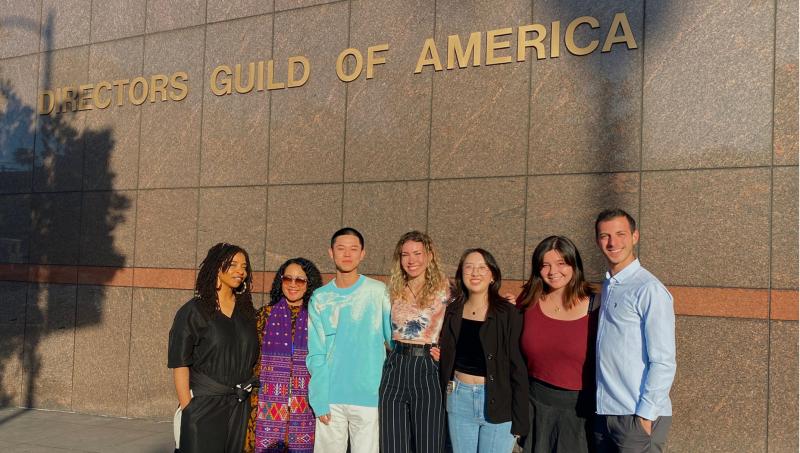 Film and media studies 
The Department of Film & Media Studies hosted a trip to the Los Angeles Asian Pacific Film Festival this past May. A group of six FMS students accompanied Department Chair Fatimah Rony and Associate Professor Desha Dauchan to the largest festival in Southern California dedicated to showcasing films by and about Asians and Pacific Islanders, now in its 38th year.
The first program they saw was Still Life, which screened several animation shorts of various formats, characterized by their intense and innovative themes. One of the short films featured was Rony's award-winning animated short "Annah la Javanaise," about a 13-year-old girl trafficked to Paris from Java in 1893 to work for painter Paul Gauguin.
After lunch, they saw two documentary features: "Bad Axe," about a Cambodian-Mexican family's struggle to keep open their restaurant in rural Michigan during a time of polarization over race and politics, and the mystery drama-documentary "Free Chol Soo Lee," about a man who is wrongly convicted for murder and incarcerated and what happens when the Asian American community rallies behind his release.
Afterward, they attended a reception for the filmmakers of the festival (to which Rony was invited) and along the way ran into several FMS alums: Janet Chen ('98), who is now getting her MFA at UC Santa Cruz in film and social documentation, and Angela Park ('02), a film producer. They also ran into lecturer Jon Oh, who teaches "Advanced Sound" and was recording sound for filming being done at the festival.
"Field trips are a great way for our students to learn about film festivals, find out more about the various types of films being screened at festivals, meet filmmakers and become inspired about filmmaking," says Rony.
Thank you to the following donors for making these opportunities possible:
Roy and Janet Clifton
Alyson Kuhn
Katherine Basile-Fero and Michael Fero
Barbara and Donald Ormand
Fidelity Charitable Gift Fund
Emily Jen
Jeanne Doig
Penny and Roni Portillo
Moyra Smith
George and Linda Bauer
Albert and Anne Encinias
Mary Watson-Bruce
Toni Martinovich
Jaemin and Soo Youk
Sohan and Cheyenne Weeraratne
Larissa Fong
Brittany Binder
Christopher Price
Mandi Tiet
Molly Tobias
Sarah Brandenburg
Anke Biendarra
Christopher De La Fuente
Ivan and Erika Williams
Edward and Janis Carpenter
Julia Reinhard Lupton and Kenneth Reinhard
Amanda Swain
Fred and Pamela Sainick
Michael Tamayo
Elaine Walter and Craig Meltzner
Roberta Wue and Keith Corpus
Janis and Robert Rizzuto
Donna and Stephen Symons
Daniel and Marion Larson
Yu-Fen Shih
Jessica Bogdanoff
LaVonne and E. Brian Smith
Tyrus Miller and Deanna Shemek
Karin Paul
Masayuki and Sachido Yamada
Victoria Silver
Yong Chen
Judy Wu
Barry Siegel
James Gagnon
Bradley Queen
Josiah James
Alvin and Rosalie Glasky
Stuart and Teresa Dunn
Yolanda Perez
Brianne Donaldson
Christopher Villaflor
Sonja Berggren and Patrick Seaver
Thomas and Marilyn Sutton
Margaret and Leslie Carter
John Schwetman
Jean and Dennis Toyama
Marc Grossman and Marta Lopez
Kamilah Shields
Melissa Jacobson
Darrell and Lynda Wilson
Nancy Kidder
Catou Greenberg
Bruce and Jaye-Jo Cooperman
Karen Stouffer
Persis McCarley
Linda and Nemo Azamian
Catherine Locke
Eamon Kane and Ruth Williams-Kane
Keith Rosten
Susan and Mark Andrews
LaRoyce Kincaid
Leonard Nelson and Carol Maier
James and Joyce De Deo
Elizabeth Wood
Jacob Brender
Brian Caynan
BlackRock, Inc.
Kimberly and Joe Grippi
Mario Villa
Sally Feng
Robert Rohrbacher
Heidi Reed
Andrea Walker
Mark and Linda Moore
Yekrangi and Associates
Ashkan Yekrangi
Julianne Wilder
Scott Roberts and Becki Ames
Sabrina Fan
Tamara Fabian
Patrice Hawker
Elizabeth Betowski
Elisa Caglieri Trees
Don McLaurin
Grace Applebaum
James Zeigler
Deno Canellos
Megan Sterling
Steven Khoo
JoAnn Jamora
Wayne Swift
Sean Fischer
Gloria Lyn and Kenwrick Chan
Andrea Canfield and John Bodenschatz
Lisa Sandles and Theodore Van Daalen Wetters
Michelle Martinez
Mary and Cesar Cappellini
Yunjie Liu
Madeline Mullens-Greenwood
Linda and Mehrdad Haghi
Mary Colbert
Bertrand Weidberg
Rita and Spencer Olin
Bijal Shah
Ronald and Nancy Stewart
Kathryn Miller
The Blackbaud Giving Fund
YourCause, LLC
AbbVie, Inc.
Elizabeth and Stuart Winthrop
Candice Garretson
John Baker
Jerell Hill
Margaret Battin
Marie Sacramento
Eszter Zimanyi
Lucas Hilderbrand
Zilin Teng
Victoria Johnson
Ingrid Allen
Maggie Dethloff
Fatimah Rony
Caitlin Conklin
Ayako Karasawa
Christopher Baugh
Catherine Benamou and Leo Ogata
Kristen Hatch
Danny Chawannakul
Saira Fazli
Paul and Dana Levin
Albert Le
Xingtong Zhou
Tim Hoekstra
Mayumi Smith
Diana Cardenas
Harry Woolway
Diana Le
Peter Lam
Rooth Tangchitpiyanond
Sara and Daniel Patterson
Leon Dudevoir
Nina Scolnik
Orange County Community Foundation
J. Fernando and Olga Niebla
Richard C. Seaver Charitable Trust
Victoria Dean
Rebeca Helfer
Keith Topper and Lyle Massey
Anna Manring
James Guerinot
Art History
English
Film and Media Studies
History
Literary Journalism