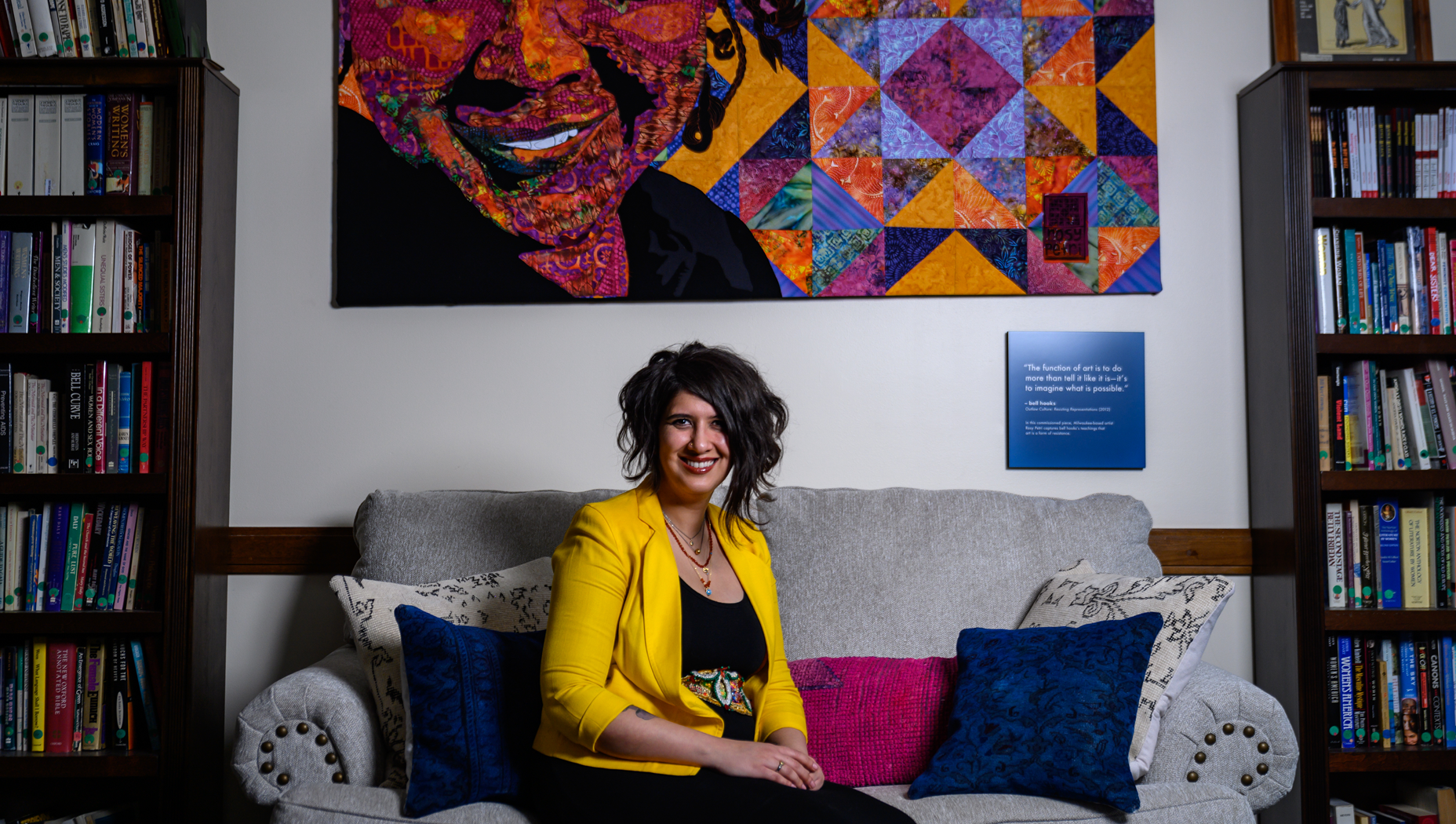 Q&A with Megan Cole
M. Shadee Malaklou, Ph.D. Culture and Theory '16 | Chair, Women's, Gender and Sexuality Studies, Berea College
After studying the relationship between anti-blackness, gender and sexuality at UCI, M. Shadee Malaklou (Ph.D. Culture and Theory '16) endeavored to share her findings as widely as possible. Now, as Chair of Women's, Gender and Sexuality Studies at Berea College in Kentucky, Malaklou leads curricular changes that challenge "white supremacist humanism." She is also the founder and inaugural director of Berea College's bell hooks center, named after bell hooks, the influential Black feminist writer and theorist. The center is a programmatic and research hub where scholars, artists, organizers and activists "forge radical coalition." Below, Malaklou reflects on her origins as a scholar-activist and recognizes the mentors who have shaped her work.
How did your interest in race, gender and sexuality studies develop? 
I was raised in Irvine, which (at that time) was a predominantly white suburb, by my grandmother. She moved to the United States from Iran when I was three years old to care for me, but she never assimilated. She wore a hijab and could say only two sentences in English. I remember the shame of taking her hand each morning on the way to school as classmates stared and whispered, and I remember the white gaze of their parents, which froze her (and me) in time. As a child, I was desperate to find a way out of the racial-historical schema that she personified. 
In kindergarten, I was just beginning to understand racial caricatures when my five-year-old neighbor, a nice (enough) white girl named Megan, gave me an ultimatum: she and the mean girls that she commanded would extend their friendship to me on the condition that I stop speaking "that language" and dissociate from my grandmother. Desperate not just for their friendship but for a little bit of whiteness, I diligently worked to effect those changes that I could, turning away from my grandmother when she held me, fed me, bathed me, loved me. I will never forgive myself for this. My scholarship and teaching seek to understand why the pull to betray the only person who unconditionally, consistently, selflessly and wholly loved me was so strong that I could not deny it. I came to theory as my late friend and mentor bell hooks did, "because I was hurting." bell writes, "I came to theory desperate, wanting to comprehend — to grasp what was happening around and within me. Most importantly, I wanted to make the hurt go away." 
What are some of your favorite aspects of your current position at Berea College? 
While I was considering taking my current position at Berea College, I learned about its history as the first interracial and co-educational college in the South, founded by radical abolitionists six years before the start of the American Civil War. I also learned that the College is tuition-free, accepting only low-income students, 40% of whom are below the poverty line. When I visited Berea, I was greeted by faculty of color and queer faculty. I was told that Berea is a city of artists and craftspeople, a place of creativity, and I have experienced this to be true. I felt (feel) possibility in Appalachian culture, in the lifeways of "hillbilly" mountain people who, like persons of color, are presumed to be hopelessly backwards, in need of white liberalism's civilizational uplift. I sensed (hoped) that even the white students at Berea College would find meaning in my teaching, and I was right. Additionally, I was drawn to the Eight Great Commitments that drive the College's mission, especially to its commitments to racial and gender equity, which ensure that the College can never disband critical race theory or bring professors under fire for teaching it. I came to Berea because its story moved me. I stay because of the community and culture that my appointment has empowered me to create. 
Did you always know that you wanted to go into academia? Why did you choose to pursue your Ph.D. at UCI? 
I was always a writer, and I have always been committed to social justice. When I graduated from college, I moved to Washington, D.C., because I wanted to make change. I jumped from one non-profit job to another, eager to find my niche, but couldn't. I soon realized that my fight is with power and not politics. Knowing that D.C. is not interested in questions of power, I applied to Ph.D. programs in cultural studies that I hoped would give me language and tools to make sense of the world and my place in it. 
Who were your most significant mentors at UCI, and how did they shape your academic development? 
I am indebted to a great many teachers at Irvine and am especially grateful for the mentorship and wayfinding of Nasrin Rahimieh, Rajagopalan Radhakrishnan, and Tiffany Willoughby-Herard.
Culture and Theory
Graduate Students