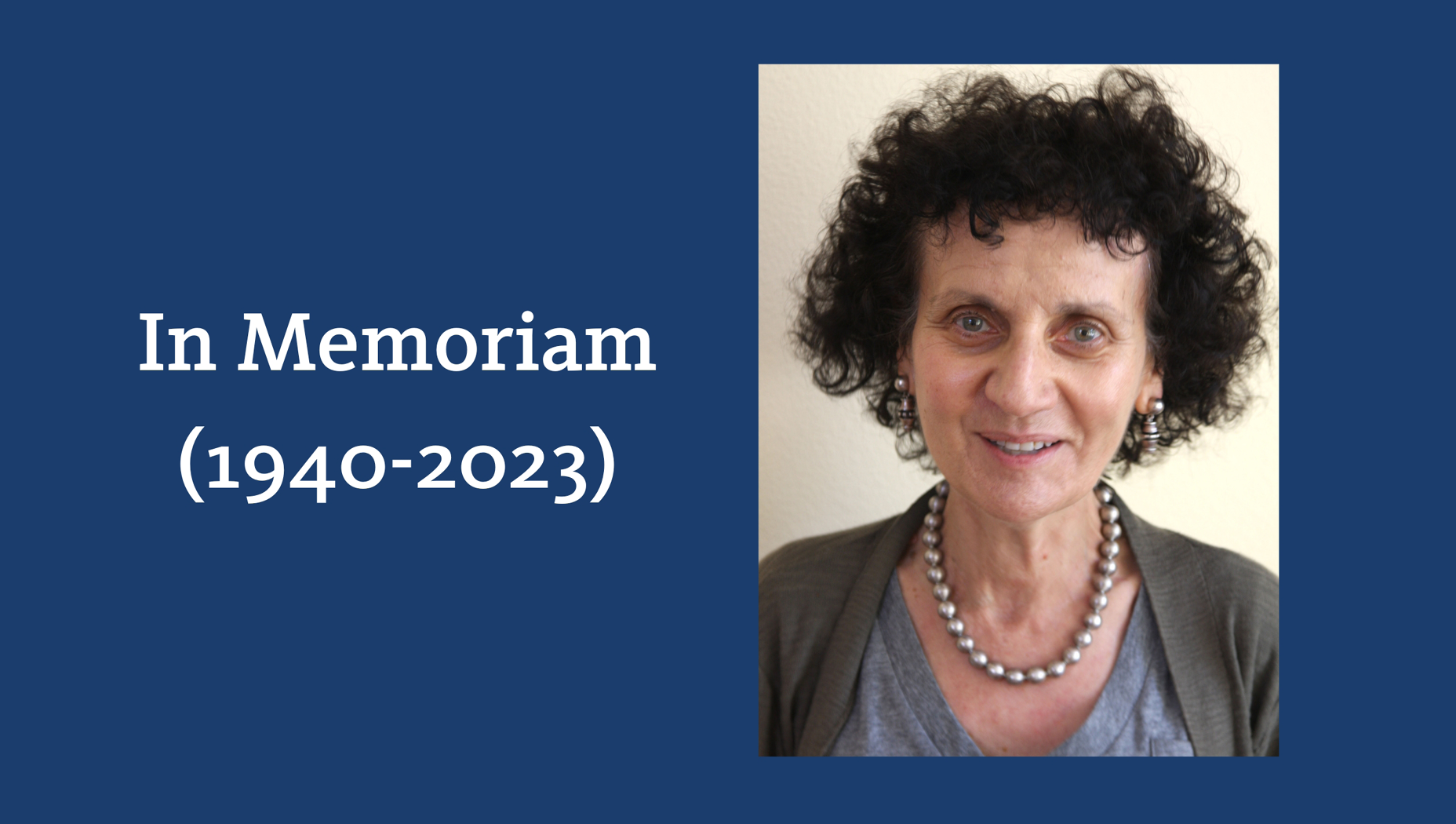 By David Folkenflik, National Public Radio and Julia Lupton, UCI Distinguished Professor of English
Lecturer Emerita Vivian Folkenflik died in a tragic accident outside her home in Montclair, New Jersey, on Saturday, October 28, 2023. She is survived by her beloved grandchildren, Viola, Zella and Eliza, her son David and daughter-in-law Jesse and her sister Judith. She was 83. She was predeceased by her daughter, Nora, in 1995, and her husband, Robert, a longtime member of the English department, in 2019. 
What made Vivian remarkable was not her shocking death but her life. She was marked by her incisive intellect, her profound caring for others, her drive to connect and her caustic wit. She lived a long and full life with surprising and numerous distinct chapters.
Vivian Perlstein was born in Brooklyn, New York, in 1940, the daughter of a cardiologist and a public school librarian, who bred in her a lifelong passion for museums, music, literature, history, travel and Jackie Robinson. Above all, she was restlessly curious about the broader world around her and sought to cultivate connections with others. She graduated from James Madison High School at the age of 16, received her bachelor's degree from Radcliffe College and then earned her master's degree at Cornell University, concentrating on French literature.
Vivian met Robert at Cornell when both were doctoral candidates there. Robert told her at the first lunch they had – her then-boyfriend having just left the table at the restaurant – that he would marry her. Vivian rolled her eyes. They were married two years later. Nora was born in Ithaca. David was born in Rochester, where Robert had his first professorial appointment. They moved to Laguna Beach in 1975, where they lived for the next 45 years. 
"It was an intellectually curious and inquisitive home that they forged here," said their son, NPR reporter David Folkenflik. "It was a home where it was expected you would read, expected you would be interested in public life, expected that you'd be interested in things that didn't just have to do with yourself." (LA Times 2019)
UC Irvine became their academic home. Vivian Folkenflik was a noted translator, including Major Writings of Germaine de Staël and The Bohemians by Anne-Gédéon La Fitte, Marquis de Pelleport. In the early 1980s, Vivian began teaching in the Humanities Core Course, which serves almost 1,000 first-year students a year. She taught thousands of undergraduate students over the decades that ensued. She also mentored hundreds of graduate students, lecturers and professors on the crafts of teaching, research and presentation.
This work was hugely meaningful to Vivian, all the more so after the death of her daughter Nora in 1995; it proved an act of courage and a conscious decision for her to persevere, which she did, teaching and mentoring for another generation.
Julia Lupton, Distinguished Professor of English, attested, "Whether it was Shakespeare, or Plessy v. Ferguson or the Book of Psalms, Vivian led me into texts with unwavering commitment and presence. Before she died, she was working her way through Hannah Arendt's Origins of Totalitarianism. That's who she was: a reader of the first order."  
Tamara Beauchamp, writing director of Humanities Core, shared, "Like the women she studied, she was a lively storyteller and had the best style. She loved Proust, Crystal Cove and lemon tarts. Our program will remain indelibly shaped by her years of service to it, and she will be missed, terribly, by many of us."
John Smith, professor of German and former director of Humanities Core, agrees. "My favorite line of Vivian's was that if you come into a discussion with multi-colored pieces of chalk, you can make even the most difficult material clear to the students."
Bob and Vivian set up a memorial fund at UCI to sponsor prizes, scholarships and lectures in memory of their daughter Nora. At UCI, Vivian Folkenflik was a passionate supporter of the Programs in Writing, Humanities Core and the New Swan Shakespeare Center. According to Michelle Latiolais, "Vivian and Bob Folkenflik were always generous supporters of both the writers and the Programs In Writing. They attended readings and forged lasting friendships and mentorships with our writers. The loss of their stewardship is immense, and the loss of their keen intelligence and goodwill is incalculable."
After Bob's death, Vivian moved across the country to Montclair. She went to live with her grandchildren, each of whom she adored. It was at a time of transition and great uncertainty, during the height of the pandemic, and she worried that she would lose her identity as a person of intellectual vitality and worth along with the loss of her husband and the distance from her circle of friends in California.
Instead, Vivian's leap of faith led to great joy, witnessing dance recitals – impromptu and otherwise –  soccer games, drama performances and eternally shifting displays of the kids' paintings and photos all over her room along with her etchings and other artworks. She built a circle of friends in town. She joined two synagogues. She studied the psalms, found book clubs and wrote poetry. 
Though Vivian had moved 3000 miles away, she remained a vital member of our community here. She returned to California twice a year for Humanities Core lectures, performances at the New Swan Shakespeare Festival and visits with old friends and colleagues. 
Nasrin Rahimieh, professor of comparative literature and a former director of Humanities Core, shared these thoughts: "She was a friend and a mentor to me. Today, as I ponder our collective loss, I am reminded of this Persian poem by the Pakistani poet, Iqbal Lahori, translated by my husband, George Lang." 
To live is to secrete a pearl within one's shell,
to forge a gem with concentrated inner flame.
Those who dwell within are no victims of dream.
They compose another world from this one's dross.
زندگی‌ در صدف خویش گهر ساختن است
در دل‌ شعله فرورفتن و بگداختن است
مذهب زنده دلان خواب پریشانی نیست
از همین خاک جهان دگری ساختن است
A commemoration of Vivian's life will be held in Irvine in the new year.
(Photo: Robert Moeller, professor emeritus of History)