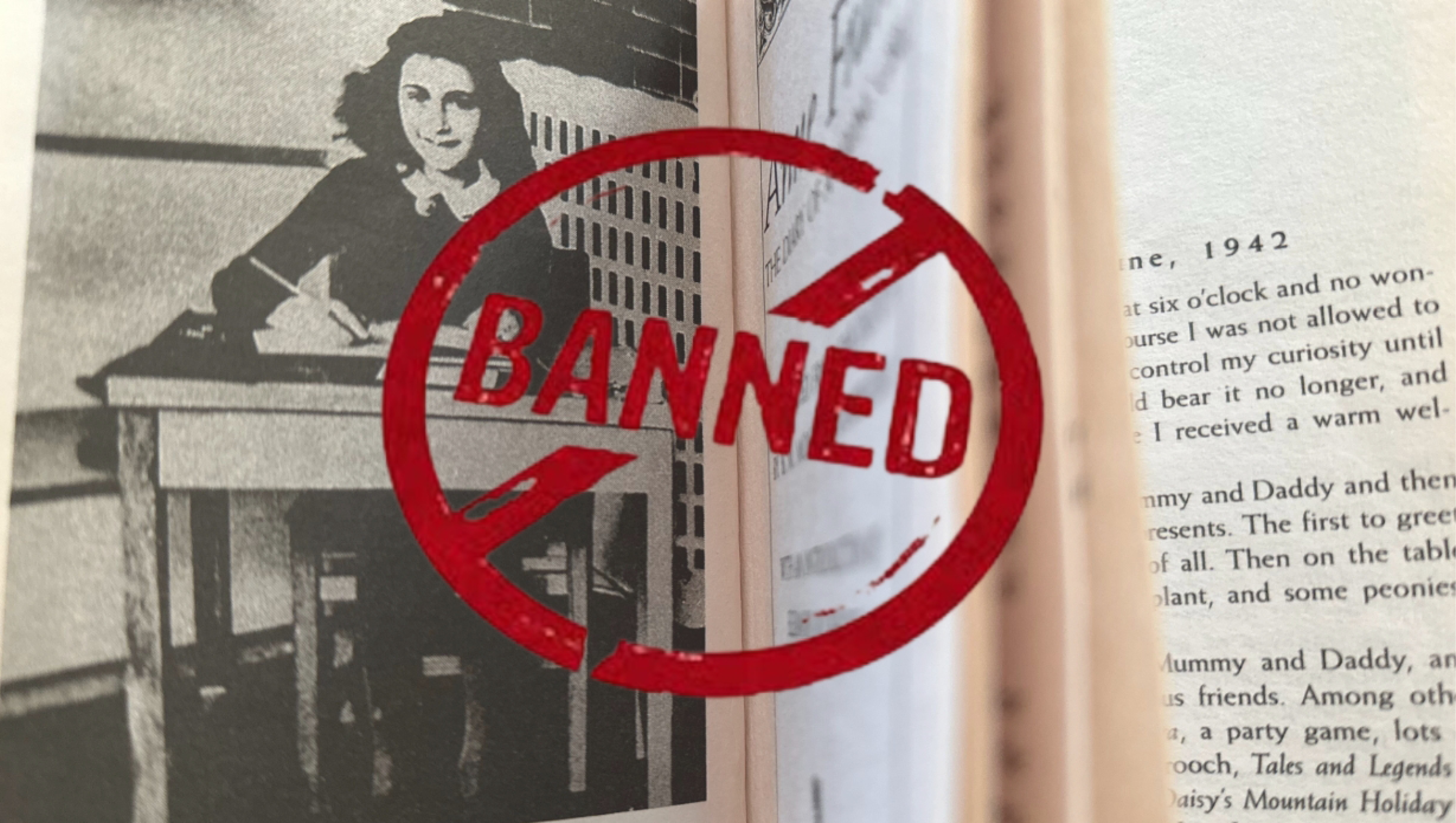 By Nikki Babri 
The recent trend of book bans has reached unprecedented levels following a historic wave of challenges from 2022-2023. Efforts to ban books nearly doubled in 2022 and have continued to rise in 2023. These bans align with a deluge in legislation targeting queer people throughout the U.S. While challengers often claim that their reason for petitioning was due to these titles including "sexual" content that is inappropriate for children, nearly 20 percent specifically cited a desire to shield children from reading about queer lives. 
As we celebrate Pride Month and in affirmation of the rights of readers, including younger readers, to read broadly and make their own choices and judgments, we invited humanities faculty and students to share their favorite banned or challenged LGBTQ+ books. Check them out from the library on your next visit. 
Two Boys Kissing by David Levithan
Several of Jonathan Alexander's, Chancellor's Professor of English and informatics, favorite banned LGBT titles are by David Levithan. Alexander shares that Two Boys Kissing "honestly and poignantly details some of the joys and ongoing difficulties of growing up queer in this culture."
This title had a profound impact on Alexander, who read it for the first time as an adult and was moved by the weaving together of contemporary queer youth voices with those from the height of the AIDS epidemic. "We all need to know our histories, and queer people especially, who have often been robbed of those histories, need books such as Two Boys Kissing to teach them a bit about their people, their pasts," says Alexander. "The struggle for queer liberation is ongoing, and connecting with the bravery of those who have gone before us can both inspire us and 'enlighten' the path ahead."
Felix Ever After by Kacen Callender 
Dan Bustillo, a Ph.D. candidate in visual studies with a graduate feminist emphasis in gender and sexuality studies, is grateful to their advisor for giving them Felix Ever After, a young adult novel following a transgender teen's self-discovery journey.
"Reading this prompted me to take stock of all the knowledges that my body had acquired over the years," shares Bustillo. "This book reminded me of the importance of listening to the many parts of our lives where we've learned to live and love as we are."
Last Night at the Telegraph Club by Malinda Lo
Lucas Hilderbrand, chair and professor of film and media studies, often finds young adult novels to be more socially relevant and empathically generous than more "serious" literature. 
He recommends Last Night at the Telegraph Club, a queer romance novel following a Chinese American teen exploring queer nightlife with her classmate.
"The novel interweaves historical research, cultural specificity and an intoxicating story of budding romance and self-discovery. In this book, coming out means coming out into a lesbian world, not just coming out of a closet," says Hilderbrand. For a gay male historical young adult novel, Hilderbrand also recommends Abdi Nazemian's Like a Love Story.
Stone Butch Blues by Leslie Feinberg 
Published in 1993, Leslie Feinberg's Stone Butch Blues was a groundbreaking first-person novel that navigated the complexities of living a transgender life when it was published.
"It retains a powerful immediacy," says Hilderbrand. "Set in the 1950s, before our current terms and public recognition of trans identities, Stone Butch Blues narrates the experience of self-invention in a world with few available venues and models to do so."
Another Country by James Baldwin
"Another Country was a revelation when I first read it, as it blazed with a ferocious honesty about sex, sexuality, race, class and nationality," says Hilderbrand, who recommends the decades-old title he calls "still amazing."
The controversial 1960s title portrayed a number of themes that weren't tolerated when it was released, among which included bisexuality and interracial couples. 
The Diary of a Young Girl by Anne Frank 
For Haleigh Marcello, a Ph.D. candidate in history and gender and sexuality studies, reading Anne Frank's accounts of bicuriosity in The Diary of a Young Girl helped her come to terms with her own bisexuality. 
"When I learned that The Diary of a Young Girl was banned, and even censored, because of Frank's sexuality, I was disgusted," Marcello shares. "'How could they take that away from her?' I thought, reminiscing on part of Anne Frank's story being lost and obscured, and that people like myself were unaware of such a significant figure potentially being part of the LGBTQ+ community."
The Perks of Being a Wallflower by Stephen Chbosky
Marcello recalls her best friend loaning her a copy of The Perks of Being a Wallflower, which features LGBTQ+ secondary characters and explores queer young adult themes.
"I was particularly struck by how Patrick's sexuality was such a non-issue in the book amongst his group of friends, and how accepting they were of him," says Marcello, who urges everyone to read banned books and support queer youths.
The House On Mango Street by Sandra Cisneros
Mahalia Little, assistant professor of gender and sexuality studies, credits The House On Mango Street for being the first book to make her question gender roles. She still has the copy she purchased as an adolescent on her bookshelf.
"As an adolescent, it was cathartic for me to read about how other poor people lived and loved," shares Little, who believes this is an important book that can help students "process and discuss topics ranging from adolescent sexual assault, to experiences and stigmas around poverty, to Chicana feminism and gender expression."
Little adds, "It was also troubling to see so many titles related to sexual and reproductive education and understanding sexual violence added to the banned list, like Erika Shershun's Healing Sexual Trauma or Robie H. Harris' It's Perfectly Normal."
Julián Is a Mermaid by Jessica Love
Julián Is a Mermaid is a children's picture book that Navi Huskey, a Ph.D. candidate in psychological sciences, wishes they were introduced to earlier in life.
 "As a young child, there are few books that give children access to authenticity that exists outside of the compulsory cis-het intersex-exclusionary worldview," shares Huskey. "Julián's story is vital for children in a world where access to trans care and authenticity is being denied to them."
Milk & Honey + The Sun and Her Flowers by Rupi Kaur
Huskey was given Rupi Kaur's books of poems by a supportive cohort mate after being denied access to the women's restroom at the Coachella Music and Arts Festival. Kaur's poems were transformative for Huskey, who will always attach the memory of receiving the books to persevering in their transition. 
"When we talk about restroom access, or inclusion in sports, what we are talking about is taking up space, entitlement to space and the right to be welcomed in spaces," says Huskey. "When I was denied access to the restroom it was at a time when I had to stop taking hormones in order to bank a biological specimen and I was in a very vulnerable place. I had contemplated the strain vs. gain of pursuing my authenticity, and if it hadn't been for what those books represented (support, care and being welcomed into a circle of women who saw me as worthy) I might not have continued to pursue my truth." 

To learn more about LGBTQ+ studies at UCI, check out this special report.