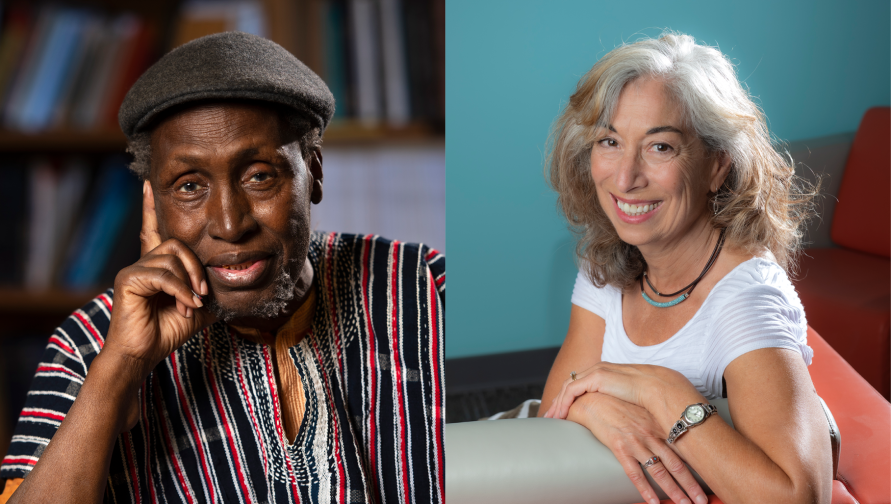 By Christine Byrd
Over the past two decades, UCI's International Center for Writing and Translation (ICWT) has brought Nobel Laureates to speak on campus, launched a podcast showcasing literary works in their original languages, and honored translation with performances of Shakespeare's sonnets in Maori. In effect, it made UCI a world of words.
The ICWT will mark its 20th anniversary with a hybrid event on March 3, 2022, celebrating the center's past and future with those who have brought it to life, including founding director Ngugi wa Thiong'o and current director, Carrie Noland.
"Languages and cultures can learn from each other," says Ngugi, UCI Distinguished Professor of comparative literature and English and an internationally acclaimed writer. "Here is the centrality of translation: translation is the language spoken by every other language."
Rethinking 'here' and 'there'
A novelist, playwright and scholar, Kenyan-born Ngugi has raised the profile of marginalized languages, including his native tongue, Gikuyu, around the world.
Ngugi began advocating for marginalized languages as he gained international acclaim, and in 1977 declared that he would only write in his native language, Gikuyu. But because his early-career plays, which had been written in English, were critical of the Kenyan government, he became a political target. That same year, he was arrested and imprisoned without trial.
Even in jail, Ngugi continued writing – on the only paper available to him, the prison's rough toilet paper – ultimately penning the first modern novel in Gikuyu, Devil on the Cross. After a year behind bars, he was released and went into exile, becoming a professor at Yale, Amherst and NYU before coming to UCI in 2001 to serve as faculty in the School of Humanities and launch the ICWT.
The center was established, but its mission and the vision were blank pages for Ngugi to fill in, with the help of founding staff members.
"I'm particularly interested in the relationship between marginalizing languages – English, French – and marginalized languages, which are all the other languages of Africa, Asia and Native America," he says. "So, our vision became, 'how do we enable communication between languages?' And we saw translation as communication between languages."
Over the years, the ICWT hosted high profile literary figures from around the world, including Nobel Prize recipient Wole Soyinka, Chinese poet Bei Ling and Caribbean poet Kamau Brathwaite. Guest speakers spanned the globe from Ugandan literary critic Peter Nazareth, who explored Elvis's cultural influence, to actor Don Selwyn, who directed a film adaptation of Shakespeare's "The Merchant of Venice" in Maori, the language of New Zealand's indigenous population.
"We had writers from Fiji, Samoa, Iceland, South America, Africa, Asia; circles and circles that in the end brought about a conversation between here and there. Because 'here to there,' that was the guiding principle of our events," Ngugi says.
In his groundbreaking and most-cited book, Decolonising the Mind, Ngugi advocates for "linguistic decolonization," which empowers people of colonized nations to dismantle colonialism and retain their native languages. To Ngugi, "language exists as culture" and "language exists as communication." Colonialism subverts the local language and culture to make it feel foreign, he explains.
In Irvine, Ngugi reconsidered what "here" and "there" meant. The voices of "here," he realized, were Native Americans.
"The thing I'm most proud of is having centered Native American culture and language, paying homage to the fact that UCI is built on Native American soil," he says.
A prolific writer, Ngugi published numerous works including his award-winning novel Wizard of the Crow while leading the center. But it was his book of literary theory, Globalectics, that he published after stepping down as director in 2009, that he says was most influenced by the ICWT's work. The book grapples with the idea of "orality," or spoken language, versus literary written language. The importance of spoken language, he points out, has been buoyed by the global rise in podcasts as well as social media, which relies on a less-formal style of written language.
Creating a campus without borders
In 2019, Professor of French Carrie Noland became director of the ICWT, intending to focus on participatory events, such as workshops that involve faculty, students and staff in translation activities.
When the COVID-19 pandemic disrupted some of those plans, Noland pivoted, inviting writers from all over the world to contribute to an online journal, Intimacy During Lockdown. Submissions flowed in from an Israeli woman caring for her ailing husband, a UCI physician, a foodbank volunteer in Seattle, an Italian woman helping refugees, and others. Ngugi, too, submitted a poem for the journal, reflecting on his mother's words: Gũtirĩ ũtukũ ũtakĩa: "No night is so dark that it will not end in dawn." Published both in their original languages and translated into English, these emotional stories from the early days of the pandemic pulled on common themes, despite their authors' varying circumstances.
"The pandemic was a global phenomenon, and the mission of our center is to highlight the commonality of our human experience, as well as the differences between us" says Noland. "The pandemic was not attached to a particular identity; our experiences can be shared across geographical boundaries, genders, and races. That's something that translation can bring forward and help us see."
As people tired of spending time on their computers, talking to rows of boxed faces, Noland launched a podcast series, "Literature Out Loud," which featured UCI graduate student voice actors reading original and translated versions of long-form poems and plays from around the world.
Two ongoing initiatives that Noland launched continue to advance the center's conversations: Writing and Injustice, which focuses on writers whose ongoing work puts them in peril, and Writing in the Expanded Field, which explores the relation of writing to other media. On February 25, the center will host Podcasting about China, featuring Chinese-born podcasters who now cover the country from abroad. It's part of the UCI Forum for the Academy and the Public's two-day event, "Global China in An Anxious Age." Throughout April and May, the center will sponsor a series of translation workshops, organized by Adriana Johnson, associate professor of comparative literature, and Hu Ying, chair and professor of East Asian studies, featuring renowned translators such as Peggy Kamuf and Tony Barnstone. In the Fall, Noland will host choreographer Lucille Toth who will restage "On Board(Hers)," a project that brings together UCI students and members of the community to share their experiences of border-crossing as refugees and immigrants, using storytelling to produce choreography.
In addition to the events and scholarly conversations the ICWT has fostered over the years, the center left an indelible mark on dozens of students who received Schaeffer Fellowships supporting travel, writing and translation projects.
Named for alumnus Glenn Schaeffer, M.A. '75, who made the founding gift to establish the ICWT, the fellowship has enabled awardees across the School of Humanities and beyond to finish novels, translate texts, and conduct dissertation research.
"Storytelling defines what's most human in us, and it's our sole moral technology," says Schaeffer, reflecting on the center's impact. "So much is produced beyond U.S. borders, so without literary translation – a skill in itself – then voices would be overlooked or lost."
"The center's mission is, in a world that's become too politicized, to be able to cherish and transmit truth telling," he adds.
That mission will be on full display March 3 when Ngugi, Noland, Schaeffer and Dean of the School of Humanities Tyrus Miller are joined by former humanities dean Karen R. Lawrence, currently the president of The Huntington Library, Art Museum, and Botanical Gardens, and former associate director of the center Colette LaBouff to celebrate the center's impact and memorable moments, while also showcasing potential avenues for further exploration of writing and translation.
In her final year as director of the ICWT, Noland says she hopes to see the center become even more deeply rooted in the diversity of Southern California, drawing on the richness of cultures present on campus and in the surrounding communities.
Ngugi, too, hopes the center will continue the legacy he helped establish.
"I think of each language, big or small, as possessing a unique musicality, with beauty and a story of knowledge systems. We don't want to lose any of that. Different instruments can come together and create cacophony or harmony, orchestra and quartets," says Ngugi.
"Languages have a lot of gifts to give each other. I hope the center will always continue, in one form or another, that conversation among the languages of the Earth, big or small."
International Center for Writing and Translation