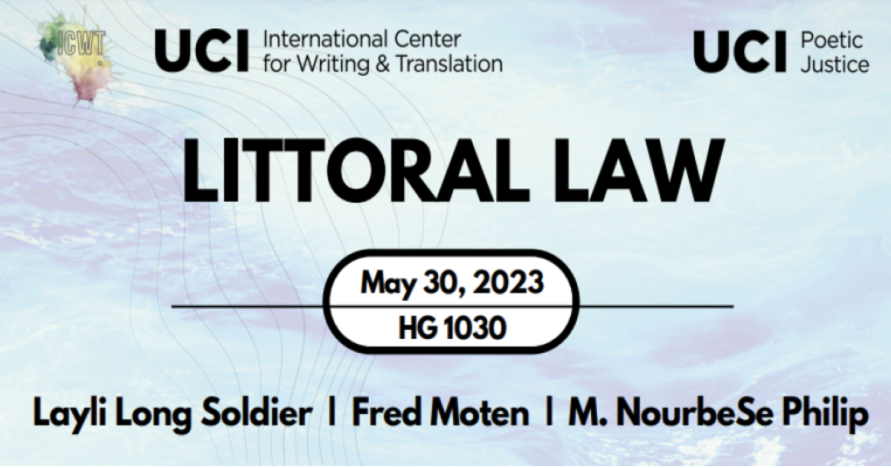 Please mark your calendars for this exciting event on Tuesday, 30 May 2023. 

Littoral Law, co-hosted by the UCI International Center for Writing & Translation and UCI Poetic Justice, features three towering figures of contemporary poetry today, Layli Long Soldier, NourbeSe Philip and Fred Moten. The event is a performance of the power of poetic thought across Native American, Afro-Caribbean and African American traditions of radical writing against colonial legal and linguistic imposition. Please see the attached flyer for details.

On the day of, there will also be a special meet-and-greet discussion session with the authors for graduate students, sponsored by the School of Humanities DECADE Program. More details and RSVP info will be sent separately. 

Layli Long Soldier is the author of WHEREAS, a poetics of historical recovery against the legal burial of the massacres committed by the United States against the Lakota people. Her book won the National Books Critics Circle Award and was a finalist for the National Book Award. NourbeSe Philip is the author of Zong!, a long poem that literally cuts up and rearranges the words of the infamous 1783 legal opinion, Gregson v. Gilbert, in which the English court mandated that an insurance company reimburse the slavers of the ship, Zong, for the lives of 142 African captives they threw overboard while sailing from Ghana to Jamaica. This long poem has been at the center of a renaissance in the study of slavery, and has received numerous national awards in Canada. Fred Moten, Guggenheim and MacArthur Fellow, is the author of nine books of poetry and numerous solo and co-authored books on the Black radical tradition, including The Feel Trio (2014), which was a National Book Award Poetry Finalist.