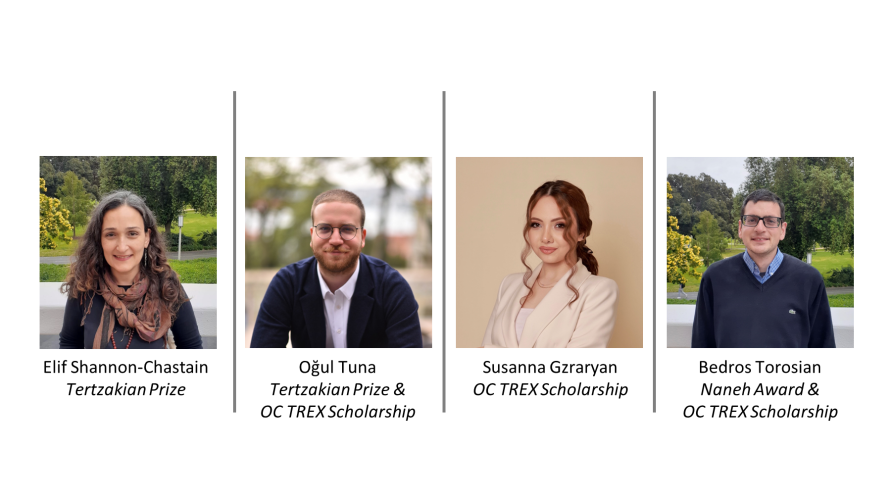 It is our pleasure to share news of our 2023 scholarship awards!

The following graduate and undergraduate award recipients are engaged in innovative research in the field, have contributed to building a robust community within the Armenian language classroom, and continue to make a positive impact on our burgeoning program. 
Our three Armenian Studies awards are made possible by the generous gift of our supporters. We thank them for their contribution and their commitment to advocating for our students' intellectual achievements. 

 

NANEH AWARD FOR GRADUATE RESEARCH IN ARMENIAN STUDIES
This award was created by Professor V. Ara Apkarian and Dr. Alice B. Apkarian to support graduate student research in the Armenian Studies Program. The scholarship is named after Naneh, Armenian Goddess of Wisdom and War in ancient Armenian mythology.

Bedros Torosian is a fourth-year Ph.D. student in the History Department. He will begin the writing process of his dissertation, "Whiteness Across Waters: Domesticating Euro-American Racialisms and Masculinities in the Service of Ottoman Imperial and Communal Subalternities," which examines the origins and formations of new modes of territorially bound ethno-racial and civic linkage in the late Ottoman empire as it transitioned from an autocracy to a constitutional monarchy on the eve of the 1908 Young Turk Revolution and up to World War I. The study investigates the intersectionality of patriotism with commanding hierarchies of race and gender operating in a world dominated by asymmetrical domestic and global power relations. Drawing on periodicals in Arabic, Armenian, and Ottoman Turkish printed in the empire, the US, Paris, and Egypt as well as travel documents, migrant correspondences, and political party papers, Torosian argues that patriotism overlapped with visions of Ottoman citizenship, territorialized political being, and racialized belonging to protect multi-layered individual, communal, and state sovereignties

THE ARMENIAN STUDIES PRIZE IN HONOR OF SYLVIE TERTZAKIAN 
This scholarship was created by Vahe Meghrouni to honor Sylvie Tertzakian's unwavering support and pioneering efforts on behalf of UCI Armenian Studies.

Elif Shannon-Chastain, for "Staging Identity in the Ottoman Theater: The Ottoman-Armenian Legacy of Mardiros Mnagian 1912-1920"

Elif Shannon-Chastain's research paper explores the life and career of an Armenian actor and director, Mardiros Mnagian, who was an active figure in Ottoman theater. Her study offers fresh insight into the construction of Ottoman-Armenian identity, fashioned within the culturally hybrid space of the theater. At the same time, by bringing Mnagian's forgotten life and career into contemporary conversation, Shannon-Chastain reveals both the collaborative and uneven construction of the Turkish theater space. 

Oğul Tuna, for "Red Basarkechar: Bilingualism, identity construction, nationalism, and socialism in Soviet Armenia"

Oğul Tuna's research paper makes an important contribution to filling gaps in comparative Armenian historiography by examining a unique bilingual Armeno-Azerbaijani periodical called Red Basarkechar, published by multiethnic rural worker-farmers of the Basarkechar region. Through it, he critically explores the nation-building and identity-construction processes in the Soviet Union within a connected histories framework.  

THE 2023 UCI ARMENIAN STUDIES - OC TREX SCHOLARSHIP
This scholarship was made possible by the Orange County chapter of the Triple X Fraternity and supports students pursuing Armenian Studies coursework, language and/or research at UC Irvine. 

Oğul Tuna  //  Bedros Torosian  // Susanna Gzraryan