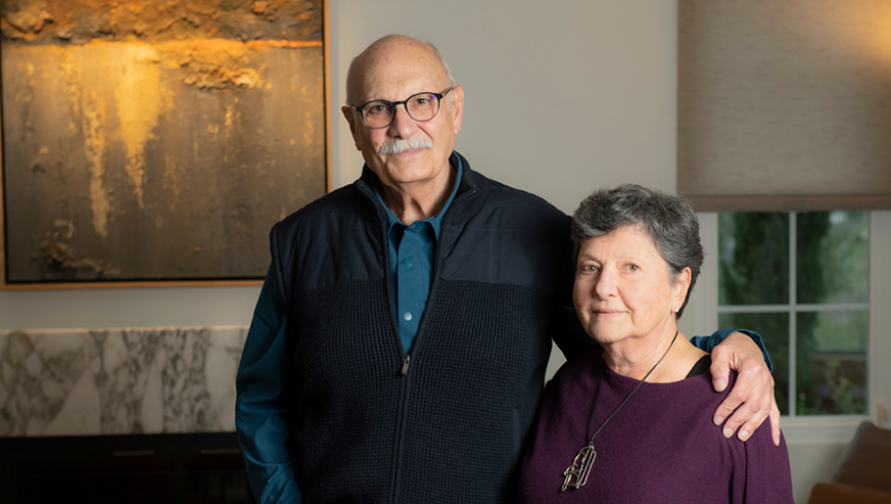 By Megan Cole
When engineering professor Diran Apelian first arrived at UCI in 2020, he and his wife Seta were immediately impressed by the robust Armenian Studies program on campus. As Armenian Americans passionate about their cultural origins, the Apelians became fervent supporters of the UCI Center for Armenian Studies. When they learned that the Center needed to establish an endowment to ensure its long-term stability, they "didn't hesitate for a moment" to step in.  
Earlier this year, the Apelians made a significant contribution toward the Center for Armenian Studies' $1.5 million endowment goal. When fully established the endowment will support UCI Armenian Studies in perpetuity. Meeting critical needs like language courses, student scholarships, and more. It will enable Armenian Studies to continue thriving at UCI for generations to come.  
Cultivating Excellence in Armenian Studies
Across the United States, UCI is one of only thirteen universities with a chair in Armenian Studies. Since establishing the Meghrouni Family Presidential Chair in Armenian Studies in 2015, UCI Armenian Studies has grown to encompass several Armenian history and language courses, an Armenian studies minor, and an Armenian collection at Langson Library. At its heart is the Center for Armenian Studies, which hosts frequent book talks and film screenings open to the public
History Professor and Armenian Studies Chair Houri Berberian, who also directs the Center for Armenian Studies, notes that while there remains over $1 million left to raise, UCI Armenian Studies is "immensely grateful for the Apelians," whose gift has already "had a meaningful impact on getting our campaign started."
"The Apelians' generous gift to the Center is a significant foundational step toward our goal of a $1.5 million endowment for the Center," Berberian says. "We are heartened that they share our enthusiasm and vision for expanding the Center's resources. A new endowment will meet our most critical needs, especially Armenian language courses, graduate and undergraduate student support, as well as further development of creative programming to connect our campus community with our broader community."
Supporting Emerging Scholars
Oğul Tuna, a second-year history PhD student studying Armenian revolutionary figures, works closely with the Center for Armenian Studies and eagerly anticipates the expanded language courses and curricular offerings that an endowment would bring, noting that such curricular offerings would help him "start dealing with [his] most important research questions." Elif Shannon-Chastain, a fellow history PhD student whose research focuses on the role of Armenian women in early Ottoman theater, agrees that the endowment's support of research funding and language courses would allow graduate students like herself not only to "give a voice" to the Armenian women she studies, but to "recognize these women in their own language."
Bedros Torosian, a fellow history PhD student studying Armenian expatriates in the early twentieth century, adds that an endowment would increase student support and draw high-caliber Armenian scholars to UCI, regardless of their financial situation.
A Lebanese citizen and descendent of Armenian refugees, Torosian has "always possessed a passion to unearth the history of all that is Armenian" and sought "to maintain a spiritual connection with my ancestors uprooted from the Ottoman Empire and with a lost homeland." However, he worried about securing enough funding to support his research throughout graduate school—a worry that "life-changing" scholarships from the UCI Center for Armenian Studies assuaged.
"As an international graduate student, I could not have imagined myself still being in Irvine in the fourth year of my program and working towards my doctoral degree without receiving scholarship funding from the Center for Armenian Studies," Torosian says. "Despite all heartbreaking odds, I have been able to focus on my work and make great strides in my dissertation research instead of worrying about seeking external funding resources and supplementary employment to make ends meet."
Weaving a "Beautiful Tapestry"
Like Torosian, Diran and Seta Apelian are among 8 million members of the Armenian diaspora. While the Apelians have lived in North America for most of their lives, they have always carefully preserved their Armenian roots and broadly promoted cultural studies.
"Living in America, it's easy to become homogenized, but connecting to your cultural heritage through the humanities makes you a richer, more multidimensional human being," says Diran.
Retaining a connection to her cultural background has made her a "more complete person," Seta adds, which is why she has passionately supported Armenian Studies—and the humanities in general—throughout her life.
The Apelians' story began in Cairo, where they met as grade-schoolers in the 1950s. When they were 10, political turmoil struck Egypt. Diran's family moved to America and Seta's family moved to Canada shortly afterwards. They lost touch with one another until several years later, when Diran found himself in Montreal for a ski trip and reached out to his former classmate, hoping she might show him around the city. 
"Two daughters, five grandchildren, and several decades later…" says Diran.
"The rest is history!" laughs Seta.
Diran, a distinguished professor of materials science and engineering, and Seta, a retired orthodontist, attribute much of their success to higher education. Eager to pay it forward, one of their primary philanthropic goals has always been student support. To that end, last year the Apelians funded a separate, $100,000 endowment exclusively earmarked to support UCI Armenian Studies students like Shannon-Chastain, Tuna and Torosian.
Language is the key to the house
While funding scholarships remains a priority for the Apelians, their new endowment contribution is unrestricted. Thus, in addition to providing student support, it can address more of the Center for Armenian Studies' needs, including funding for community-oriented events and expanded course offerings in Armenian history and language.
"Language is really the key to the house," says Diran. "It unlocks culture and history, and it's imperative that it isn't lost."
The Armenian language is thousands of years old and is spoken by about 5 to 7 million people worldwide. Its usage in the diaspora has gradually dwindled, however, in the century since the Armenian Genocide, in which over a million Armenian subjects of the Ottoman Empire were killed. In 2010, the Western Armenian language was declared endangered by UNESCO. 
"Armenia is a very old civilization, but unless we actively nurture the language, it's not going to sustain itself," says Diran. "Civilization is defined by culture, and if unique languages and cultural practices disappear, we would be completely homogeneous. There wouldn't be any illustrious fibers of society left to stand out."
Diran compares American culture to a tapestry, noting that "it has fibers of all different colors, and when they are woven together, they create a beautiful, museum-worthy piece of art." If the tapestry was monochromatic, Seta adds "It would not stand out and it would not be special." 
"We have a responsibility as Americans to ensure that the fibers of our cultural backgrounds are not forgotten," says Diran. "Whether those fibers are Spanish, Jewish, Italian, Kenyan, or Armenian—they need to be alive so the whole can flourish." 
The Apelians hope to inspire fellow community members to contribute to the Center for Armenian Studies' endowment goal, and to cement UCI's status as a global hub for Armenian Studies—a vision shared by the Center for Armenian Studies itself.  
"In the future, we hope that as we increase the number of graduate students and faculty specializing in Armenian studies, our impact both locally and worldwide, within the field will continue to grow," says Berberian. "UCI Armenian Studies has already garnered national and international recognition, and with support from our community, we aim to seize the opportunities currently in front of us to strengthen UCI's impact as the intellectual and cultural hub for Armenian Studies in Orange County."  
Donors like the Apelians play a vital role in ensuring the UCI School of Humanities' brilliant future. Launched in 2016 with support from the Orange County community, the UCI Armenian Studies Program provides a range of academic offerings and engagement opportunities focused on Armenia and the Armenian diaspora to both the UCI community and Orange County community. To support Armenian Studies Program scholars and events that matter, consider making a gift today
Photo credit: Steve Zylius/UCI
Armenian Studies
Center for Armenian Studies