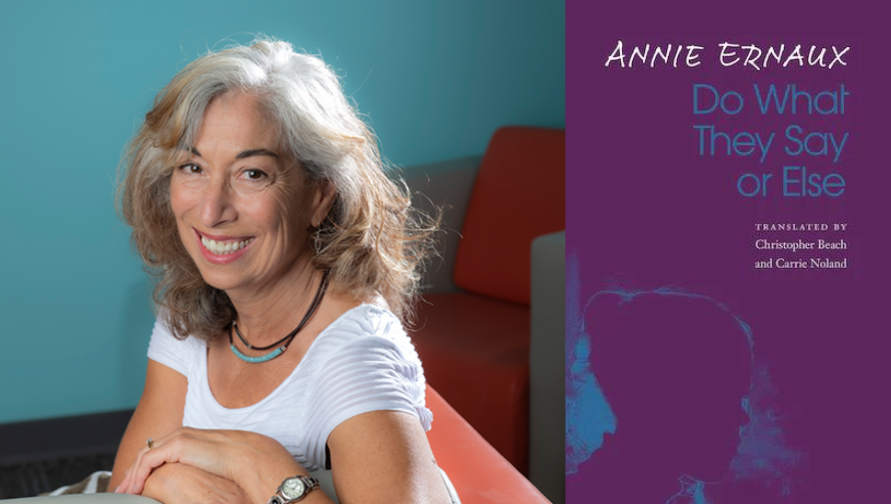 UCI French Professor Carrie Noland, along with film scholar Christopher Beach, recently translated a novel by the winner of the 2022 Nobel Prize in Literature, Annie Ernaux. The translation, published by the University of Nebraska Press, is titled Do What They Say or Else.
Originally published in 1977, Do What They Say or Else is the second novel by French author Annie Ernaux. Set in a small town in Normandy, France, the novel tells the story of a 15-year-old girl named Anne, who lives with her working-class parents. The story, which takes place during the summer and fall of Anne's transition from middle school to high school, is narrated in a stream-of-consciousness style from her point of view. Ernaux captures Anne's adolescent voice, through which she expresses her keen observations in a highly colloquial style.
As the novel progresses and Anne's feelings about her parents, her education, and her sexual encounters evolve, she grows into a more mature but also more conflicted and unhappy character, leaving behind the innocence of her middle school years. Not only must she navigate the often-confusing signals she receives from boys, but she also finds herself moving further and further away from her parents as she surpasses their educational level and worldview.
"As admirers of her work – which often combines elements of fiction and memoir – we thought an English-speaking audience would savor this early novel, one that anticipates in many ways the clarity, directness and authenticity of her more mature voice," said Noland.