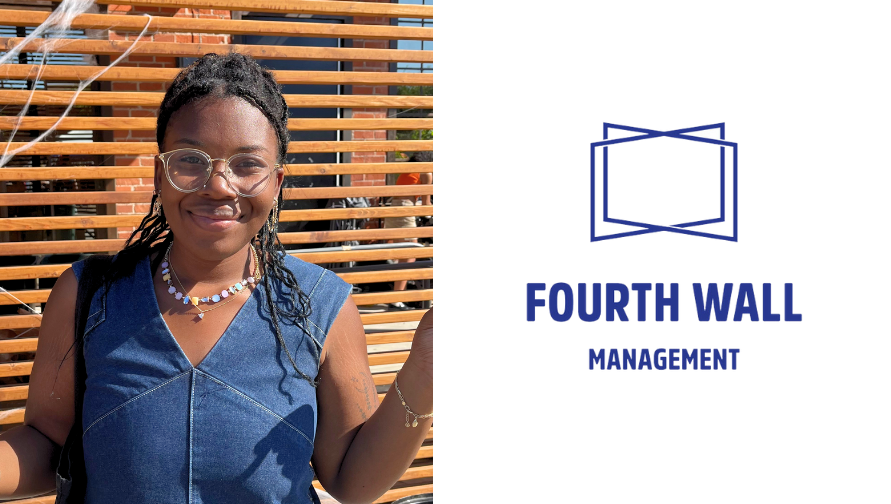 During the Winter Quarter, FMS Major Kaylani Renee Riley interned at Fourth Wall. In this internship, Kaylani's film analysis skills that she gained from her education at UCI was essential when doing script coverage. She gained valuable experience and advice about navigating the industry at Fourth Wall.
What about your FMS education has helped you get the internship? Or what parts of your FMS education do you utilize while at your internship?

There are many aspects of my FMS education that I believe helped me get this internship. The first would be the knowledge and insight I have gained about the industry, representation, new media, film analysis, and how to become a better filmmaker overall. I've had the opportunity to pitch ideas, make video essays, partake in film screenings, join UCI's film organizations, make connections with my peers and other UCI filmmakers… the list goes on and on! In my "Shonda Rhimes" class with Professor Bambi Haggins, I made a friend who had previously interned with Fourth Wall— she helped a lot when it came to feeling confident about processing with sending in my application! These connections are invaluable, and I'm so thankful I get to be a part of the FMS community here at UCI.

In this internship, I utilize my film analysis skills when doing script coverage. Script coverage is a process in which I get a script from a writer that wants it to be looked over, or sometimes I'll get a script that has been submitted to the company in hopes that it will get picked up by a network or streaming platform. After going through the script, I have to write a synopsis, general comments, and a logline— I also have to make sure that I am categorizing the script correctly (length, genre, etc.) to provide the sharpest feedback possible. The FMS 85 and 101 series were a great foundation for tasks as such, as I learned all about elements of craft, the history of the film industry, the conventions of film, how to breakdown a scene, the significance of specific choices (such as color, sound, editing style, length, etc.), and more. Another skill that has come in handy is the industry knowledge I have learned from various FMS courses. We did an Oscars trivia competition during one of the staff meetings, and my historical knowledge of the industry came in handy! It's also nice to be able to discuss industry changes with my peers, as well as old and new media, some of which I wouldn't have known about if I didn't have the amazing screenings that some of my FMS courses have after their lectures. 

Which professor or class has been influential?

 

Though all of them are amazing, a professor that has been very influential in my FMS journey has been Dr. Payton. So far, I've taken two classes with her: Black Woman and Stardom, and Memory and Aesthetics. Both courses navigated how Black women are portrayed on screen, and how they express themselves as artists, mothers, daughters, and as women who carry what their ancestors have left behind. Both courses were also unique in their own ways— one of them focused on Hollywood, the studio system, and Black women stars such as Lena Horne and Eartha Kitt— and the latter was focused on photography, temporality, memory, representation, and documentation. Dr. Payton provides a safe space for all students to express their thoughts and brings new perspectives that have shaped me as a filmmaker who is passionate about Afro-centric representations on and off the screen. She is industry-adjacent, which means she has lots of connections to filmmakers in the industry and has contributed to the industry in a variety of ways. Because of this, she gives feedback that she knows will set her students up for success as they continue their creative paths!

What has been the best experience about your internship?

I love being able to see Fourth Wall's internal databases and learn from executives here. It's been an amazing experience to log in to all of the staffing updates from big companies like ABC and HBO. I get to know which shows are in development for streaming platforms like Netflix and Hulu, and some of my tasks include transferring information from network executives into Fourth Wall's system, which is such a privilege. I've seen real pitch decks and scripts from notable names, and have had the opportunity to have personal conversations with staff who have worked with other industry companies. Sam Goff, for example, is our intern supervisor. I got the opportunity to have an hour-long conversation with her about her experience working at Netflix and Dreamworks, and how she navigates the industry as a Black woman, and I got to get personal and specific advice on how I can best make my way through the industry as well. It's been a fantastic experience overall, and I would recommend this internship to anyone seeking to gain professional industry knowledge and develop skills that will be very beneficial to their creative career paths!