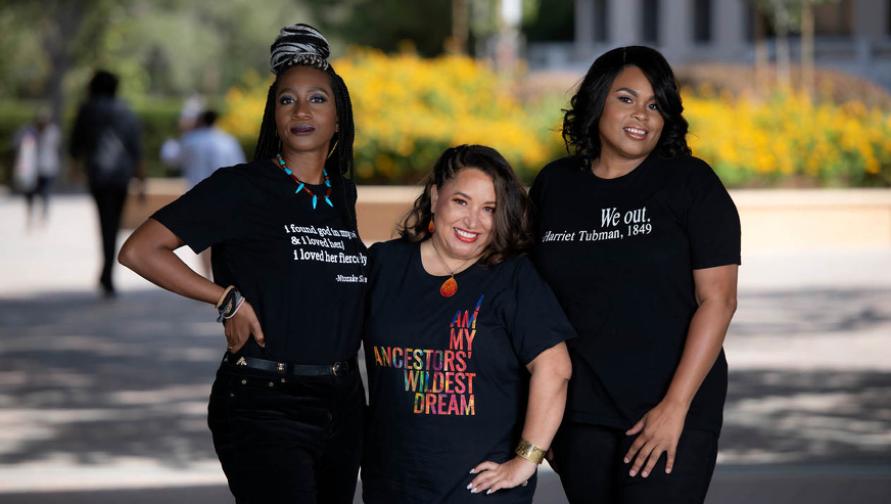 By Robert Ito
What if there were an easily accessible online repository of interviews with living Black activists who've advanced social justice issues? Thanks to two UCI professors in the School of Humanities, there now is one. This summer, Jessica Millward, associate professor of history, and Tiffany Willoughby-Herard, associate professor of African American studies, led a six-week research and graduate admissions pathway program on digital humanities for a quartet of scholars selected from some of the most storied Historically Black Colleges and Universities ("HBCUs") in the country. Their ambitions were twofold: pair the students with UCI mentors who could train them how to conduct archival research and oral history interviews, all with the goal of creating an open-access digital repository of interviews and archives called Activist Studio West, and to create a pathway to UCI for the next generation of Black scholars.
The program is part of the
UC-HBCU Initiative
, a UC-wide grants program that launched in 2012 to enhance relationships between UC faculty members and students of HBCUs. Through the initiative, the UC system hopes to increase the number of HBCU grads applying to its doctoral programs. Last year, Millward and Willoughby-Herard reached a significant milestone: they applied for and received a three-year, $271,902 grant.
The grant enables Millward and Willoughby-Herard to bring cohorts of some of the most promising students from HBCUs across the nation to the UCI campus for a summer research fellowship. Students in the program learn how to apply to graduate programs, meet with UC staff central to the application process, gain critical skills in Black digital humanities, and become familiar with important people in the activist landscape throughout the program. Millward and Willoughby-Herard hope that this experience and training will not only encourage more Black students to apply to UCs for their graduate careers, but also equip them with the skills to become the next generation of Black academics.
"According to a
recent report
about 101 selective research universities in the country, UCI scored poorly on access for Black and Latinx students," says Willoughby-Herard. "That's not good. We're not serving the pool of the state of California. The UC-HBCU program attempts, in a very, very small way to make sure that we address those equity concerns."
It would be hard to find two leaders more qualified to run such a program—not to mention more engaged. Millward has written extensively about the experience of enslaved Maryland women and is the author of the groundbreaking historical study
Finding Charity's Folk: Enslaved and Free Black Women in Maryland
(University of Georgia Press, 2015). Willoughby-Herard is a recipient of UCI's Chancellor's Award for Excellence in Fostering Undergraduate Research and the award-winning author of
Waste of a White Skin: The Carnegie Corporation and the Racial Logic of White Vulnerability
(University of California Press, 2015), which analyzes the political and historical impact of the Carnegie Commission Study of Poor Whites in South Africa from 1927-1932 and is a study of the international dimensions of racialization of the poor in South Africa.
Both professors drew from their extensive connections within various professional organizations—Willoughby-Herard is the vice-president of the National Conference of Black Political Scientists, while Millward has served on the leadership board of the Association of Black Women Historians—to recruit the best of the best from the network of HBCUs. The inaugural group of student participants was selected from nearly four dozen applicants from over 25 different universities.
For the four students, hailing from Howard University, Lincoln University, Clark Atlanta University and Claflin University, the curriculum was as intensive as it was ambitious: learn the nuts and bolts of oral history research, from interviewing to archiving; process papers and records related to the campaign to free journalist, activist and former Black Panther Mumia Abu-Jamal, who was convicted of killing a Philadelphia police officer in the 1980s (to this day, he maintains his innocence, and the case is widely described as unfair); craft papers and PowerPoints, then offer constructive feedback to their peers; and research and interview a Black activist of their choosing for inclusion in the digital archive.
"I was definitely intimidated," admits grant recipient Cienna Benn, a senior art history and Afro-American studies major at Howard University. "I knew the expectations would be really high. But they were both so encouraging, I felt empowered throughout the whole thing."
Students in the program flexed their research skills by completing a project documenting the life of an activist. Shamya Hutchinson, a psychology and human services major from Lincoln University, chose Tarana Burke, the Bronx-born activist behind the Me Too Movement. Clark Atlanta University's Ebony Owens focused on Joan Gray, a former field lieutenant in the Black Panther Party. Tariq Edwards, a mass communications major from Claflin University, chose Colin Kaepernick, the former NFL player whose simple act of civil disobedience sparked a nationwide movement. Cienna Benn interviewed South African filmmaker and artist Bev Ditsie, the first openly lesbian woman to speak up about the human rights of LGBTQ+ people at the 4th United Nations Conference on Women in Beijing in 1995. "As an academic, I don't think I would have had the guts to say, 'I want to try to interview Colin Kaepernick in a six-week summer program,'" says Millward. "But these were people who were really influential and important to them."
The program was supposed to take place on the UCI campus this summer, but COVID-19 changed all that. Even though everything moved online, that didn't stop the group from meeting daily for meetings with mentors, to develop their project presentations, and for a chat with Abu-Jamal himself, and more. The four communicated through virtual meetings and bonded over GroupMe chats. "We still talk to each other," says Benn. "Now, we're talking about our first days of school. I feel like we built long-lasting relationships."
In 2021 and 2022, the pandemic willing, participants in the program will be in Southern California, meeting with professors in person and taking trips out to area archives and cultural events. "We'll be showing them different pockets of Black communities here and in L.A., so they can see themselves living here," says Millward. "We're going to do the full recruitment experience."
One of the program's long-term goals is to nurture scholars who will contribute to their respective disciplines—even as they make them over from within. "The work we do in African American studies is meant to undo what has been produced as scholarship in the mainstream versions of these disciplines," says Willoughby-Herard. "We are literally transforming our fields by teaching students the mainstream version of a discipline, and also the transformative version of the discipline at the same time."
The more immediate goal, however, is getting these and other Black students into UC doctoral programs. "Tiffany and I - as well as our project director, LaShonda Carter, and our digital specialist Ella Turenne -  we've all committed to working with these students and shepherding them through applying to grad school at UCs," says Millward. "We're committed to getting them into grad school, and to them graduating with a Ph.D."
"What these students have are four fiercely committed people that can be in their corner in the UC system," says Willoughby-Herard, who earned both her master's and Ph.D. at UC Santa Barbara. "I want to replace myself at least four times over. I don't want to be the only Black academic in my field or department. That doesn't feel right or appropriate. It's almost immoral."
"I'll echo what Tiffany said," says Millward. "I'm first generation, and I had no idea what graduate school entailed. I want to make sure that the next me that comes along, or the next Tiffany, is fully prepared for graduate school."
Photo credit: Steven Zylius / UCI

Screen shot credit: Jessica Millward / UCI