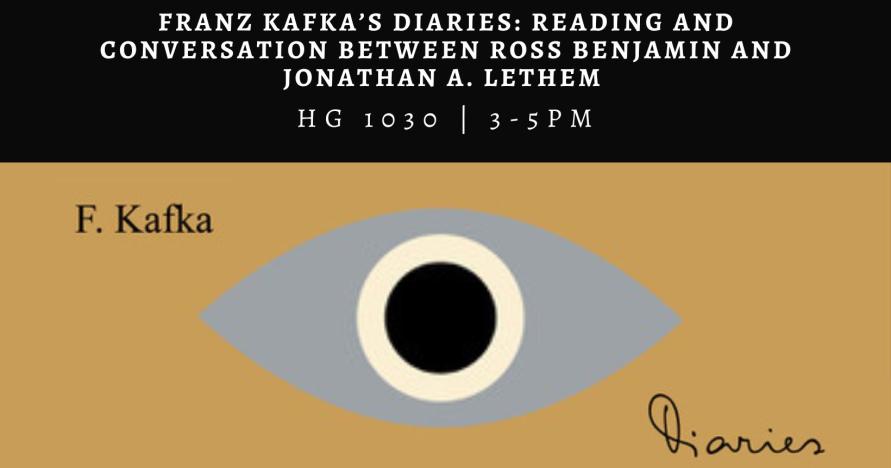 Franz Kafka's Diaries:  Reading and Conversation between Ross Benjamin and Jonathan A. Lethem 
February 24, 2023 3-5 p.m. in HG 1030 
Sponsored by the Department of European Languages and Studies and the International Center for Writing and Translation  
ROSS BENJAMIN's translations include Friedrich Hölderlin's Hyperion, Joseph Roth's Job, and Daniel Kehlmann's You Should Have Left and Tyll. He was awarded the 2010 Helen and Kurt Wolff Translator's Prize for his rendering of Michael Maar's Speak, Nabokov, and he received a Guggenheim fellowship for his work on Franz Kafka's Diaries.  
JONATHAN A. LETHEM is an American novelist, essayist and short story writer. His first novel, Gun, with Occasional Music, a genre work that mixed elements of science fiction and detective fiction, was published in 1994. It was followed by three more science fiction novels. In 1999, Lethem published Motherless Brooklyn, a National Book Critics Circle Award-winning novel that achieved mainstream success. In 2003, he published The Fortress of Solitude, which became a New York Times Best Seller. 
FRANZ KAFKA was born in 1883 in Prague, where he lived most of his life. During his lifetime, he published only a few short stories, including "The Metamorphosis," "The Judgment," and "The Stoker." He died in 1924, before completing any of his full-length novels. At the end of his life, Kafka asked his lifelong friend and literary executor Max Brod to burn all his unpublished work. Brod overrode those wishes.  
THE DIARIES OF FRANZ KAFKA An essential new translation of the author's complete, uncensored diaries—a revelation of the idiosyncrasies and rough edges of one of the twentieth century's most influential writers. "This new and scrupulously faithful translation of the Diaries brings us...the true inner life of the twentieth century's most complex and enigmatic literary prophet." —Cynthia Ozick, author of Antiquities
Dating from 1909 to 1923, the handwritten diaries contain various kinds of writing: accounts of daily events, reflections, observations, literary sketches, drafts of letters, accounts of dreams, as well as finished stories. This volume makes available for the first time in English a comprehensive reconstruction of the diary entries and provides substantial new content, including details, names, literary works, and passages of a sexual nature that were omitted from previous publications. By faithfully reproducing the diaries' distinctive—and often surprisingly unpolished—writing in Kafka's notebooks, translator Ross Benjamin brings to light not only the author's use of the diaries for literary experimentation and private self-expression, but also their value as a work of art in themselves. 
Reviews of the translation:
https://www.newyorker.com/magazine/2023/01/16/the-diaries-of-franz-kafka-party-animal