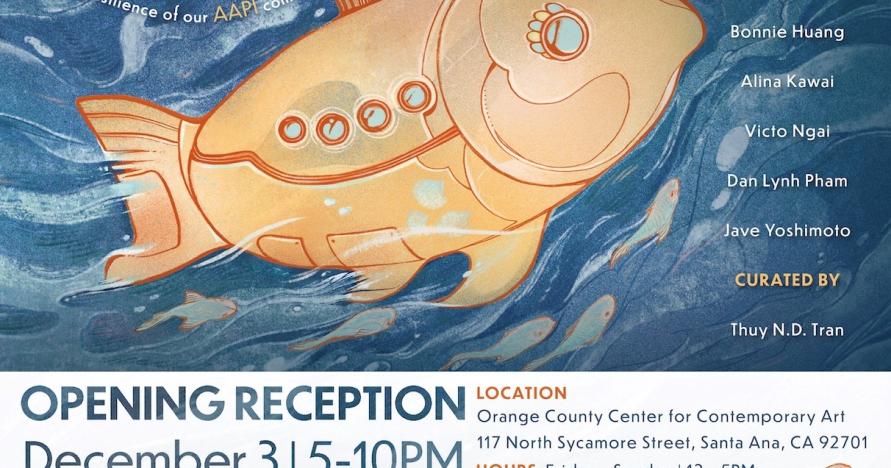 YELLOW SUBMARINE RISING: Currents within Asian American Art  
Saturday, December 3, 2022 to December 17, 2022
Orange County Center for Contemporary Art
117 N Sycamore St, Santa Ana, CA 92701
Opening Reception on Saturday, December 3, 2022, 5pm to 10pm
Gallery hours: Friday - Sunday, 12pm to 5pm
Yellow Submarine Rising opens on Saturday, December 3, 2022 from 5:00pm to 10:00pm at the Orange County Center for Contemporary Art in conjunction with the Downtown Santa Ana Art Walk.
The exhibition will run from December 3 until December 17, 2022 and includes special programming. The exhibition is free and open to the public. 
Special Exhibition Programming includes:
Saturday, December 3, 2022, 5pm to 10pm - Opening Night Reception during the Downtown Santa Ana Art Walk; will include special poetry and spoken word performances by Asian American artists (7pm to 8:30pm)

Saturday, December 10, 2022, 1pm to 3pm - Childrens' Author Book Panel & Childrens' Book Reading; programming includes family-friendly craft activities

Saturday, December 17, 2022, 2pm to 3pm - Conversations with artist Binh Danh, featuring his artistic practice and new monograph, Binh Danh: The Enigma of Belonging (Radius Books, 2022)
More About Yellow Submarine Rising: Currents within Asian American Art
Yellow Submarine Rising serves as both contemplations and counterpoints to the Asian American experience and was conceived as an urgent response to the exponential rise in racially-driven hate crimes committed against the AAPI community. According to the 2021 Orange County Hate Crimes Report by OC Human Relation Commission, there was a 43% increase of anti-Asian/Pacific Islander hate crimes and a 164% increase in anti-Asian/Pacific Islander hate incidents from 2020 to 2021. The hate and harm experienced stems from an extensive history of xenophobic policies, systemic discrimination and AAPI misrepresentation in the media.
Yellow Submarine Rising is organized into four themed galleries—Cultural Legacies, Belonging_Home, Elevating Empowerment, and Transferences and Futures. Each theme respectively touches upon our humanistic desires for: cultural continuity as found in Alina Kawai's symbolisms and in Antonius Bui's provocative papercuts; of rooting oneself into a place as reflected in Binh Danh's portrait photographs and embodied in Bonnie Huang's interwoven fibers; of finding courage against the odds as in Jave Yoshimoto's masterful lasercuts and paintings, Dan Lynh Pham's feminist visions, or in Alison Ho's vulnerable installations; and finally of ensuring a more hopeful legacy as Victo Ngai's children's book illustrations and Project Honor murals reveal.
Exhibition curator Thuy N.D. Tran shares: "The submarine rising is a metaphor for our capacity to reform the tide of a hegemonic American consciousness. As fellow shipmates of diverse ethnicities and cultural backgrounds, if we mobilize in solidarity of heart and openness of mind, then together we can ascend above this crisis."
Thuy N. D. Tran is an interdisciplinary art historian of modern and contemporary art of the Asian diaspora. Her research travels span from the deep archives of the Library of Congress to some of the most private art collections in Southeast Asia. Through her extensive work as a community activist, art curator, university educator and contributing scholar, she strives to decolonize and make accessible the traditionally Western-centric and elitist field of art history.
The exhibition is presented in partnership with the Orange County Asian Pacific Islander Community Alliance (OCAPICA) and supported in part by the California Department of Social Service Stop The Hate - Transformative funding.