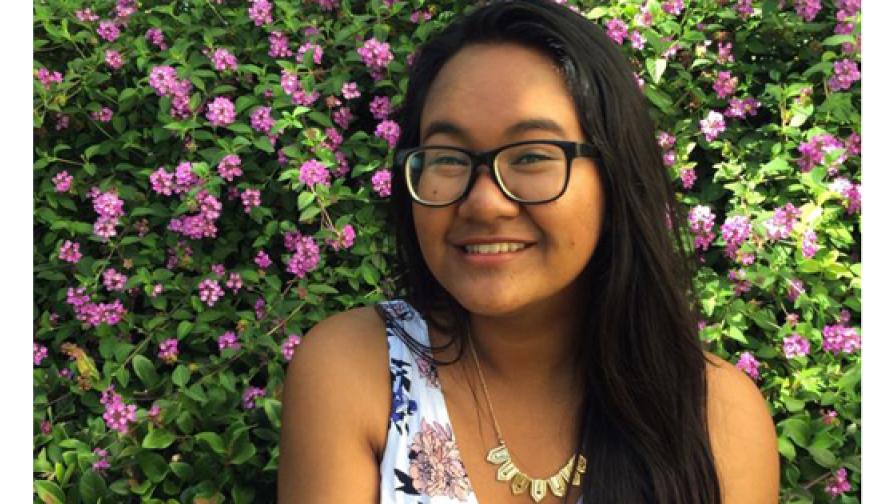 Dominique Oei is a current UCI sophomore majoring in Asian American Studies and English. She grew up in the San Gabriel Valley, a prominently Asian and Hispanic part of LA County, and has always been interested in race relations and cultural interactions. She is particularly interested in the media presence of PoC via social media, YouTube, and Hollywood. She attended Edgewood High School in West Covina, CA. Dominique values community service and family above all else, but also enjoys exploring nature and new food locations. In the future, she aims to become a high school teacher.

Why did you choose Asian American Studies as your major (or minor)?

Growing up, my community has always been very diverse. Moreover, both of my parents are immigrants from different Asian countries, so I was exposed to Asian American communities established in the US. As such, I've always been fascinated by the seemingly invisible footprints that Asian Americans have left all over the country. Sometimes it's quiet, like the presence of Thai food in New York or the Asian American student in Minnesota, but sometimes it's prominent, like martial arts culture and Japanese media presence and Little Tokyo. AAS was a way for me to investigate and understand how API communities, both my own and of so many other cultures, have made their way into the US.

What have you enjoyed learning the most?

As a young, modern student, I am always captivated by media. Social media, Hollywood—it's all important. I've enjoyed looking at representation and movements that have taken part via media platforms. It's an important subject because media really does run the world, so understanding how it has been used for political reasons is fascinating.

What do you look forward to learning more about?

I look forward to learning more about race relations, which I think are a very important part of not just AAS but the history of the US and the world. Understanding cultural clashes and alliances fascinates me.

What has been the most unexpected thing about your degree?

I never expected that AAS would expose me to fields as well. It's very interdisciplinary—you may study the history of the Korean war one week, then examine the literary reactions of Chinese Jamaicans, then look at Urban Planning or sociological research the next to understand a subject. I'm not just learning Asian American Studies. I'm learning how to read into every aspect of life, of politics.

Why should people choose to study Asian American Studies at UC Irvine?

Any ethnic study, from Asian Am to Chicano studies, is a valuable pursuit for anyone—even if you aren't of that race. Learning about peoples typically excluded from accounts of history is incredibly enlightening. You'll learn not only a new angle to look at history from, but also how to appreciate and respect other cultures; it'll make you a better person. At UCI especially, AAS is an amazingly worthwhile pursuit because of the fantastic and engaging staff available. You have the opportunity to learn from individuals not only with different lenses, such as a literary or sociological aspect, but that are active researchers in the field. You'll find brilliant minds that will really challenge you to look at the world differently.

What advice would you give to a newly admitted student?

Make sure to take classes outside of simply the major- and GE-dictated ones. Explore other interests and try to learn about communities outside of your own, gain perspectives from angles that you've never considered. Learn how to apply different ways of thinking, such as logical deduction or biomedical research, into fields that seem completely unrelated, and you'll be amazed at what can actually connect. You might find yourself picking up new majors!

What social activities do you enjoy on campus?

I enjoy attending the cultural shows and events, even outside of API ones. Moreover, I enjoy improv comedy and theater, so I am a regular attendee of the Live Nudes shows and dance and play showcases. I also am passionate about service and volunteer work, and currently am a part of School on Wheels, a club that tutors and does community service for impoverished communities.

What is your ideal job once you graduate?

I've always known that I want to be a teacher, most likely for high schoolers. Ideally I would like to teach Ethnic Studies, which is slowly but surely making its way into schools. I am passionate about students receiving exposure to this subject early in their educational career and hope to help pave this road. I am also interested in teaching English or US History.