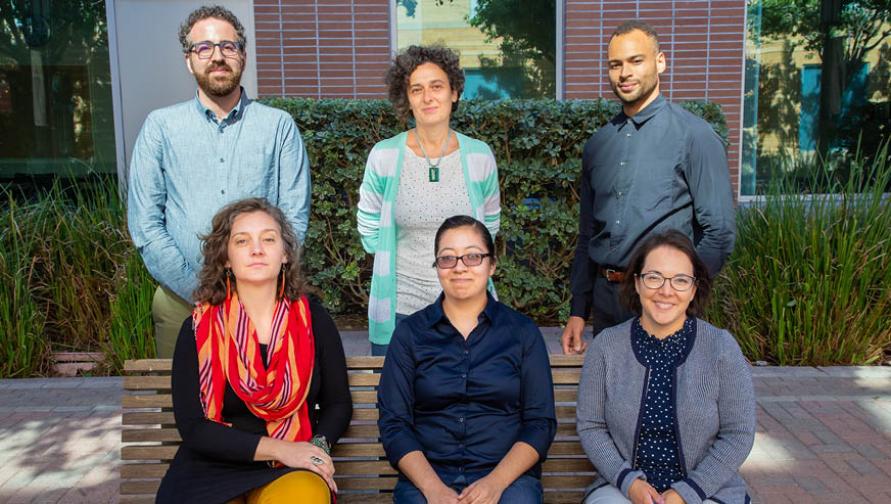 Six new senate faculty have joined the UCI School of Humanities with research interests including social epistemology, Jainism and animal ethics, early modern English literature, violence and gender in classical literature, Japanese environmental humanities, and intersections between Asian American and Chicano/Latino histories.

With these new additions, the School of Humanities is now home to 180 senate faculty.

Please join us in welcoming:

Anna Boncompagni, assistant professor, Department of Philosophy

Dr. Anna Boncompagni's research focuses on social epistemology, with an emphasis on the nature of prejudice, which she investigates through the lenses of the later Wittgenstein's thought. She has been working extensively also on American pragmatism, particularly on Charles S. Peirce, William James, and Frank P. Ramsey.She has published the monographs "Wittgenstein and Pragmatism" (2016) and "Wittgenstein. Lo sguardo e il limite" (2012), besides articles in scientific journals and book chapters for Oxford University Press, Cambridge University Press, Routledge, and other publishers.

Boncompagni was a UCI Chancellor's ADVANCE Postdoctoral Fellow with the Department of Philosophy in 2018-2019. She earned a Ph.D. in philosophy from the University of Rome III, Italy, after a five-year degree in communication sciences (University of Siena) and an M.A. in theoretical philosophy (University of Florence).

Fun fact: In her spare time, Anna enjoys traveling, hiking, and reading science fiction.

Brianne Donaldson, assistant professor, Department of Philosophy and Program in Religious Studies

Dr. Brianne Donaldson joins us from Rice University, where she was the fellow in Jain Studies, offering courses in Asian philosophies and religions, bioethics, and accounts of consciousness across cultural and species boundaries. While there, she was also a faculty leader for the first-year medical ethics course at Baylor College of Medicine.

Donaldson is currently completing a co-authored book entitled Insistent Life: Principles for Bioethics in Jainism (2020), as well as another book examining global animal agriculture, entitled Meat, in the Resources series of Polity Press (2020). She is the author of Creaturely Cosmologies: Why Metaphysics Matters for Animal and Planetary Liberation (2015), and editor of three collections: Beyond the Bifurcation of Nature: A Common World for Animals and the Environment (2014); The Future of Meat Without Animals (with Christopher Carter, 2016); and Feeling Animal Death: Being Host to Ghosts (with Ashley King, 2019).

Donaldson earned her Ph.D. from the Claremont School of Theology and B.A. from Goshen College.

Fun Fact: Brianne developed a connection to forest life growing up in rural Michigan. She loves to walk in the woods with her beagle pals, play guitar, dance (swing, contra dancing, and Texas two-step), commuter cycle, and prepare plant-based foods.

Kyle Grady, assistant professor, Department of English

Dr. Kyle Grady's primary areas of focus are early modern English literature and culture, African American literature and culture, and critical race theory. His current book project explores representations of black ascendency, racial mixing, and interracial cooperation in Elizabethan and Jacobean drama. His work has appeared in Early Modern Culture, Pedagogy, Shakespeare Studies, and Shakespeare Quarterly.

Grady earned his Ph.D. in English language and literature from the University of Michigan and his B.A. in English from Rutgers University. Prior to joining UCI, he was a Chancellor's Postdoctoral Fellow in the Department of English at UCLA.

Fun Fact: As an undergraduate, Kyle competed on the Rutgers University Track and Field team.

Aleah Hernandez, assistant professor of teaching, Department of Classics

Dr. Aleah Hernandez's research focuses on issues of violence and gender in classical literature. More specifically, she is examining how acts of violence affect the portrayal of women not only as victims of violence but as perpetrators of such acts as well. Before joining UCI, Hernandez was actively engaged in various educational pursuits, working for a nonprofit in Santa Ana, lecturing at UCI and California State University, Long Beach, and teaching in her local school district. She is currently developing several projects that highlight the intersection of classics and popular culture.

Fun fact: Aleah is a fan of the comic book writer, Brian K. Vaughan.


Jon Pitt, assistant professor, Department of East Asian Studies

Dr. Jon Pitt situates his research within the emerging field of the environmental humanities. His work explores the intersections of Japanese literature, visual/sound media, ecology, and environmental philosophy. His current book project focuses on the entanglements of plant life and botanical science with human subjectivity in modern Japanese literature and film.

Pitt earned his Ph.D. in Japanese literature from the University of California, Berkeley, an M.A. in Eastern classics from St. John's College, Santa Fe, and his B.A. in literature from the University of California, Santa Cruz. Pitt has also undertaken a Japan Foundation sponsored research fellowship at Waseda University in Tokyo.

Fun fact: Jon is an avid music collector, and looks forward to exploring the record shops of Southern California.

Isabela Quintana, assistant professor, Department of Asian American Studies

Dr. Isabela Quintana is a scholar of gender, race, space, and borders in Asian American and Chicano/Latino histories. Before joining UCI, she was an Honors College assistant professor at New Mexico State University and also taught at Loyola Marymount University. She is currently at work on a book manuscript that explores the relational histories of Chinese American and Mexican American neighborhoods in Los Angeles. 

Quintana earned her Ph.D. in history from the University of Michigan, and an M.A. in history from the University of Texas at Austin. She spent her undergraduate years at Oberlin College.

Fun fact: Isa enjoys pilates, watching movies with her partner, and running with her toddler through the sprinklers in the backyard.

Photo: Bottom, left to right: Brianne Donaldson, Aleah Hernandez and Isabela Quintana. Top, left to right: Jon Pitt, Anna Boncompagni and Kyle Grady.
Asian American Studies
English
Environmental Humanities
Religious Studies