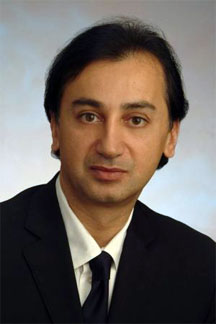 Dr. Fariborz Maseeh

The Samuel Jordan Center for Persian Studies and Culture was made possible through the generosity of Dr. Fariborz Maseeh and The Massiah Foundation.

The Samuel Jordan Center for Persian Studies and Culture, established by the School of Humanities in collaboration with the Claire Trevor School of the Arts, is a center dedicated to drawing on the strengths of the entire UC Irvine campus. The Center serves as a resource for the research, instruction and celebration of Persian history and culture.

Dr. Fariborz Maseeh is the founding benefactor of the Samuel Jordan Center for Persian Studies and Culture. The Iranian-born Maseeh is a worldwide expert in micro-electro-mechanical systems, or MEMS. After earning a doctorate in engineering from Massachusetts Institute of Technology, Dr. Maseeh founded IntelliSense in 1991. It was the first company of its kind for the custom design, development and manufacturing of next generation MEMS devices – tiny, computer-controlled chips used in products ranging from cardiac pacemakers to aircraft landing gear. After IntelliSense was acquired in 2000, Dr. Maseeh established the Massiah Foundation, whose mission is to make significant improvements in education, health, arts, literature and science.

Maseeh considers himself a "venture philanthropist," applying business concepts to his philanthropy. He considers his gifts as investments and looks for causes with clear objectives and broad markets. Maseeh serves as a UCI Foundation trustee and sits on engineering advisory boards at UCI's Henry Samueli School of Engineering, the University of Southern California and Portland State University. He has endowed several chairs in various engineering disciplines at MIT and PSU. He is chairman of the Children's Hospital of Orange County Foundation and serves on a number of community boards, including the Boys and Girls Club of Boston.
DONORS
Alborz Conference Fund

Kamali and Associates
Siavosh Bozorgi
Bijan Bozorgi
Behrooz Broukhim
Bijan Broukhim
Solomon N. Forouzesh
Farshid Hekmat
Jamshid Hekmat
Soroosh Kamyab
Massoud & Soraya Kashani
Janita & Iraj Khalkhali
Homayoun Kianerci
Bijan Mashouf
Fereidoun Shahrestani
Fereydoon & Violette Shalom
Mina Shamsaei
Mark & Mitra Vakili
Mehdi Zarghamee
Behrooz & Sousan Zarrabi


Ancient Iran Fund

Yassaman Akhavan
Fatemeh Akhavan
Nastaran Akhavan
Elahe Akhavan
Mehrdad & Sholeh Amanat
Khossrow & Massoumeh Diba
Haleh Emrani
Razi Family Foundation
Fred Hosseini
Carol & Hassan Izad
Shahla & William O'Neill
Hooshang Pak
Nader Rastegar
Homa & Nejat Sarshar
Soofieh Tafazoli Barzagan


Center Funds

Nasrin Rahimieh

ALBORZ AUDITORIUM DONORS
$5,000 and above

Hadi Asgharzadeh
Bahman Fakhimi
Paul Makarechian
Fariborz Maseeh, 76/Massiah Foundation
Paul Merage
Masoud Moshayedi
Manouch and Sophie Moshayedi
Sharmin and Bijan Mossavar-Rahmani
David Nazarian
Arman and Azin Rashtchi
Ali Razi
Parsa Rohani
Bijan Sadri
Malea and Reza Zafari


$1,000-$4,999

Anonymous .
Hossein and Shahnaz Amanat
Hossein Asadi
Abdi Bahadorie
Leila and Babak Batmanghelidj
Dr. Ali Mohamed Bonakdarpour (In Memory)
Houshang Esfandiar Chehabi
Fariborz Ehsani
Neszhat Farsad
Shapour Javadizadeh
Ali Javan
Kamyar Kadivar
Mansour Keramat
Hamid Keshavarz
Mahmoud Ketabi
Mehrdad Mahdad
M. Michael Massumi
Shahram Melamed
Hamid & Tina Moghadam
Firouz and Pardis Momeni
Mark and Samira Moshayedi
Boghos Petrossian
Michael Mehran Rashtchi
Alex Razmjoo
Mohammad Ali Nasseri Salehabadi
Korous Sariri
Nick and Heidi Shahrestany
Soroosh and Shirin Sorooshian
Ali Vatankhah
Homayoun Vossoughi
George and Frida Yessaie
Professor Lotfi Zadeh
Afshin Zand
California Zoroastrian Center


$500-$999

Siamak Farah-Bakhshian
Faramarz and Mahin Meshkinpour
Nick Nikka
Kamran Zahedi


Up to $500

Mostafa Abdollahzadeh Fahimi
Bahman Abedini
Hamed Akhavan
Bob Alavi
Mauris Azizi
Namdar Baghaei-Yazdi
Kamran Barin
Keyvan Barin
Reza Bayat
Caroline Beeson
Behrooz Behrooznia
Babak Bolourforoushan
Faramarz Davati
Soheil Davati
Amir Taghi Dehdashty
Massoud Eghtessad
Amir Ekanej
Farzad Esfandiari
Ahmad Faramarzi
Ramin Farhangi
Jalil Feghhi
Mehran Gangianpour
Kamran Ghadimi
Ali Gheissari
Ferydoon Hatami
Neyram Hemati
Qumars Hojjatti
Angeline Hung-Yun Kuh
Dariush Ipaktchi
Hossein Jadvar
Fereydoon Jamzadeh
Parham Kamali
Kurosh Kamkar
Kian Kaviani
Hamid Kelishadi
Reza Khorshidi
Fereidoon Khosravi
Shadrouz Kianouri
Koorosh Kobari
Kamran Koranloo
Kooroosh Cyrus Madnia
Afshin Maghame
Soheil Manavi
Gevork Martirosian
Shahram Mehrvarzi
Reza Memar
Barzin Mobasher
Kambiz Mobini
Vladimir Moghaddasi
Shahrokh Mokhtarzadeh
Masoud Moradi
Ramin Moshiri-Tafreshi
Cyrus Mowlavi
Mehrdad Negahban
Nader Nemati
Tooraj Nikzadeh
Kamran Parvaneh
Farhad Rezvani
Farzad Rohani
Nasser Ali Saadat
Abdol Reza Saadat
Ali Sadighian
Alireza Sadr
Jahansooz Saleh
Aalam Samsavar
Masoud Sarrafan
Mohammad Behnam Shadmehr
Kayhan Shakib
Siamack Shariat
Abolfazl Sirjani
Feriedoon Sohrabian
Ali Tajjedini
Mohammad Tajjedini
Bahram Tousi
Shahram Tousi
Behrouz Vafa
Shams Vaziri
Charareh Amir-Mazahe Vazirzadeh
Yousef Vazirzadeh
Massood Yahyazadeh
Ehsan Yarshater
Owrang Younessi
Mark and Stephanie Zalin
Mahyar Zarazvand