The Humanities Center helps graduate students in the School of Humanities find and apply for external fellowships and grants to support their graduate studies. Our Ph.D. students have been awarded Fulbright-Hays Doctoral Dissertation Abroad fellowships for China, Japan and Brazil; Fulbright Student awards for Taiwan, South Korea, Japan and India; the Luce/ACLS Fellowship in American Art; the American Association of University Women Dissertation Fellowship; and other nationally prestigious awards.
Anat Schwartz, Research Development Coordinator, can assist with finding funding opportunities, planning when to apply for external funding, and preparing proposal materials. Contact Anat at anats@uci.edu to set up an appointment.
Events in Spring Quarter
Grant-writing workshop series
The Humanities Center will be holding a three-part grant-writing workshop series this quarter. The workshops will include identifying and applying for external funding opportunities, how to write successful applications for grants and fellowships, and developing and communicating your research to different funders and reviewers.
Graduate students in their first and second years, as well as advanced students, are encouraged to attend. You may attend individual sessions. Refreshments will be provided.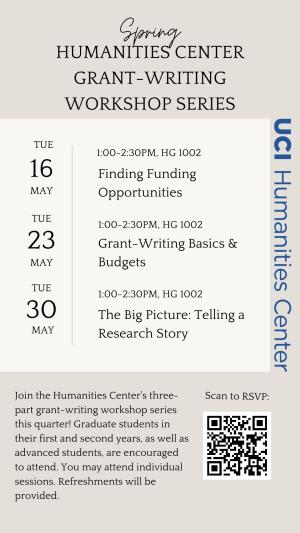 To attend: RSVP for individual workshop or for the entire series.
Dates and times: Tuesdays (May 16, 23, 30) from 1-2:30pm at HG 1002
May 16, 2023 (Tue): Finding Funding Opportunities: Graduate students in their first and second year, as well as advanced graduate students, are encouraged to attend this workshop on identifying external funding. opportunities for graduate study. The workshop will help graduate students understand and create timelines for grant funding, learn effective strategies for matching needs with funder guidelines, and resources for finding funding opportunities.
May 23, 2023 (Tue): Grant-Writing Basics and Budgets: In this workshop, graduate students will learn strategies for successful applications for grants and fellowships. We'll also cover the basics of building a feasible budget.
May 30, 2023 (Tue): The Big Picture: Telling a Research Story: Successful proposal narratives keep the audience (reviewers!) and funder's guidelines in mind. We'll discuss strategies and engage in writing activities to improve participants' research narratives.
Grant-Writing & Research Development Institute
The 2023 Grant-Writing & Research Development Institute for UCI Humanities PhD students will be held in-person June 20-30, 9 am - 2 pm (Mon-Fri). Participants must commit to attend the full institute and complete daily assignments.
The Grant-Writing & Research Development Institute is designed to expand PhD students' capacities in grant-writing, research development, and project development. Grant-writing is a conceptual capacity and a collaborative practice, along with a set of skills. Whether in faculty, academic administration or nonprofit careers, grant-writing takes place in the broader context of staff team roles, project development, organizational goals, fundraising plans, and institutional partnerships. The institute will approach grant-writing holistically with sessions that focus on technical skills, on understanding the collaborative process from a variety of perspectives, and on understanding the role of grant-writing in the broader process of research planning and project development.
The institute will provide the opportunity for twenty graduate students enrolled in a PhD program in the School of Humanities to receive training, along with a certificate and $500 stipend at completion of final report.
Application deadline is May 24 at 11:59pm. To apply, visit: https://ucihumanities.infoready4.com/#.
A Partnership between Graduate Division and the Humanities Center funded by a grant from the Council for Graduate Schools
Research Support Resources for Graduate Students
"I recommend having the Statement of Grant Purpose Essay and Personal Statement Essay completed well in advance so that the applicant can send their essays to their letter writers / proofreaders for feedback. I think having my letter writers provide feedback on earlier drafts of both essays helped me to submit clear and concise arguments that resulted in successful applications." - Christopher Chacon, Fulbright Student Award to India (2021)
"I also recommend working on the application in a small cohorts of 2-3 people. It makes the process a lot easier in terms of remembering / setting deadlines and just having someone to talk to about your application." - Christopher Chacon, Fulbright Student Award to India (2021)
"The one piece of advice I would share is to look at examples of past fellowship winners' applications. Checking out—and emulating—model texts helped me understand my intended audience and what they would be looking for in my application." - Allison Dzuiba, AAUW Dissertation Fellowship (2021)
Grad Division Grants - Most grants require ABD status. Check the Funding Timeline PDF for their general deadlines. For questions about GD grants, email Geneva Lopez-Sandoval, Director, Office of Graduate Study (lopezg@uci.edu).
School of Humanities Grants - Conference travel, summer dissertation writing support, summer language study, and outstanding TA awards.
* Please note these grants are internal to UCI but not managed by the Humanities Center.