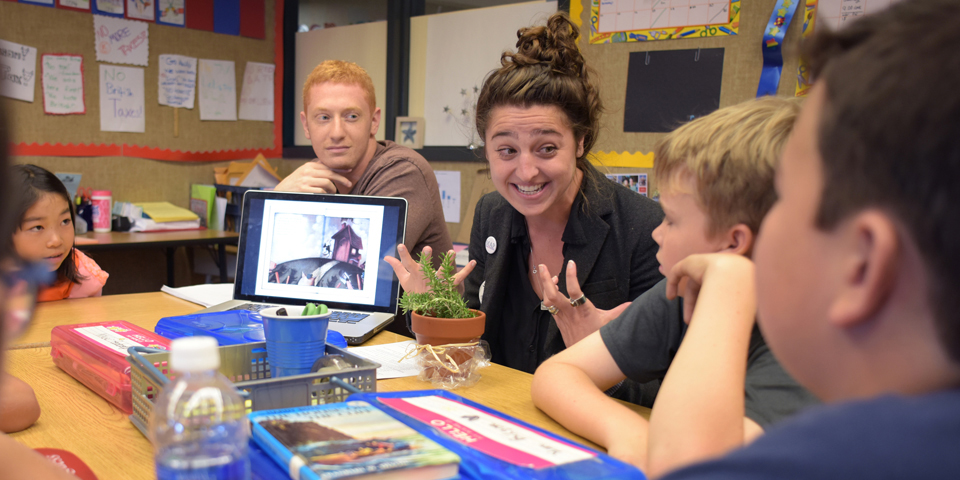 TH!NK: Philosophy for Early Adolescents

"The TH!NK program has changed my life. It now makes me consider objects differently in class and out of school [...] I am getting to notice a little bit of philosophy in the outside world as well."
-Student from Canyon View Elementary (Irvine USD) (2015)


"I will always remember the time that my [TH!NK] philosopher talked about time and what it is. This is so memorable because it is the first time I ever thought really really hard about something."
-Student from Canyon View Elementary (Irvine USD) (2015)

These are a few, representative reflections on philosophy that the fifth graders who participate in TH!NK give us.
TH!NK is a program for adolescents that was initially designed to introduce 5th-grade students to philosophical thought and discourse.  The philosophers at TH!NK take philosophy to be a skill rather than a subject matter (more like reading or riding a bike than American history or psychology).  Regarded in this way, philosophy is critical thinking, the skill of examining presuppositions, recognizing connections, seeking justification; all towards the end of providing insight into something—anything!—of interest.  Although many students will have heard the term 'philosophy', it is likely that most will have no idea what philosophy is.  The practice of critical thinking is often associated with its application to the grandest or most abstruse features of reality.  This is unfortunate, for it can leave one with the impression that philosophy has no practical importance, pertaining only to the loftiest of subjects, and that it is only for geniuses or sages.  Neither is the case.  Not only is philosophy a most natural skill—one for which every person has the capacity—it has the greatest practical importance.  Critical thinking is significant to each thinker at a personal level, seemingly instrumental to a well-balanced life, and it is of great societal significance, as both the impetus to change and the guide to improvement. TH!NK aims to train individuals to think critically, with the expectation that this training will enable them to see the value of philosophy in their daily lives.
The primary goal of TH!NK is to enable adolescents to grow as both students and persons by helping prepare them for future learning and reflective careers.  Importantly for our school partners, the program is designed specifically to contribute to the California Common Core Standards for Speaking and Listening.  These standards are intended to insure that students have "ample opportunities to take part in a variety of rich, structured conversations" and to enable them to become "productive members of these conversations…contribute accurate, relevant information; respond to and develop what others have said; make comparisons and contrasts; and analyze and synthesize a multitude of ideas in various domains."  Creating such rich, structured conversations and helping students engage in them is precisely the methodology of TH!NK.
In the program, a facilitator meets with the same small groups of students for 45-minute sessions once a week for four weeks. During these sessions, short texts (e.g. a fable, poem or story) or excerpts of longer ones are read aloud. Questions are then raised about what has been read, exploring the language and logic of the readings and the ideas expressed therein. The facilitator guides the discussion, posing questions or challenging students' responses, encouraging students to provide arguments for their claims and to examine their own presuppositions as well as those of the text. The result is a lively exchange in which everyone is engaged, especially since the themes under consideration are often directly relevant to a student's life. This provides students with an opportunity to express and develop their own opinions, as well as lead them to appreciate the value of carefully reasoned thought.

As an administrator, I believe this program will help our students engage in
productive conversations, synthesize information, and support claims with evidence.
- Mrs. Christina Aguirre, Principal, Canyon View Elementary

Many students shared how they grappled with the many conundrums of the world.
Parents were pleased that students were exposed to rich discussions
regarding philosophy and how it relates to the students' everyday lives.
- Katiana Harvey, Brooke Hunter, and Jenina Morada, Fifth Grade Teachers, Canyon View Elementary (2017)

The growth of the students who participate in TH!NK goes beyond how they answer survey questions. These students become aware of new abilities and new challenges. This is apparent not only to their teachers, but their parents as well. TH!NK shows that anyone can be a philosopher, and that a life that includes critical thinking is enriched and expanded. The students who participate in TH!NK come to see that philosophers do not wear togas in some long-ago era, but that they wear skirts, shorts, hoodies, or flip-flops and surround us today.
Partner Elementary Schools 
Below are the schools/programs that the TH!NK program has partnered with to date, starting from Spring 2015 to Winter 2021:
Canyon View Elementary (Irvine Unified School District) - Spring 2015, Fall 2016, Fall 2017, Fall 2018, Fall 2019
Stonegate Elementary (IUSD) - Spring 2017, Spring 2018, Spring 2019, Winter 2021 
Westpark Elementary (IUSD) - Fall 2017, Fall 2018, Fall 2019, Winter 2021
Mariners Elementary (Newport-Mesa Unified School District) - Spring 2018, Spring 2019
Bowers Museum afterschool program at the Kidseum (Santa Ana) - Fall 2018
San Joaquin Elementary (Saddleback Valley Unified School District) - Spring 2019, Winter 2020
Viejo Elementary (Capistrano Unified School District) - Spring 2019, Winter 2020, Winter 2021
Donors
Below are the donors who have contributed to TH!NK: 
Patrick Seaver and Sonja Berggren
Mrs. Tricia Nichols
Marc Sanders Foundation (grant awards in 2017, 2018, 2019, 2020)
UCI ADVANCE Spirit Grant for Inclusive Excellence Award 2015
UCI Humanities Center 
Budding Philosophers feature by UCI Communications:
Video https://www.youtube.com/watch?v=TSFrCm2UYow
Article https://news.uci.edu/2015/05/18/budding-philosophers/

Contact Dr. Mark Fiocco for more information.