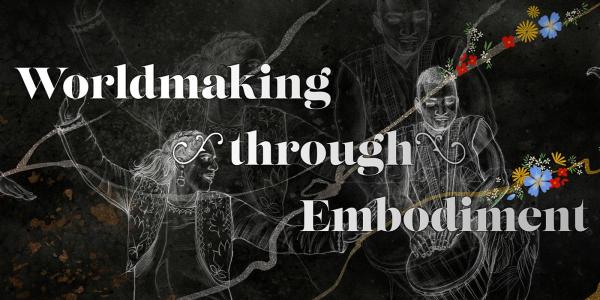 How do we imagine our place in the world?
How do we create worlds in our imagination?
And how do our bodies - the way we dress, move, and experience sensations - express and inform our ideas about our place and relationship to the world around us?
These are the questions that the Humanities Center will be exploring during the 2022-2023 academic year.
Inspired by the new "Worldbuilding" theme of the UCI Humanities Core and a revived collaboration with faculty in the Claire Trevor School of the Arts, the UCI Humanities Center will be co-hosting a yearlong dance festival, entitled "Cultural Resonance in Contemporary Bodies: Worldmaking through Dance."
Worldmaking, here, gestures to Nelson Goodman's concept that worlds are not given, but are made, as well as to the vision sketched by performance theorist José Esteban Muñoz, of performance as mapping other worlds—worlds of futurity, of belonging, and of self-expression available to those who too frequently are denied their full subjectivity. Worldmaking performances initiate both the performers and the audience into a sense of alternative possibilities—and suggest that these need not be only utopian, or far off in the future, but can be performed into existence, in the here and now.
This festival emphasizes dance as a force of worldmaking, to insist on the material corporeal effects of performance: worlds cannot be made apart from the bodies that inhabit them. Here, dance is a form of mobilization, of knowledge production, and of history making.
Though worldmaking can envision and enact new social and personal possibilities, it can just as easily be hegemonic, a force wielded to maintain oppressive structures of power. Worldmaking then, even in its reparative dimensions, is always tied to the embodied conditions by which we know our present world.
***********************************
DREAM Fellow Spotlight
Jazmin Serrano Martinez is a 3rd year student currently pursuing a bachelors in Education Sciences at UCI.  This year, she is working with Professor Wu , Director of the Humanities Center, on the year-long project DREAM Fellow project. She was drawn to the project site of Worldmaking through Embodiment because it delves into the artistic realm while also holding critical conversations surrounding identity, race, our embodied conditions, and the power structures that mold the spaces we inhabit. "
*****************************************
Worldmaking Through Embodiment Featured in New University
Read the article in UCI's campus newspaper:
https://newuniversity.org/2022/10/25/uci-humanities-center-hosts-worldmaking-through-embodiment/
*****************************************
'Bessie' award-winning dancer, choreographer, and teacher, Gerald Casel, was born in the Philippines and raised in California where he began dancing in public school. He received a BFA in Dance from The Juilliard School in 1991 and an MFA from the University of Wisconsin-Milwaukee in 2007. His choreographic work complicates and provokes questions surrounding colonialism, cultural amnesia, whiteness and privilege, and the tensions between the invisible/perceived/obvious structures of power. Gerald is Professor and Chair of the Department of Dance at mason Gross School of the Arts at Rutgers University. 
 
*
In light of the strike at UCI and across the UCs, we will be postponing Professor Gerald Casel's talk scheduled for tomorrow "Dancing on the (Bamboo) Ceiling: Performing While Asian in U.S. Postmodern Dance."  We will reschedule later this academic year.
"Dancing on the (Bamboo) Ceiling: Performing While Asian in U.S. Postmodern Dance" 

A conversation with Gerald Casel and
Dorothy Fujita-Rony, Professor of Asian American Studies
*
Wednesday, November 16, 
12:30-1:50, ELH 100
This event is also being offered through zoom.  Click here to register!!!
*
This conversation with Gerald Casel explores his personal background as an immigrant Filipinx dancer/choreographer and his career performing as Asian in U.S. postmodern dance. He also will share "Cover Your Mouth When You Smile," a movement essay (a dance performance that follows the format of a five paragraph paper) that examines the essential labor of Filipino overseas workers and their simultaneous invisibility across the diaspora. This event explores the impossibility of being presumed to be a model minority, the expected performances of whiteness, the challenges of experiencing and expressing unbridled joy, and how all this contributes to racial melancholia.
*********************************

Dancing Around Race – Cultivating Racial Equity and Absolute Belonging

*
Thursday, November 17, 6:30-8:30pm

Utilizing a decolonial approach and using tools from Dancing Around Race, a community engagement social practice that challenges systemic racial inequity, Gerald Casel offers a workshop that reflects their ongoing research on race and racism in dance. Through candid conversations along with movement provocations, participants will be asked to explore their relationships to power, social position, and where and how they exist within systems and institutions of dance education, performance, and production. They will also be asked to share something about their dance training and experience (and teachers), reflecting on the ancestral legacies they hold. Those who attend will also be encouraged to develop an embodied manifesto that aligns ongoing, lasting actions with values of equity and absolute belonging.

Both events are co-sponsored with the UCI Advisory Council on Campus Climate, Culture & Inclusion, Illuminations, Dance, Drama, and Humanities Core

For more information, contact, Prof. J. Wu (j.wu@uci.edu)
****************************
Artist Statement: Thinh Nguyen
The phrase "Worldmaking through Embodiment" draws parallel themes to kintsugi ("golden joinery") and the performative power of dance. In kintsugi, shattered ceramic pieces are mended together by the adherence of lacquer and dusted with the grandeur of gold. The lacquer highlights the reparative history and the imperfect, boundless beauty that exists—and simultaneously creating a new epistemic horizon for new possibilities, new landscapes, and new worlds to emerge. With dance, emotive movements and expressive gestures garner a resounding sense of evocation, juxtaposed by the impermanence of humanity. Through these collective actions, dance reveals secrets, stories, and sentiments—inspiring others to embody their own narratives and past. Together, the tenable beauty of imperfections and the culmination of expressive dance help manifest an anchor for the audience to create new world in their own eyes—one overflowing with possibilities. https://www.thinhnguyenart.com/
Fall Quarter 2022