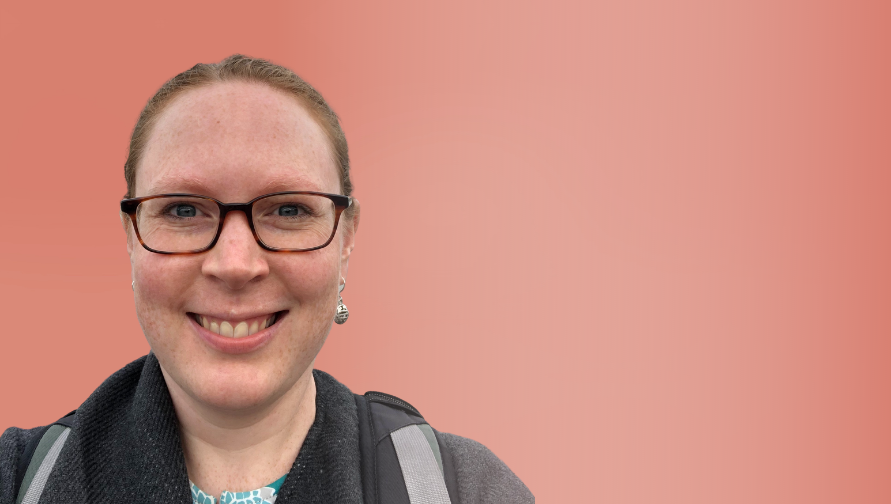 Maura Elizabeth Cunningham earned her Ph.D. in history from UCI in 2014. Her research focuses on Chinese history, but she also has a passion for Asian studies on a more general scale. Her interest in working as a historian outside the classroom led to her involvement in editing and writing projects as well as the cultivation of digital skills during her Ph.D. years. This has culminated in her current role as the digital media manager at the Association for Asian Studies in Ann Arbor, Michigan.
What has your professional trajectory been since earning your Ph.D.?
Shortly after finishing my Ph.D. in Sept. 2014, I joined the National Committee on U.S.-China Relations in New York as a program officer. This job drew on my China background, as well as the skills in writing, editing, public speaking and online communications that I had developed during my years at UCI. I was with the National Committee for about a year and a half, but ultimately that job wasn't the right fit. I started looking around and soon landed a position with the Association for Asian Studies in Ann Arbor, Michigan. I'm the digital media manager at the AAS, which means I'm responsible for our online presence: our website, social media, webinars, newsletters and so forth.
How would you describe your present job? What is your day-to-day like?
I am now on a hybrid schedule — two or three days in the office and the rest of the time at home. My position is one that touches on every other thing we do: cultivating membership and engagement, publishing books and journals, running a large annual conference and occasional smaller events. In addition to the duties that fall directly under my purview, such as posting on social media and editing the #AsiaNow blog, I also talk with all of my colleagues about their areas of responsibility to ensure I know what's coming up, how and when we should publicize upcoming opportunities and so forth. It's incredibly collaborative: While I'm almost always sitting in front of a screen by myself, I'm rarely working solo.
What kinds of alignments do you feel there are between your Ph.D. area of study and what you do now? 
I often joked as a graduate student that I was a "bad China historian" because I was so often drawn to learning about places other than China — I had difficulty keeping my academic focus on my area of specialty! Now I say that while China is the center of gravity in my work, I still frequently feel pulled to read, learn and think about other locations in the world. As an AAS staff member, that kind of wide-angle lens is virtually a requirement: I have to keep on top of what's going on in the field of Asian Studies and, more broadly, in Asia itself. So I suppose you could say that what seemed like a distraction during my time in grad school has turned out to benefit me in the long run.
Looking back at your time as a graduate student, what do you wish you would have known about opportunities for careers outside of the traditional tenure track?
Because I knew before I even entered graduate school that I didn't want a career on the tenure track — in fact, I chose to attend UCI because the faculty and students there were so open-minded about careers outside the professoriate — I started looking at options and building skills very early on. One area that I didn't pay any attention to, though, is accounting. I've since learned that a good grasp of basic accounting principles is essential for all employees at small nonprofits, regardless of their job titles, because everyone has to maintain budgets for their own projects. It would have been helpful if I'd had some of that knowledge in hand already, rather than attempting to teach myself under pressure.
What skill or tool do you think your graduate school education best developed that you rely upon now?
Because UCI History had all students in my cohort take certain classes together — History & Theory, our second-year research seminars — I'm a China historian who got very comfortable talking about my field with people outside it. I learned early on how to provide context and quick summaries of unfamiliar histories so that the story I wanted to tell would make sense. Those skills have certainly served me well as a freelance writer for publications that don't focus on China, as well as when I've given public talks.
On the other hand, what skills do you feel were least developed that would have helped you either transition to this field or work more capably in this field?
I've realized that many of my professors allowed me to indulge my, shall we say, naturally relaxed attitude toward deadlines in a way that has been difficult to unlearn in the working world. With only a few exceptions (eg. submitting grant or fellowship applications, filing my dissertation), most deadlines in grad school were "soft" (eg. a seminar paper officially due on Friday but everyone knew it was no big deal to turn it in the following Wednesday or, really, anytime before grades were due for the quarter). My struggles to shed that mentality have led to frustration, I know, for my colleagues, and annoyance with myself.
What advice would you give to current graduate students in the humanities?

If you're considering career paths outside the professoriate, I think it's really important to be open and communicative about that with professors, advisors and colleagues — really, anyone in your network. I had a number of UCI History professors who alerted me to opportunities like short-term research work, editing jobs and escorting a study-abroad trip to India. Because I told people I was interested in trying out a lot of different tracks, they then thought of me when they heard about such jobs, even ones outside my field of study. All of those gigs helped me figure out what I like to do and enabled me to develop a diverse CV that I then took with me as I searched for work after graduating. They also helped me assure prospective non-academic employers that while I had spent a decade in graduate school, I didn't fit into their mental picture of an ivory-tower academic — I brought a lot of practical experience to the table.
Alumni
Graduate Students
History