As a multidisciplinary center, we prioritize:
Community building;
Expanding how we understand, communicate, and materialize the value of humanistic research and teaching; and
Uninvisibilizing professional processes and systems related to higher education and the job market.
Our initiatives focus on four areas that have emerged as important factors in graduate student professional development: research, teaching, mentoring, and service with particular attention to the challenges that humanities scholars face. We also believe that humanities scholars have unique and critical contributions to offer to various public and across diverse sectors.
We collaborate with graduate students, faculty, and staff within the School of Humanities, as well as with the Division of Career Pathways, Grad Division, Beall Applied Innovation, and other schools across UCI.
The Graduate Futures Program provides programming and support to humanities graduate students focused on professional development and research.
Below is a digital map created by SueJeanne Koh to demonstrate the ecosystem of graduate funding throughout UCI, including at the Humanities Center: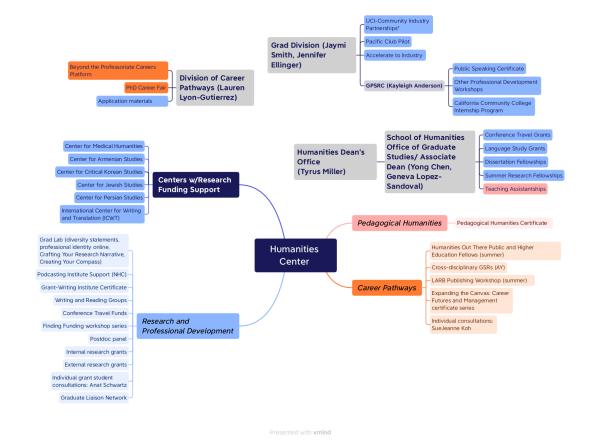 Questions about post-PhD career pathways, career diversity workshops, cross-disciplinary GSRships and summer internships, email SueJeanne Koh, ThD, Graduate Futures Program Director, at sj.koh@uci.edu.
Questions about the Humanities Center's internal grants, assistance and material feedback for external national and international grant applications, and advice on funding timelines, email Anat Schwartz, PhD, Research Development Coordinator, at anats@uci.edu.