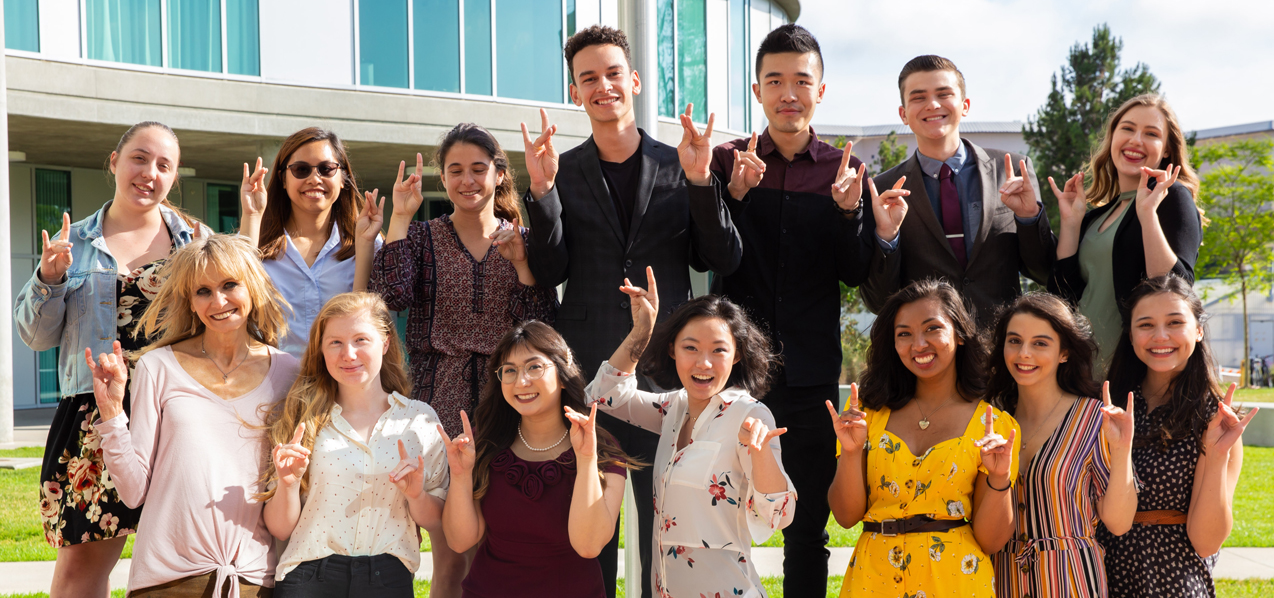 2019 Humanities Honors Program graduates
WHAT IS THE HUMANITIES HONORS PROGRAM?
The Humanities Honors Program is a two-year, upper-division program designed to challenge exceptional students from all majors by providing special opportunities for intellectual growth in an interdisciplinary setting.  Honors students benefit from small seminars, individual faculty attention, peer support, and the chance to pursue independent research. They think deeply about the meaning and value of humanistic inquiry and thus actively shape its future while honing their skills as thinkers, writers, and citizens of the world.
WHO CAN APPLY?
Continuing students with a minimum 3.7 GPA and newly admitted transfer students with a minimum 3.8 GPA will be invited to apply to the Humanities Honors Program in spring quarter prior to the junior year.
WHY JOIN?
Humanities Honors students are uniquely involved in the campus community of Humanities scholars.  They form close relationships with the faculty and find a stimulating and supportive intellectual community among their peers.  A consistent, comprehensive advising program provides timely, ongoing, individualized guidance in their academic careers, both at UCI and beyond.  During the academic year, formal and informal events designed for honors students augment campus activities open to all UCI undergraduates, while a summer research stipend supports independent work.  Humanities honors students thus not only gain an edge for graduate study but form valuable connections for the future.  They learn to think and speak across disciplinary boundaries thanks to their interaction with some of the campus's best scholars on a broad range of topics from Shakespeare to cyborgs, from medical ethics to the aesthetics of revolution, from the ambivalent legacies of antiquity to the crisis of modernity in the Middle East.

2018 Humanities Honors Program graduates
COURSEWORK
Humanities Honors students complete a two-part, two-year course of study. In their junior year, they take three quarters of Proseminar (Humanities H120) organized around a single topic or problem and taught in each quarter by a faculty member from a different discipline.  Over the year, students thus compare and contrast modes of analysis and critical thinking and adopt multiple perspectives, including those of history, literary studies, visual studies, philosophy, religion, ethnic studies, and gender and sexuality studies. Along the way, they reflect on their own chosen disciplines.
In the senior year, Humanities Honors students pursue an independent research project under the joint supervision of the Director of the Honors Program and a faculty member of their choosing.  A three-quarter workshop-based seminar sequence offers consistent, stimulating support in research and writing the senior thesis.
COMMUNITY
Honors students form a close-knit cohort while participating actively in the wider life of the university.  Special events include VIP invitations to guest lecturer presentations, colloquia with visiting scholars, and lunch with the Dean of Humanities.  The Honors Program culminates each spring with a Senior Honors Banquet hosted by the program director and the Director of Undergraduate Study.  Seniors present their theses and the year's Outstanding Thesis prize is awarded.  During graduation all HHP students are recognized at the Humanities Honors Convocation.  Honors students are awarded special cords for the commencement ceremony, and a reception for friends and family further celebrates their achievement.